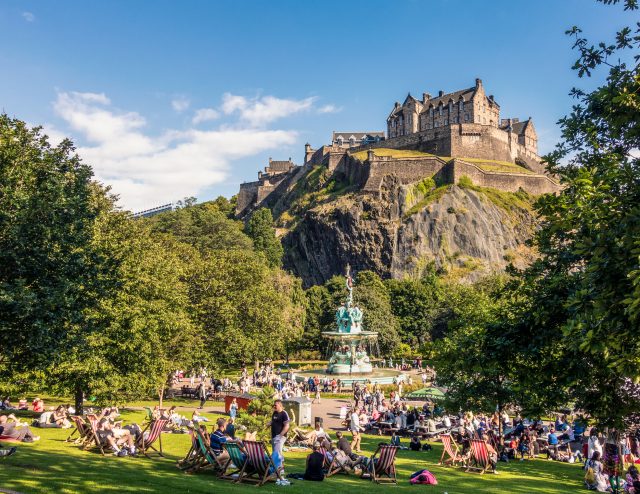 As winter wanes and long awaited spring "creeps over me windowsill", a number of cities in the northerly reaches of Europe especially start to come out of their invernal shells. Scotland's second largest (and also its capital) is a good example, with green spots around town welcoming a growing number of locals and visitors alike who come to luxuriate in the great outdoors, along with several cool festivals (though keeping in mind that depending on how the conovirus/COVID-19 situation develops, the festivals could be subject to change or cancellation). Here are eight of the top places and events in Edinburgh as it welcomes springtime.



Princes Street Gardens
Lounging in the shadows of Edinburgh Castle, named for the eponymous street that's the city's main shopping thoroughfare, and created in the late 18th through early 19th centuries, this pair of verdant swaths (top) separating the medieval old town from the new town (dating back to the later 18th century) is the city's best known park. It comprises 15.4 hectares (38 acres) of lawns, woods, and lovely patches of blooms such as snowdrops, crocuses, and daffodils, and other features include an annually changing flower clock, and monuments/statues to the likes of Sir Walter Scott and David Livingstone, both of course famous Scotsmen. Also nearby is the National Gallery of Scotland.

South of city centre, come spring this 25-hectare (63-acre) swath of mostly open lawns and elm-tree-lined paths becomes a haven for Edinburghers hanging out;  strolling; sitting/laying around; bike riding; playing frisbee, croquet, cricket, rugby, and tennis; holding a barbecue; and having a drink or snack in the café. There's also a kids' play area.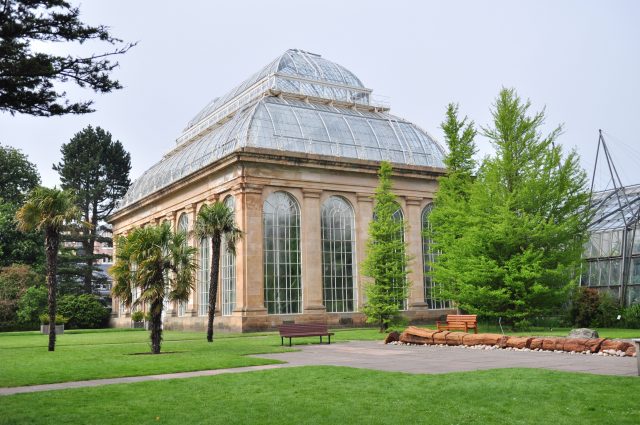 Founded in 1670 and since 1763 located in the Inverleith district a bit north of city centre and known for its green spaces, 273,000 of 13,300 species of flora. Its main site covers 28 hectares (70 acres) including not just a variety of gardens and wooded areas but also glass greenhouses nurturing palms, orchids, ferns, and all manner of tropical plants. Also on the spread is 18th-century stone Inverleith House, which hosts exhibitions of botanical and contemporary art.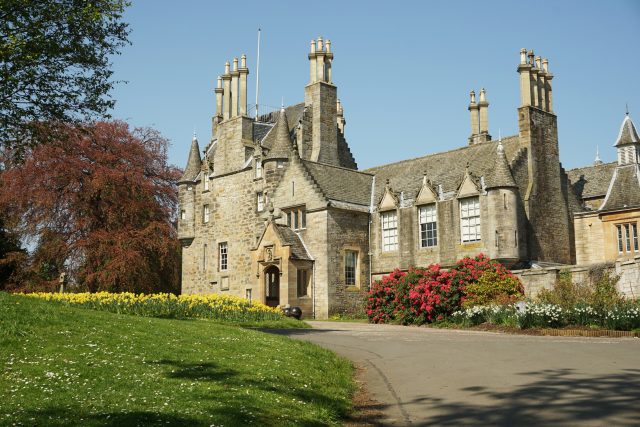 Built in the late 16th century overlooking the Firth of Forth estuary, a half-hour drive north of centre city, this grey stone pile's 1920s Edwardian interior is open to visitors daily. But it's the lovely grounds which locals most appreciate as winter eases, including the Japanese garden and lovely bluebell wood.
Some of history's great scientists and inventors have hailed from Scotland – think Charles Darwin, Alexander Graham Bell, and 16th-century mathematician, physicist, and astronomer John Napier, and steam-engine inventor James Watt – and respect for science still runs high among Scots. Which is why this two-week festival – running this year from 4 to 19 April – is such a big deal, taking over galleries, museums, public spaces, and other venues across the city with not just serious debates and symposia but also more than 250 fun, fascinating activities, events, and exhibitions about subjects including biology, meteorolgy, physics, paleontology, the environment, and much more. These take place in venues including the Royal Botanical Garden, the Scottish National Museum, and the City Art Centre.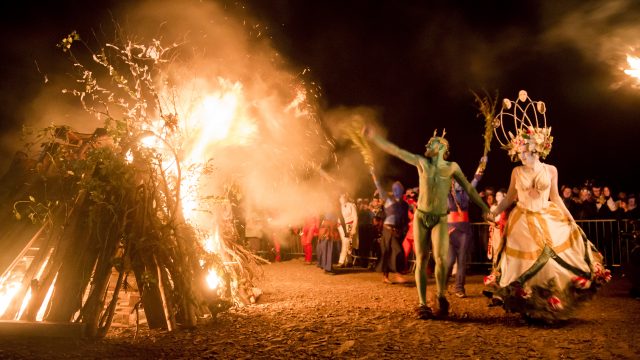 Beginning on the eve of the first of May, Beltane is an ancient Gaelic holiday celebrating fertility, optimism, and the advent of spring, with fire playing a symbolic role in protecting livestock being driven out to warm-weather pastures. The tradition was revived by local enthusiasts in 1988, and has grown into a magickal extravaganza involving 300 musicians, drummers, dancers, and others performing for a crowd of thousands amid myriad bonfires on Carlton Hill, beyond the east end of Princes Street. Before the evening festivities there's also a  family-friendly afternoon of storytelling and drama games.
If you're here with little ones, the 20th through 31st of May will be an especially delightful and colourful time in Edinburgh's streets, theatres, and museums, which will brim with storytelling, craftsmaking, and other interactive activities, along with a parade of high-quality performances from children's music and theatre groups from around the world, as the 30th edition of this festival sponsored by the national organisation Imaginate takes the stage; parts of the programme also take place in other Scottish cities, as well. Much of it is educational and mind-expanding, and all of it is fun.
Even while the Imaginate festival is going on, the city's streets will get an additional dose of adrenaline the weekend of 23-24 May with the United Kingdom's second most important sport event. First held in 1982, this event attracts some 35,000 runners from across the world and includes various races – the full 10K as well as a 5K, a relay, a Junior 5K, even a 1K for three- to six-year olds – which run past some of Edinburgh's most iconic sights and landmarks. On your mark, get set…
More info: Edinburgh.org.