Central America's smallest country (tinier than the US state of West Virginia and just a bit bigger than Wales) gets a bad, exagerrated rap because of gang violence that's limited to a handful of the capital's rougher neighbourhoods. But in fact El Salvador does offer visitors a safe a varied menu of beaches (including some surprising surfing), ecotourism, adventure, charming colonial towns, and even several interesting Mayan archaeological sites such as San Andrés, the "Pompeii of the Americas" – and without the crowds you might encounter in some of its more touristed neighbours, such as Costa Rica.
And will all of that to choose from, many visitors find themselves flying into the capital,  then heading out to those beaches, rain forests, small towns, volcanoes, and more (not unlike the situation in Costa Rica, actually). But if you do come to visit, capital San Salvador is definitely worth at least a couple of days of your time, as well, and it's very close to most of the rest of the country's attractions (30 to 40 minutes from the beaches, for example). Here's why.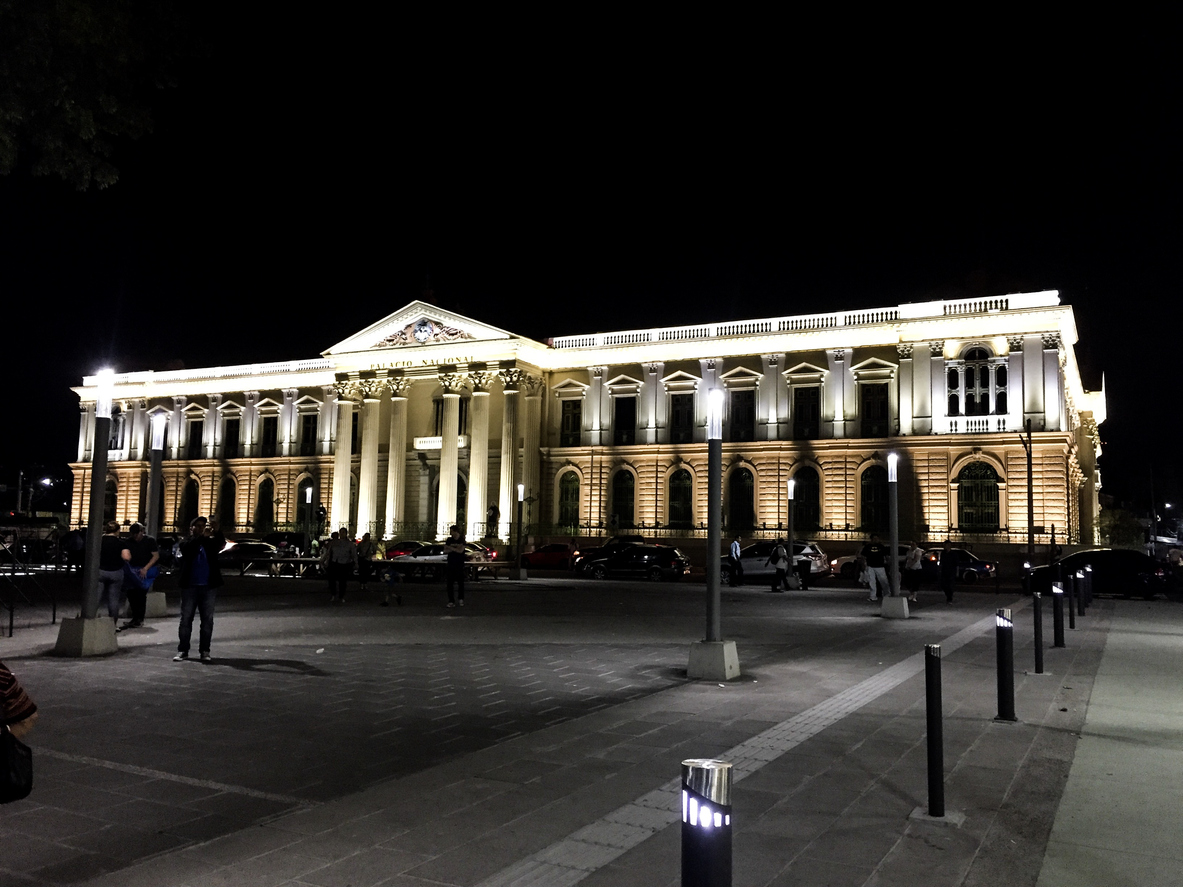 This city of nearly 571,000 (metro area 2.4 million) in the Boquerón Volcano Valley is appealing, laid back, and low-slung; thanks to the region's record of seismic activity, the highest building in the historical city centre, for example, was kept to just 28 floors, though more recent constructions. And that historical centre – known, prosaically enough, as El Centro – got a facelift not long ago and is filled with interesting architecture, much of it dating from the early to mid-20th century.
A good example is the National Palace (above), finished in 1911 in Neoclassical style with some Renaissance and Gothic-Revival elements; once home to all three branches of the national government, these days it's open to visitors as well as housing salons for ceremonies and special events.  A couple of blocks away on Plaza Morazán, Central America's oldest theatre, the Teatro Nacional, is a small (seating just 650) but handsome neo-Renaissance gem dating from 1917 (you can have a peek inside or even take a guided tour for a nominal fee, albeit in Spanish).
Just around the corner on Plaza Berrios, San Salvador's most iconic building, the blocky, whitewashed, yellow-trimmed Roman Catholic Metropolitan Cathedral, is of more recent vintage – rebuilt in the late 1950s in simple neo-Baroque style after an earthquake. A major draw inside is the tomb of beloved archbishop Óscar Romero, – canonised as a saint by Pope Francis in 2018 and considered an unofficial patron saint of El Salvador – murdered by rightwing assasins in 1980 in the first year of the country's terrible civil war (away from downtown at the Central American University, you can learn more about this towering figure at the Centro Monseñor Romero).
Another church well worth a visit is a modern masterpiece – perhaps Central America's most beautiful. Built in 1971 on Plaza La Libertad several blocks southeast of the cathedral, the concave, 24-metre-high (78-foot) concrete shell of the Iglesia El Rosario houses a striking, soaring interior (above) awash in the light of its stained-glass windows. It's also home to the tomb of the brothers Nicolás, Vicente, and Manuel Aguilar, heroes of the country's early-19th-century struggle for independence from Spain.
For some great local colour, just a couple of blocks southwest of the National Palace you'll find the Mercado Central, a classic Latin American covered market where locals come to shop for food, clothes, electronics, and household goods – along with some tasty prepared-food stalls and sit-down spots to enjoy local yummies such as pupusas (traditional flatbreads of pre-Columbian origin, stuffed with cheese, beans, beef, and other fillings). You might be able to score some local arts and crafts here, too, but you'll find a much wider selection a few minutes' drive farther west at the Mercado Nacional de Artesanías.
A bit farther west still out of the historical centre (and not far from the abovementioned Centro Monseñor Romero) in the Zona Rosa in the San Benito district, there are a also couple of good museums worth your time, starting with the 16-year-old Museo de Arte de El Salvador (MARTE, above), whose collection reaches back to the 1870s and includes all the most prominent artists of the past and contemporary era. Just a short stroll south, meanwhile, the National Anthropology Museum (MUNA) has exhibits on human settlements, agriculture, artisans, commerce and trade, religion, arts and communication (there's one another dedicated to Archbishop Romero – did I mention that Óscar is a Very Big Deal in this country?).
There's also a quite hopping dining, shopping, and nightlife scene in some of the posher areas of the city, such as the Zona Rosa (home to many of San Salvador's hipper bars and clubs), and a few minutes north of it, Colonia Escalón. These neighbourhoods are also home to many of the capital's better hotels.
So if you're thinking of giving this under-the-radar country a try on an upcoming holiday, don't forget to save a couple of days for its underappreciated capital – you'll be glad you did!
For more info, check out Iberia's destination guide to San Salvador as well as ElSalvador.travel.