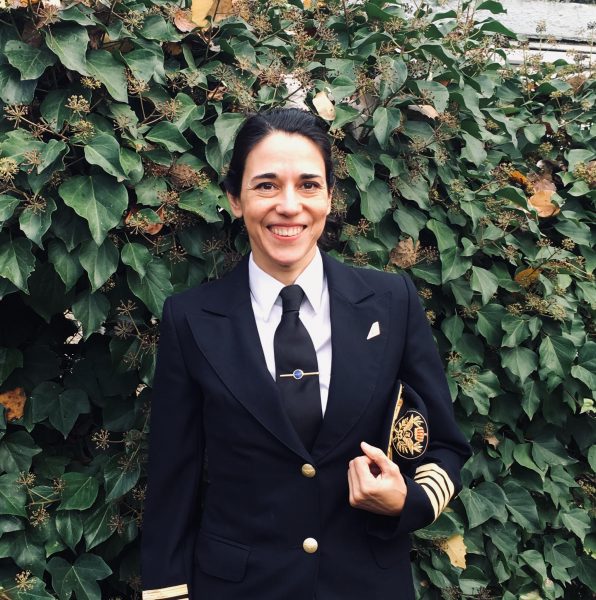 Beatriz Urdiales has been an Iberia pilot since 2015, flying pilot long-haul intercontinental since 2016. And of all the 135 destinations which we serve, her favourite happens to be Chicago, Illinois. So she graciously agreed to share with us her favourite places in the USA's "Windy City".
Lake Michigan
The second largest of North America's inland Great Lakes (and the only one not shared by Canada), it's not only a critical water resource for the Chicago region but also a beloved warm-weather playground which delights visitors as well with its opportunities for strolling, jogging, beaching, and water sports.
Museum of Contemporary Art Chicago
One of the world's largest modern art museums is known not just for its formidable permanent collection (including the likes of Alexander Calder, Jasper Johns, Cindy Sherman, Kara Walker, and Andy Warhol) but also its groundbreaking temporary temporary exhibitions such as the first of Frida Kahlo – often exploring salient issues of the moment, like the upcoming Can You Hear Me Now? Drawn from the permanent collection and running 27 April to 29 September, it deal with breakdowns in communication and our inability to hear each other in today's polarised political climates.
Magnificent Mile
Chicago's largest shopping district is an upmarket downtown stretch of Michigan Avenue between the Chicago River and Oak Street, and includes not just myriad shops (large and small) and eateries, but iconic examples of the city's iconic 20th-century architecture, such as the Chicago Water Tower, the Tribune Tower, and the Wrigley Building.
Restaurant Picks: Grand Lux Café & The Cheesecake Factory
OK, they're chains, but top quality, and Beatriz always heads to the Magnificent Mile for a classic Angus beef burger in the former (600 North Michigan Ave.) and a decadent, over-the-top slice of cheesecake at the latter  (875 N. Michigan) – ready for some "Toasted Marshmellow S'Mores Galore"?
Union Station
This imposing, 94-year-old Beaux-Arts landmark is especially drawdropping inside – positively cinematic, you might say; no wonder it was chosen for a key scene in the Eliot Ness–Al Capone gangster flick The Untouchables (one of many movies set here in the Windy City).
Adler Planetarium & Shedd Aquarium
Sharing a stretch of Lake Michigan shoreline with the Field Museum of natural history, the USA's first planetarium (founded 1930) offers compelling exhibitions and sky shows (now playing: Imagine the Moon), and the next-door aquarium (founded that same year) features a fantastic mix of submarine fauna and flora, as well as live shows and multimedia experiences (and if you can get here before the end of June, its Underwater Beauty exhibition will blow you away!).
Chicago River Architecture Cruise
An absolute must from the end of March through late November: a breezy, invigorating cruise through Chi-town's iconic 20th-century skyline, with informative, entertaining commentary all the way!
Barnes & Noble
A pair of expansive downtown locations (1 E Jackson Boulevard, in the Loop, and 1130 N. State St. a few blocks north) are surfire favourites for browsing and enjoying coffee and sweets in their comfy cafés.
Come get to know these fantastic spots and more in the USA's third largest city, with Iberia!