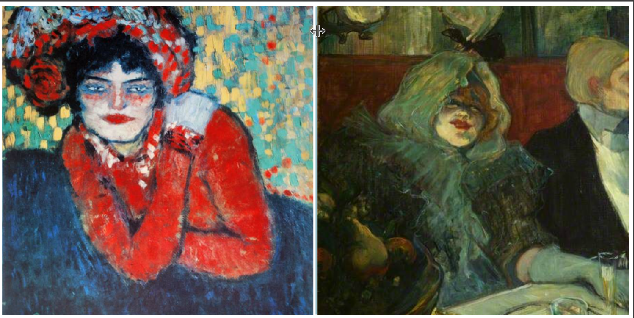 Both icons of world art, but certainly not two you would automatically associate with each other, right? Spaniard Pablo Picasso, perhaps the most reknowned artist of the 20th century, a giant of modern abstract art known the world over. Frenchman Henri de Toulouse Lautrec, iconic Postimpressionist painter and illustrator of the late-19th-century Paris demimonde.
But art history, like the rest of history, builds inexorably upon the past, and so Madrid's superb  Thyssen-Bornemissza Museum has creatively put together, for the first time ever, in the exhibition Picasso/Lautrec, running through January 21, focusing on these two titans of art (even though physically Toulouse-Lautrec was just 1.42 metres/4 feet 8 inches tall) and especially TL's decisive influence on PP.
One key thing these two have in common: their drive to create groundbreaking art and new paradigms; both played in novel ways with our perceptions of light, form, and movement, and eschewed the traditional. And as subject matter, Lautrec throughout his career and Picasso especially in his earlier periods were fascinated by the nightlife of Paris (where Picasso spent much of his career), its painted women of the night, absinthe drinkers, and other demimondistes and people on the margins of society. And after discovered TL in Paris, Picasso became a great admirer.
So this meticulously curated, show delves into all of that with more than a hundred paintings and illuminating explanations of history, connections, and influences connecting these kindred souls. It's a remarkable achievement, and one you shouldn't miss if you're in Madrid this winter.