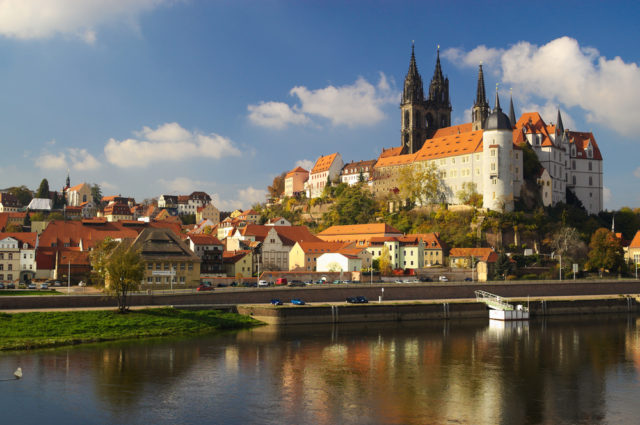 photo | xdrew
Originating as a Slavic settlement in the Dark Ages, for more than three centuries, the town, then small city of Meissen (pop. 30,000), straddling the Elbe River of Saxony, had something of an outsize reputation as site of key events in Teutonic history but especially as the place where Europe's first hard-paste porcelain was invented in 1710 and developed worldwide fame. That light dimmed a bit as Meissen Porcelain came under the control of Communist East Germany after World War II, limiting its world distribution and reputation, but since 1990 owned by the democratic Bundesrepublik's state of Saxony, it has flourished as well as become one of this charming city's star attractions.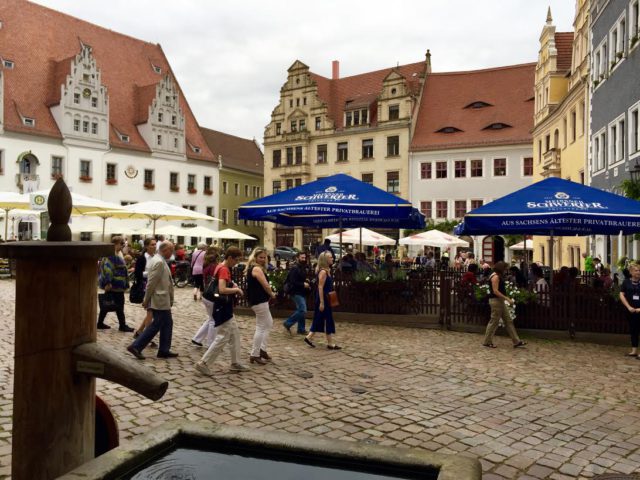 photo | David Paul Appell
About a half-hour drive northwest of Saxony's handsome capital Dresden and just over two hours from Berlin, Meissen (written "Meiβen" in Germany, using the unique letter standing for a double-s) is set amid valley vineyards and dominated by a fairytale castle and Gothic cathedral, right alongside each other. You'll start your visit down in the old town below, however, with its epicenter in the historic old quarter's Marktplatz (above), an absolutely charming place to sit with a glass of local beer or wine, and enjoy some hearty Saxon and German food. Wander around the old town with its mediaeval gabled architecture, and pop into the Gothic Frauenkirche (Church of Our Lady) with its unique porcelain carillon, and the Meissen City Museum, based in a former Franciscan monastery on Heinrichsplatz (which among exhibitions on the city's history dating back to its origins also includes a goodly amount about the porcelain which made its world reputation).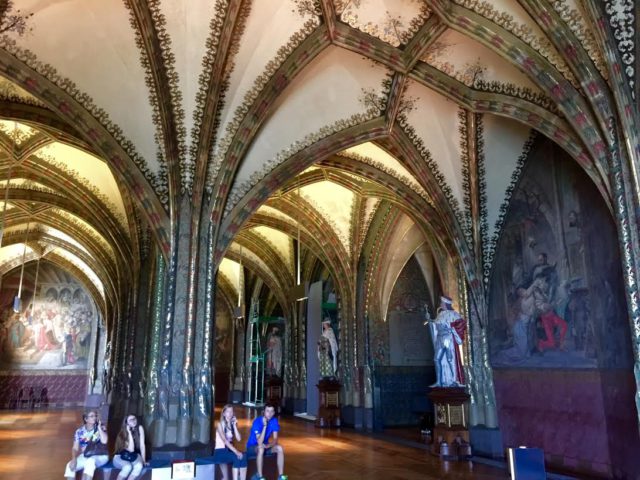 photo | David Paul Appell
Then it's time to head up to Castle Hill, home to the city's main landmarks, its traditional seats of temporal and religious power, crammed right next to each other. The first fortress was built up here in 929 AD, but the Albrechstburg Castle we see today was built as purely a residence by a pair of brother princes in the latter half of the 15th century, and is today considered Germany's oldest extant castle. It's an atmospheric bit of business, indeed, with its late-Gothic stairways and elaborately vaulted chambres (above), some adorned with tapestries and/or painting depicting the sometimes tumultuous histories of its princely inhabitants.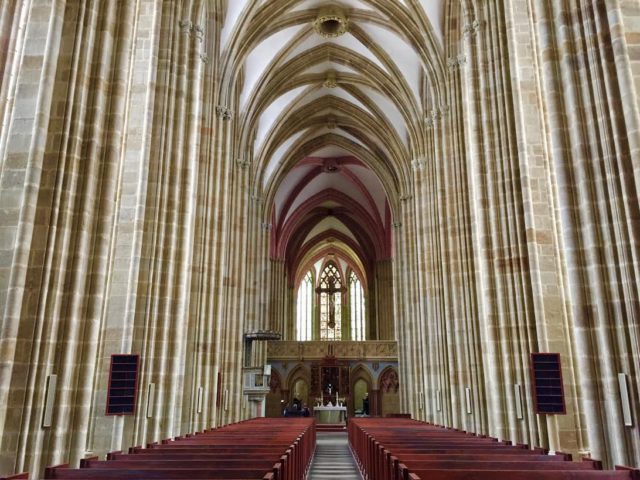 photo | David Paul Appell
Snuggled up right next door is the Meissner Dom, one of Europe's smaller cathedrals (thanks to the limited space atop this hill), built between 1260 and 1410 and a Gothic gem if ever there was one; today it remains the seat of Saxony's top Lutheran bishop.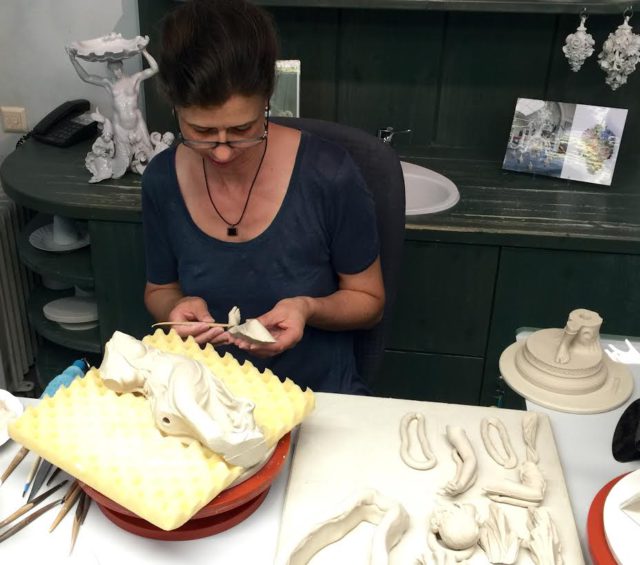 photo | David Paul Appell
It was in one of those chambres of Albrechstburg Castle, by the way, that the famous Meissen Porcelain was first invented and produced under the auspices of King Augustus "the Strong".  By the mid-19th century, the porcelain workshop had outgrown its narrow quarters here and so it was moved across the Elbe River to its current site, which should be your next stop as a visitor. The multi-story HQ incorporates various showrooms packed with traditional and contemporary Meissen ware for sale, from relatively inexpensive thimbles and salt shakers to elaborate chandeliers and decorative pieces costing tens of thousands of euros; upstairs, meanwhile, is a museum detailing the lines and their history throughout the past three centuries. Most interesting of all for me, however, was the guided tour through a series of demonstration workshops manned by skilled craftspeople (above), each responsible for a different stage of production, from spinning the clay to finishing touches.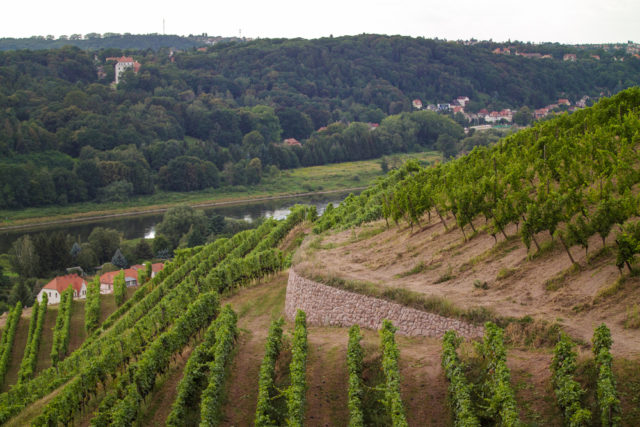 photo |  scimmery
Finally, oenophiles will want to check out the local winemaking scene, starting with Wein Erlebnis Welt (Wine Experience World) in town a 15-minute walk from the porcelain factory/showroom, where a winemaking house has been refurbished and provides tastings and sales of local wines in addition to tours of the old wine cellars. Here you can also arrange tours of some of the more than two dozen vineyards in the surrounding valley, along the 55-kilometre (34-mile) "Saxony Wine Trail".
Providing, of course, a whole lot more to which to toast!
More info in English: Stadt-Meissen.de, SaxonyTourism.com, Germany.travel.