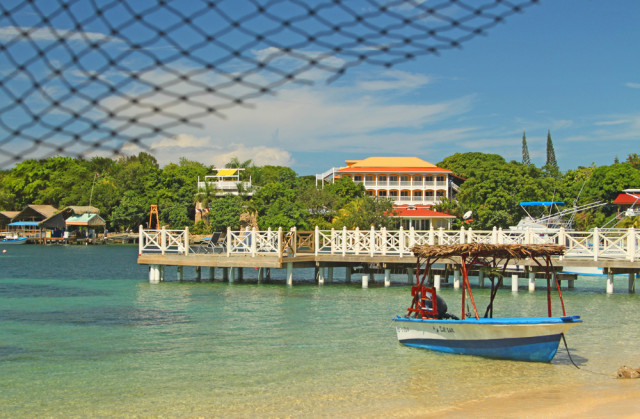 photo | Renee Vititoe
Right astride the Caribbean's largest barrier reef – also the world's second largest after Australia's Great Barrier Reef – this small island (just 83 square kilometres/32 sq. miles) off the coast of Honduras has become not only this country's top visitor draw (outstripping the other main one, the impressive Mayan archaeological site Copán) but also, unsurprisingly, a star among the world's diving community.
Actually the largest of seven Islas de la Bahía (Bay Islands), this onetime pirate hideout today has several towns and villages spread over its), the largest of which is Coxen Hole – with around a mere 5,000 permanent residents. Like other Caribbean coastal areas of Central America, there is a strong influence of Garifunas – Afro-Caribbean English speakers – intermixed with Hispanics from mainland Honduras.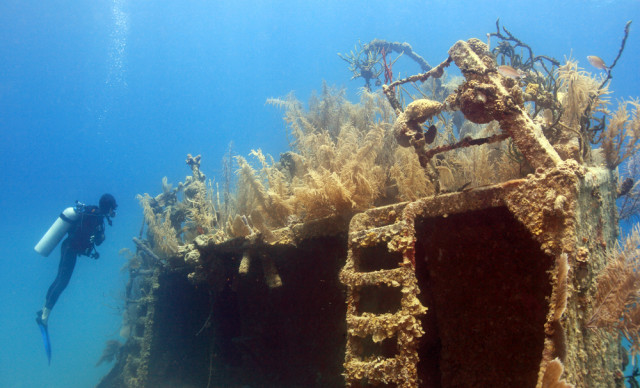 photo | John A. Anderson.
Other cool little towns include West End (aka "the strip", known for its variety of restaurants and bars), Dixon Cove, West Bay (perhaps the island's best known stretch of paradisiacal beach), and French Harbour. Most of the vibe here is low-key, barefoot Caribbean, where it's all about sun, sand, surf, partying – and, of course diving/snorkeling.
Top dive highlights, for example, include "Mary's Place", with deep cracks full of colourful fish and coral overhangs; the wreck of the freighter Prince Albert (above); Cemetery Wall, starting at about 7.6 metres (25 feet); the Labyrinth, with towering formations and canyons, from 4.6 down to just over 18 m. (15-60 ft); and Shark Dive, the only spot where you can reliably see these toothy critters on a regular basis.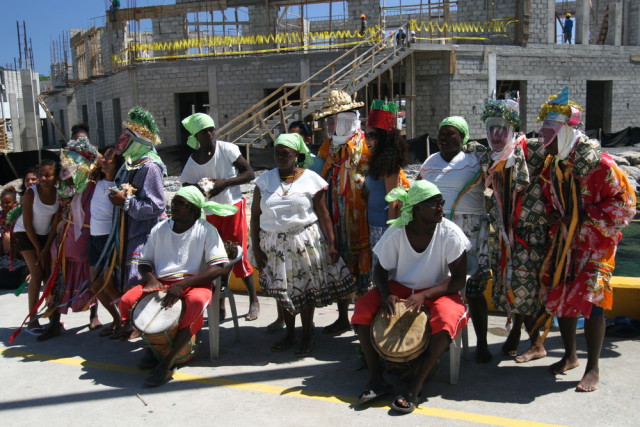 photo | gary yim
To go along with that, you also have many of the activities you would expect in an outdoors holiday destination – golf, ziplining, various water sports, deepwater fishing, and sailing. In addition, there are several interesting attractions worth visitors' while. The eco-minded might want to stop in at the 16-hectare (40-acre) Carambola Gardens near Sandy Bay, on a forested mountain slope, where you can get a splendid eyeful (and guided tours of) the local flora and fauna. The Blue Harbor Tropical Arboretum is even larger (65 ha./160 acres), and throws in a hydroponics farms and obstacle course on which to challenge yourself. And the 5-ha. (12-acre) Archie's Iguana Farm and Marine Park in French Cay specialises, obviously, in iguanas – some of which grow to up to four feet long – but you'll also find monkeys, rescued sea turtles, and tarpon fish.
One particularly interesting aspect to pursue is exploring the culture of the local Garifunas (above), black people whose ancestors were from the English-speaking Caribbean and who are spread up and down much of Central America's Caribbean coast. The village of Punta Gorda is perhaps the best place to meet them; learn about their culture; witness their music and drumming; and buy their crafts. You can visit on your own or through local tour operators such as Roatán Culture Tours.
More info: RoatanTravelGuide.com.
Best fares to San Pedro Sula from the UK, from Spain.