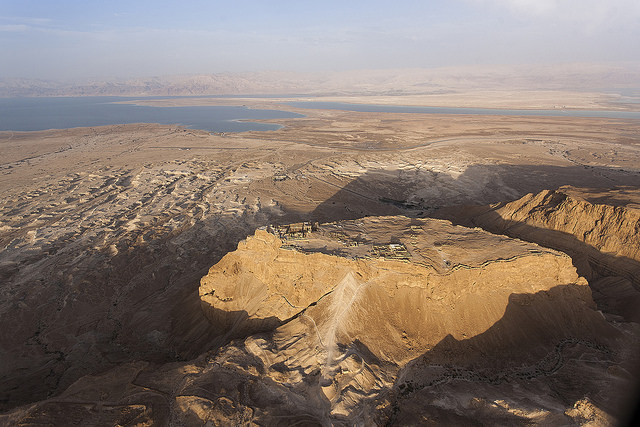 photo:  Itamar Grinberg/Israeli Ministry of Tourism
Israel is truly a land of exceptional sights – and sites – from top to bottom. But roughly two hours south of Jerusalem, one of its most evocative (and popular) high points, so to speak, looms in the Judea desert some 396 metres (1,300 feet) above the shores of the Dead Sea. Masada (Hebrew for fortress) is an imposing UNESCO World Heritage Site, and after Jerusalem, the most visited spot in the country. 
At this rugged fortress complex, excavated in the mid 1960s and dating back as early as the 1st century BC, a hardcore Jewish splinter group besieged by Roman forces in 73 AD killed themselves rather than surrender. Today, in addition to being a tourism star, Masada is used as a ceremonial site by the Israeli military's special forces, who induct new members with the vow that "Masada shall not fall again". (Other inductees make their vows at Jerusalem's Western Wall.)
The only written source for the history is Joseph ben Matityahu, who after fighting against Rome defected to the Romans, eventually becoming Galilee provincial governor Titus Flavius Josephus and authoring The Jewish War and other chronicles of contemporary Judea.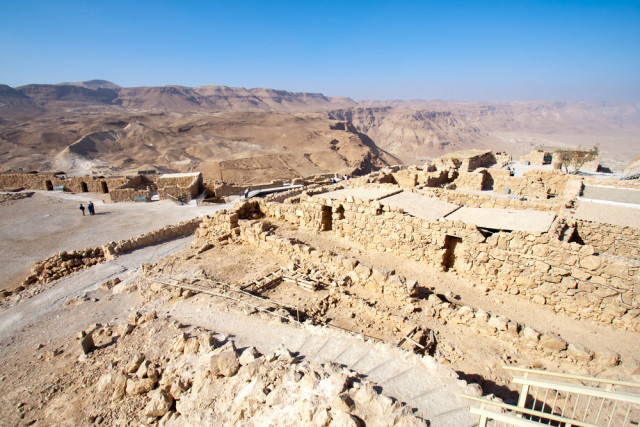 photo: VanderWolf Images
The notorious King Herod took the initial fortress and built two additional lavish palaces. Decades after his death, Jewish rebels overcame the garrison below Masada and were soon joined by other rebels when Romans destroyed the Temple in Jerusalem in 70 BCE; nearly 960 zealots held out for three years, establishing a community on the mountaintop.
Close to 10,000 Roman legions, armed with battering rams and catapults, eventually breached the walls and entered the fortress, to find that almost all the defending Jews had killed themselves and/or each other rather than surrender. In recent history, this tale has been compared to the rebellion of the Warsaw Ghetto Jews during World War II, and has become a key icon bolstering the national identity of Israel itself.
Today, 1,943 years later, hundreds of visitors arrive, by car or motorcoach, on Sunday through Friday (usually at or even before daybreak) to explore the stark mountaintop, crowned with the partly restored fortress and remnants of Herod's lavish palace. A cable car carries visitors to the top, while the doughtiest do the hourlong hike up the steep, switchbacking "snake path"(others ride up and hike down).
There's a synagogue in this complex, as well, thought to be the oldest remaining in the world. I love visiting this spartan space. It's of course as different as can be from the fancy nearby digs of Herod, which include the elegant, three-level "Hanging Palace", with walls decorated with multi-hued patterns and Corinthian capitals; a large calidarium (hot baths, among the best preserved part of the complex); and an elaborate mosaic floor with floral and geometric patterns. An amazing rainwater-catching cistern provided water to the mountaintop through a system of dams and channels.
It all tells quite a tale, and is complemented by a visitor centre at the bottom with additional history and context. Keep in mind, too, that at just about any time of the year, this region is quite hot, and I highly recommend you carry water and wear hats and sunscreen.
But do go – it is a site and a story not to be missed.
More information: GoIsrael.com.
Best fares to Israel from the USA, from Spain.

Marcia Levin is a Hollywood, Florida-based travel writer who specialises in topics of interest to seniors and cruise fans. A past president of the Society of American Travel Writers, her work has recently appeared in AAA Living, Porthole magazine, and numerous websites such as NeverStopTraveling.com.