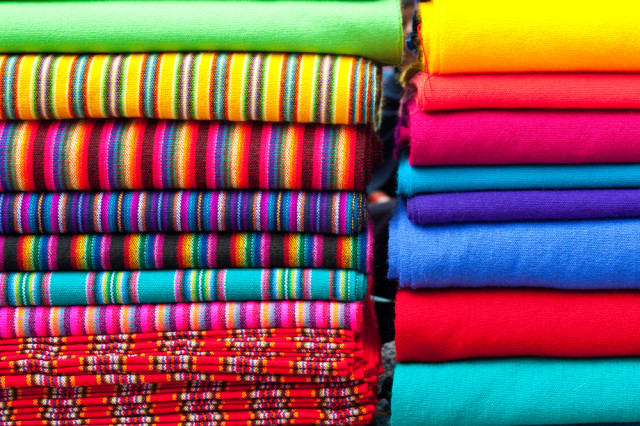 One of the best ways to get to know a country is through its markets. What you find is not only its products, but an entire way of life, of feeling, of talking… dare we even say, of falling in love with the place. An entire country is exposed to our senses, through its people and its culture. And so in order to get to know Ecuador better, we're going to take a stroll through one of the most important markets – not just of the country, but of all South America. Get your shopping shoes on, because today we're going to the Otavalo Market. Welcome to the real Ecuador!
There's no question about it: if you're travelling to Quito, an excursion to this small city (pop. 90,000) just over two hours south will be a great way to discover the Andean culture of Ecuador, as well as an intense experience on its own.
The city's main claim to fame is the Otavalo Handicrafts Market (though there's much more than crafts here), however, for those who are early to rise. Do try to visit the market on Saturday, as the rest of the week only a handful of crafts shops will be open.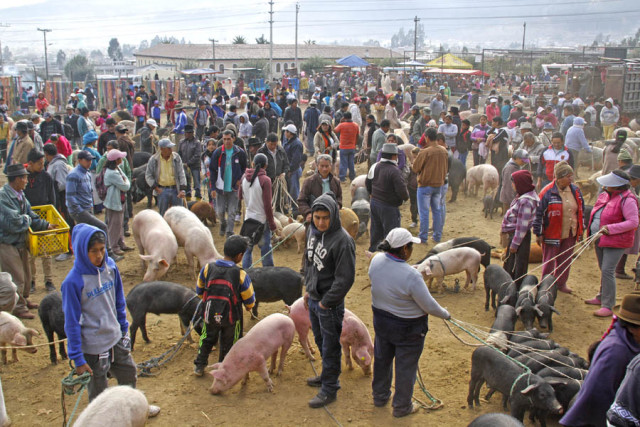 Animal Market
The Otovalenos (locals) and country folk from the surrounding areas arrive at a dirt enclosure next to the highway that starts to fill up around 6 in the morning. A great cloud of dust is kicked up as horses, cows, bulls, pigs and other animals that are bought and sold here are herded in. The people wear their typical regional costumes, with those unmistakably Andean hats and their cheeks burned by the high-altitude sun.
From a safe distance you can watch the bargaining, how the animals are checked by prospective buyers, how they load them onto trucks, or how some simply leave the market with a cow, hen, goat or pig in tow. Children will often be in charge of guiding the animal home, but rest assured these are not meant to be pets.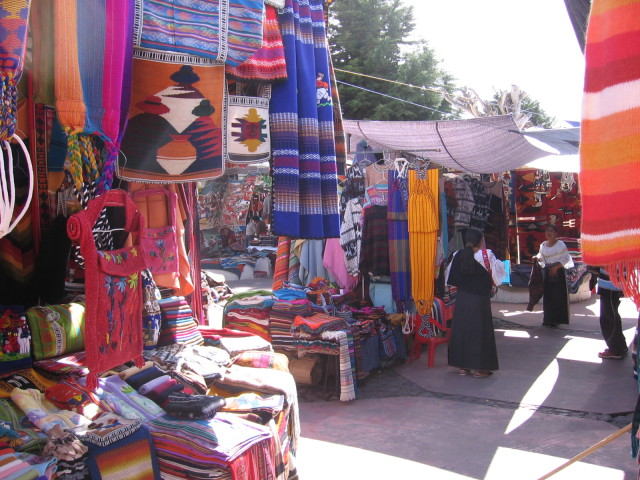 Handicrafts Market
Somewhat later, in the centre of town, the Handicrafts Market of Otavalo starts to get underway in the Plaza de los Ponchos, expanding like an infinite labyrinth of shops where you can find fabrics of different colours, clothing, hats, crafts that make excellent gifts, and all manner of knickknacks.
Textiles are the star in this market, as there is a long tradition dating back to the times of the Incan empire. Locals have developed a whole technology and textile industry, as you can clearly see in any one of the hundreds of stands in the market. Most famous is the Otavalo casimir, a kind of cashmere that is prized throughout the world – though it is here, of course, that you will find the very finest, for the best price.
Whether you're a shopper or not, a fascinating and unforgettable experience!
More information: Ecuador.travel.
Best Iberia fares to Quito from the U.K., from Spain.

photos | Boyd Hendrikse, Sputnikcccp