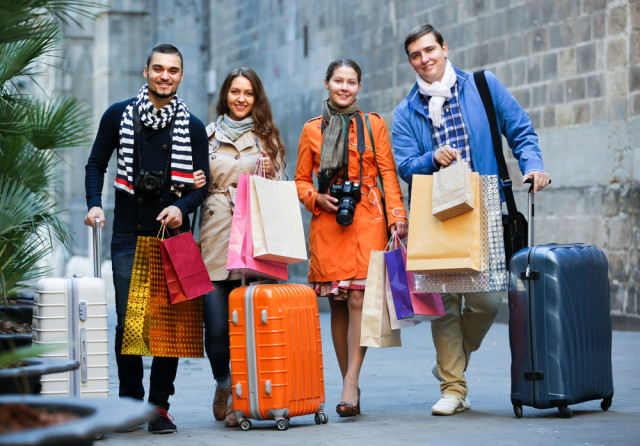 Some time back, in this blog we covered top options for souvenir shopping in Europe and Latin America. Given the popularity of retail therapy on holiday as much as at home, though, here we thought we'd look at the larger picture in a half dozen of the cities best known as Europe shopping destinations. Hardly exhaustive, to be sure – but hitting the main bases…
Barcelona
This is the home turf of Zara (three huge shops, more than a half dozen smaller ones), Desigual (19, last I counted), and Mango (four). And although there are now shopping malls like L'Illa Diagonal and Maremagnum, as well as a La Roca Village outlet centre outside the city, much of the higher profile shopping is concentrated closer in – essentially a few blocks north and south of Gran Via de les Corts Catalanes. Passèig de Gracia, running north from Gran Via, has many of the major international fashion flagships such as Chanel, Gucci, and Prada, and also along here as well as on surrounding streets of its Eixample area you'll find interesting upmarket niche boutiques and Spanish designers such as Armand Basi, Adolfo Domínguez, Josep Font, and Agatha Ruiz de la Prada.
Below Gran Via, the main branch of El Corte Inglés deparment store is on the main central square, Plaça de Catalunya, and other shops continue down Avinguda Portal d'Angel and the Rambles (off the latter, and along side streets like Carrer de la Portaferissa, street fashion and up-and-coming designers in areas like El Raval). The uptown Gràcia neighbourhood – not to be confused with the Passèig de Gracia – also boasts its share of indie/vintage boutiques. The Barri Gótic (Gothic Quarter) is wonderful for quirky little boutiques, vintage, and antiques shops. Speaking of which, my favourite antiques market is Mercat Els Encants, just slightly off the beaten path on Plaça de les Glòries Catalanes; however, Mercantic up in the suburb of Sant Cugat is a real must for real antiques mavens.
Finally, Barcelona is also an interior design powerhouse, with key retailers including Vinçen on Passèig de Gràcia and BD Barcelona up in the gentrified industrial neighbourhood Poblenou, just below Plaça Glòries.
And one final note: Summer brings another good reason to hit town: sales of up to 70 percent off!

London
Generally pricey but considered by many Europe's top all-around shopping city, its multilayered, deeply pedigreed shopping scene has amazing range, from centuries-old household names to funky little holes in the wall with buried treasures. Its epicentre is Oxford Street, between Hyde Park and the British Museum, 2½ kilometres (1½ miles) with more than 300 stores, from the iconic Selfridges and Marks & Spencer to designer boutiques. Historic department stores are something of a London speciality, of course, with venerable names like Fortnum & Mason (St. James), Harrods (Knightsbridge), and Harvey Nichols (also Knightsbridge).
Other famous shopping streets include, near Picadilly Circus, elegant Regent Street and funkier Carnaby Street; Savile Row of course for bespoke tailoring; and perhaps the most exclusive of all, Mayfair's Bond Street, with blue-chip names like Burberry, Louis Vuitton, and Tiffany & Company.
British fashion designers range from traditional to avant-garde, and the established (the likes of Stella McCartney, Paul Smith, and Vivienne Westwood) to up-and-comers such as Claire Barrow, Craig Green, and Meadham Kirchoff.
You can also find many of these brands all under one roof at a pair of ginormous Westfield Shopping Centres, one in Shepherd's Bush, West London, and the other in Stratford, East London.
All veddy well and good, but personally, I've always had a soft spot for London shopping's quirkier side – and there's more of it than ever before. Notting Hill is packed with small, unique shops selling unusual and vintage clothing, rare antiques, quirky gifts, books and organic food, while Westbourne Grove tends toward a bit more upmarket offerings, with stylish designer shops amid funky boho boutiques, hip cafés, and art galleries.
Street markets abound, as well, with the biggest and best including he daily, 1½-km (mile-long) Portobello Road Market, always great fun to browse hundreds of stalls with antiques and vintage treasures. Up north, Camden Town, too, is great for this sort of stuff, at the Camden Market and Camden Lock Village Market.
There's even a quirky "mall" of sorts. Located next to the Underground station up in hip Shoreditch, Boxpark is a collection of popular shops housed in cargo shipping containers. Very "pop-up" in feel – brilliant!
Madrid
Despite the recent economic crisis, Spain's capital has still been livin' la vida loca, retail-wise, and even provides reasonably good value. There are three main shopping areas, each with a fairly different vibe. One is the core of downtown: main drag Gran Vía to this country's epicentral plaza, the Puerta del Sol; here's where you'll find popular brands such as homegrown Zara, along with department stores like El Corte Inglés.
A few blocks east of here, the Salamanca district (streets such as Calle Serrano – dubbed the "Golden Mile" – Velázquez, and Goya) is the posh stomping grounds to shop for luxury international icons such as Armani, Prada, and Vuitton, and Spanish designers/brands both old school (Manolo Blahnik, Adolfo Domínguez, Loewe) and new wave (David Delfín, Roberto Etxeberria, Agatha Ruiz de la Prada, Felipe Varela).
Naturally, however, Madrid also sports an amply funky side, and you'll find it especially to the north of Gran Vía, along the narrow streets (especially Calle Fuencarral) and squares of Chueca, Malasaña, and Triball. This hipster/creative/LGBT central, and the boutiques and watering holes can be correspondingly avant-garde (even venerable brands site their younger collections here, such as Adolfo Domínguez U).
And I would of course be remiss to not mention the famous Rastro, the giant flea market that sprawls over several streets and squares in the Embajadores neighbourhood south of downtown. Here you can find everything from household items to pets; paintings/artwork; vintage and antiques; and collectibles of every conceivable type.

Milan
Ah, Milano, ground zero of la bella figura… This is where so much of the fashion world's magic happens – sometimes it seems like a city inhabited by models (well, in the downtown areas, at least). Ground zero for high-end shopping is the Quadrilatero dell'Oro (Golden Rectangle), a few blocks north of the city's historic centre – and perhaps the world's single most important fashion district. Key streets are Via Montenapoleone, Via della Spiga, and Via Manzoni, along which you'll find the flagships of hometown brands that have become international household names: Armani, Dolce & Gabbana, Versace, and the like. (You might also want to keep an eye out for up and comers like Mauro Gasperi, Andrea Pompilio, and Fausto Puglisi).
Another atmospheric place to shop, right alongside Piazza del Duomo, is the Belle-Époque Galleria Vittorio Emmanuele, which among other things includes the flagship of Prada.
Seekers of street fashion and bargains up and down the food chain, meanwhile, head to the smaller alternative boutiques on Corso di Porta Ticinese and the Brera neighbourhood. Outlets for seconds, overstock, and last season's designs can be found along Corso Vittorio Emanuele II, behind the Galleria (and truth be told, these are where many of the stylish locals you see do their shopping). One of the biggest and best outlets is actually a few blocks east of here, called Il Salvagente (Via Fratelli Bronzetti 16); you can get up to 60 percent off. Magnifico!
Paris
Also synonymous with high fashion (and prices), the City of Light nonetheless gleams with almost as much diversity as London when it comes to styles, variety, and – yes, even price points.
Starting at the centre, the Louvre/Tuiléries area is home to the crème de la crème, especially on the Place Vendôme, Rue du Faubourg Saint-Honoré, Rue Saint-Honoré, and Rue de la Paix. On these you'll find flagships of France icons à la Hermès and Yves St. Laurent, but also trendy boutiques selling both clothing, accessories, and more, such as Colette.
The Right Bank's grand boulevards are also a focus, such as Boulevard Haussman, especially for its grands magasins (department stores), such as Galéries Lafayette and Printemps (world's biggest beauty department, oh là là!); another famous one, Le Bon Marché, is over on the Left Bank near the Jardin du Luxembourg. The boulevards are also home to various old-fashioned "arcades" – the back-in-the-day version of shopping malls – like Galérie Vivienne, Passages Jouffroy, and Passage du Grand Cerf. Meanwhile, the most famous boulevard of all, the Champs Elysées, boasts Louis Vuitton, and nearby Avenue Montaigne has Chanel and Christian Dior.
One of my own favourite shopping haunts is the Right Bank's old mediaeval quarter, the Marais, along whose picturesque narrow streets you'll find eclectic boutiques with indie fashions, vintage merch, artisan jewelry, antiques, art galleries, and cosmetics/scents.
Several newer French fashion designers to especially watch for at the moment: Jacquemus, Bouchra Jarrar, and Isabel Marant.
You can score all manner of fab fashions, as many Parisians themselves do, at discounted prices in stores dealing in overstock, seconds and past seasons – known as depôt-ventes – such as La Marelle in the aforementioned Galérie Vivienne and Le Dépôt-Vente de Passy out near the Eiffel Tower.
Finally, marchés aux puces (flea markets) are, er, hopping as well, with top picks including St. Ouen/Porte de Clingancourt, Porte de Venves, and Porte de Montreuil.
Right, so one…two…three…charge!

photos | Iaokov Filimonov, andersphoto, ValeStock