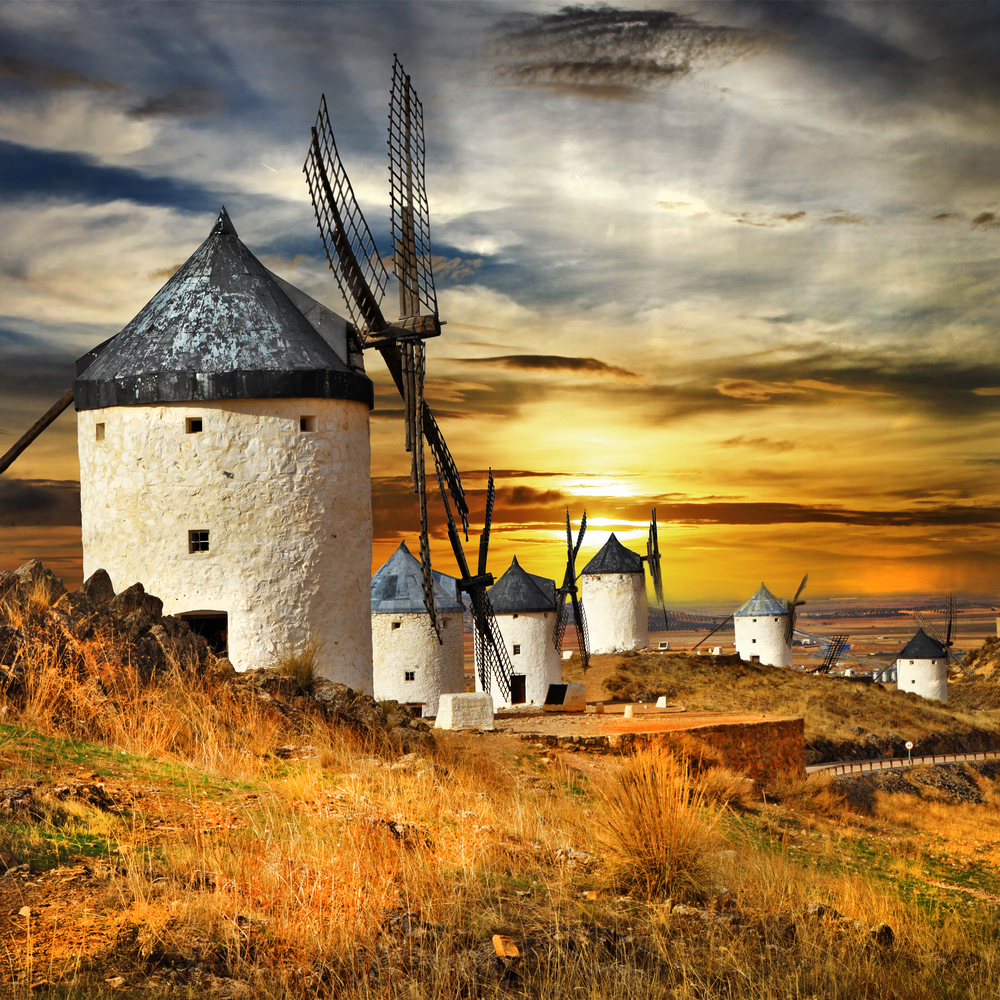 Thanks to Miguel de Cervantes and his immortal creations Don Quixote and Sancho Panza, the whitewashed brick molinos de viento of Spain's central plateau are among this country's better-known icons in the world imagination (though this is far from the only place in the country where they are found). And they have of course become the very symbol of this historic plain – Spain's largest,  sprawling over several provinces – known as La Mancha.
In the Spanish language's greatest novel, Cervantes depicted his barmy knight errant Don Quixote and faithful squire Sancho in a delirious case of mistaken identity:
Just then they came in sight of thirty or forty windmills that rise from that plain. And no sooner did Don Quixote see them that he said to his squire, "Fortune is guiding our affairs better than we ourselves could have wished. Do you see over yonder, friend Sancho, thirty or forty hulking giants? I intend to do battle with them and slay them. With their spoils we shall begin to be rich for this is a righteous war and the removal of so foul a brood from off the face of the earth is a service God will bless".

"What giants"? asked Sancho Panza.

"Those you see over there," replied his master, "with their long arms. Some of them have arms well nigh two leagues in length".

"Take care, sir", cried Sancho. "Those over there are not giants but windmills. Those things that seem to be their arms are sails which, when they are whirled around by the wind, turn the millstone".
The La Mancha Windmills Route
Hundreds of these notorious giants – dating back to the 16th century and originally – still still dot these arid plains, and some but not all of them are open to the public; for visitors there's a route which starts in the town of Orgaz (a bit over an hour's drive south of Madrid and a half-hour from Toledo) and winds up just over 44 km (27 mi) away in Madridejos. Not long at all – but it can take a good weekend with the various interesting stops along the way.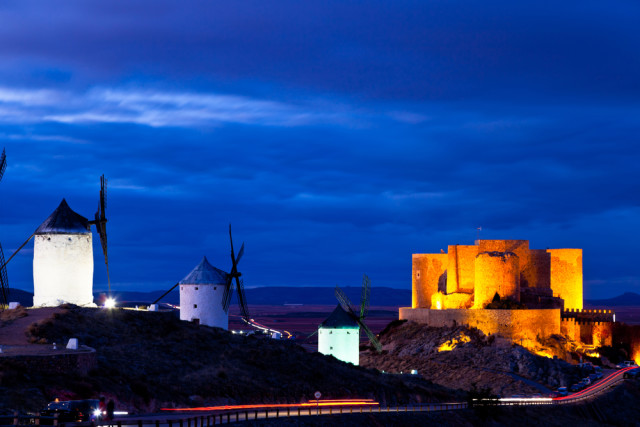 The main axis for windmills is Consuegra, a farming town with a grouping of a dozen two-storey mills, lined up on a ridge next to a 12th-century Moorish castle (above) and used to grind grain as recently as the 1980s, but now home to ethnographic exhibits. There are also several churches and museums worth visiting here, along with tours of local artisans' workshops, and the town is also known for its production of saffron, holding a Saffron Rose Festival during the last week of every October (one of whose main venues is the windmill dubbed Sancho).
Other interesting towns along the route include start point Orgaz (another mediaeval castle, aristocratic manses, the church of Santo Tomás) and nearby Arisgotas (a museum devoted to the Visigoths, who dominated Iberia between the Romans and the Moors), Mora (olive oil musem and uolive oil mill museum, churches, yet another mediaeval castle). Towns with other picturesque windmills include Tembleque, El Romeral (also with an interesting ethnographic museum and another one devoted to esparto grass, popular as a material for local crafts), and route endpoint Madridejos (in addition to its mill open to the public, there are several ethnographic museums and another devoted to saffron), as well as several religious buildings and a historic bull ring).
More information: Spain.info.
Best Iberia fares to Madrid from the U.K., from the USA.

photos | leoks, David Acosta Allely