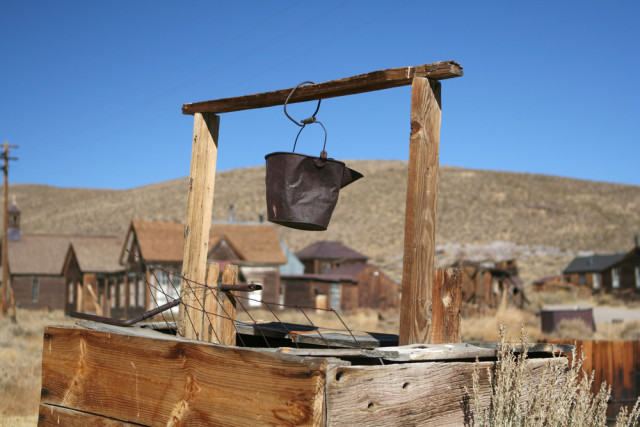 Abandoned towns and villages can be found all over the world. But there's something especially haunting and charismatic both about the remnants of settlements that photogenically preserve the look and feel of the 19th-century Wild West. Especially because we've all seen them in so many movie Westerns, they evoke a kind of romantic, Old West magic, akin to real-life theme parks. Which in some cases they have become, tarted up for tourists and/or as movie sets; others have been preserved but not tarted up.  There are quite a few (and not all of them even in the West), but these seven for which on the U.S. holiday of Thanksgiving I (and many others) give special thanks:
Animas Forks, Colorado
Some 3,415 metres (11,200 feet) up in the Rocky Mountains, Animas Forks is on an unpaved road called the Alpine Loop, a drive of just over two hours from both Telluride and Durango. Once billing itself as "the largest town in the world" (but adding in small print "at this altitude"), it was founded by prospectors in the 1870s and was abandoned in the early 1920s. Now looked after by the U.S. Bureau of Land Management, its nine remaining wooden buildings can be freely explored, and there's some interpretive material from the BLM – but that's about it. If you want more of a "living-history" (aka theme-parklike) experience – and an entertaining place to stay and eat –head to another nearby onetime mining town, Silverton, which has been somewhat theme-parkified.
About 120 kilometres (75 miles) from Lake Tahoe, this is another gold-rush boom town also way up in the mountains – here, the Sierra Nevadas. These days the hundred-odd remaining buildings – including saloons, gold mills, churches, a gym, bordellos, even a Taoist temple (remember the Chinese "coolies", many of whom famously built the transcontinental railroad?) – can be explored at the end of a dirt road as a state historical park, maintained in what they call a state of "arrested decay".
Down in Southern California, a 3½-hour drive northwest of Los Angeles, back in the day Calico was built more on silver than gold, and after its decline was restored in the 1950s by the founder of the theme park Knott's Berry Farm. So while a third of Calico's original buildings still stand, most have been converted into attractions, and all part of the San Bernardino County parks system. Those attractions include a museum, a silver mine, a train ride, and a silver-panning experence.
Arizona's most famous ghost town is located in its far west, not far from the Nevada gambling city of Laughlin and just over two hours south of Las Vegas. It was a very latecomer to the gold-mining game – its gold rush happened in the 1910s and 1920s – but it left a classic corpse that was made especially famous early on when movie idols Clark Gable and Carol Lombard spent their wedding night at the still existing Oatman Hotel. It's a bit touristy these days, thanks especially to Laughlin, and in addition to its attractions is most famous for the wild donkeys that roam the streets.
At the edge of Death Valley National Park, two hours drive northwest of Las Vegas, this town named after the granite-like local rock was another latecomer to the game – founded in 1905 after a couple of lucky gold strikes. It boomed extraordinarily for a few short years – especially thanks to financing by a certain Charles Schwab, whose U.S. investment firm now ironically boasts great financial acumen – but flamed out within less than a decade, subsequently becoming a Western movie set – and tourist attraction.
Founded in the 1870s and peaking at a population of around a couple thousand in its 1890s heyday, this town a short drive northeast of Telluride still has various building left, including a working general store and a couple of quaint accommodations such as the Ghost Town Guest House, which you can use as a base to not just explore the town but also other historic nearby towns and outdoorsy areas with some great hiking trails.
Within a few short years of its founding in 1863, Virginia City had population peaking at 10,000 (one of whom at one point was frontier legend "Calamity Jane"). Today it's a state-owned open-air museum with some privately owned shops, accommodations, eateries, and entertainment venues. You'll find it just over an hour from Bozeman, 90 minutes from Butte, and closer to three hours from Yellowstone National Park.
Check out your best fares to the U.S. West (via Los Angeles) from the U.K., from Spain.
 

images | Andrea Visconti