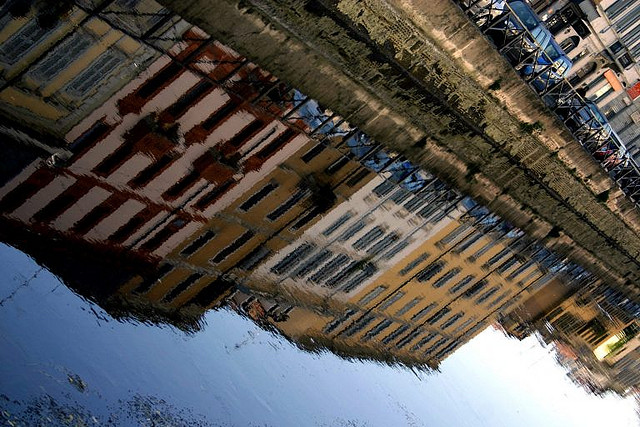 When it comes to canals in Italy, Venice pretty understandably gets almost all the love. But southeast of Milan's city centre one of the city's most atmospheric districts derives no small part of its charm from its own canals. 
More mellow than the rest of Italy's most go-go city, the Navigli neighbourhood revolves around three of five original canals built between the 12th and 16th centuries to connect the city to the Ticino and Adda Rivers, Lake Como, and the Mediterranean Sea, helping to transform the city through irrigation and trade – as well as, for example, bringing in materials to build its magnificent Duomo. They were elaborate, with various dams and locks (including some designed by Leonardo Da Vinci), and helped created a portlike feel in large areas of the city.
Beginning in the 19th century, however, they started to decline in importance as railroads and later road vehicles became increasingly prevalent in transporting goods and passengers, and by the 1920s, many sections were covered over and the area fell into neglect.
But in another fine example of urban renewal in recent years, the remaining three canals (Naviglio Martesana and especially Naviglio Grande and Naviglio Pavese) anchor an area which hs become one of Milan's cooler places for hip, young locals to go out, eat out, and hang out. This is especially in evidence on Saturdays, when an open air market is held at the Naviglio Grande's Darsena dock, with all manner of foods, books, and knicknacks.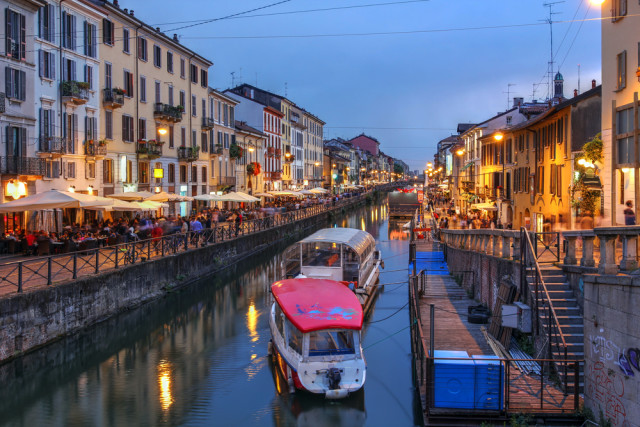 The last Sunday of each month (except July) there's also an antiques fair – and this is actually very much part of the vibe of this neighbourhood, full of shops specialising in vintage furniture and objects. It's turned into something of a SoHo, Italian-style, with top shops including Elizabeth The First (Alzaia Naviglio Grande 44) and trendsetting Made In The Shade (Ripa di Porta Ticinese 53).
Beyond shopping, get a dose of contemporary culture at Galvanotécnica Bugatti (Via Gaspare Bugatti 7), an old factory turned exposition hall, and Design Library (Via Savona 11), with a collection of top design publications and a nice little café.
On your perambulations, don't forget to stop by Vicolo dei Lavandei, a little side lane where women once washed clothes, and churches such as basilicas Sant'Eustorgio and San Lorenzo Maggiore, both dating back to the late 4th century. And for s spot of sustenance, there's seemingly no end of restaurants and trattorias; one particularly recommendable one is the venerable, rustic-feeling La Madonnina on Via Gentilino, for lovely Lombard fare like cotoletta alla milanese (breaded veal cutlet).
Postprandially, you can keep the evening rolling at spots like theatre-café La Corte dei Miracoli (Via Mortara 4) and the burlesque revue of Connie Douglas (Via Bordigher 15), then high-energy music at clubs like Batik (Viale Umbria 64), Kopi Club (Via Spontini 6) and Lighthouse (Ripa di Porta Ticinese 11). Just watch your step on the way out, or you might end up in one of those picturesque canals! 😉
Check out some of the great deals to Milan on Iberia from the U.K. and the USA!

images | Trotsiland, Mihai-Bogdan Lazar