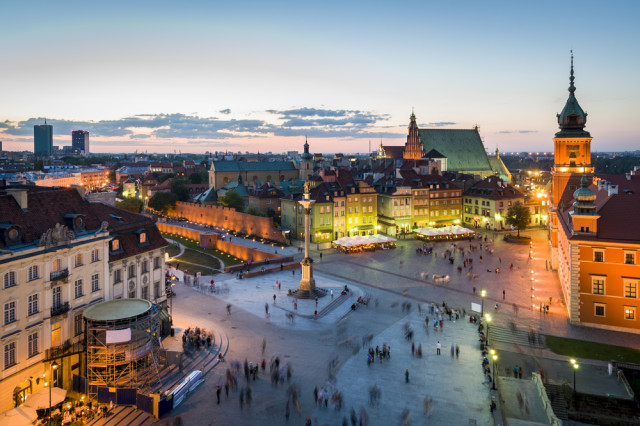 Back in the bad old days of the Cold War, Warsaw was one of the main names associated with the Communist bloc thanks to the fact that its military alliance was called the Warsaw Pact. With today's peace and prosperity under a mixed economy, the capital of Poland on the Wisła (Vistula) River is in the midst of an unprecedented boom, and is widely considered one of Europe's more "livable" capitals. And while from a touristic standpoint it tends to be somewhat overshadowed by its neighbours, if you do make it here you'll find an impressive – and by the way, quite affordable – mix, indeed. 
Although some 85 percent of the city was flattened by the Nazis during World War II, much of its Stare Miasto (Old Town) was restored to its former glory by the early 1960s, and visitors today can see wonderful examples of Gothic, Baroque, rococco, neoclassical, and Art Nouveau, as well as grand parks and royal gardens throughout maybe a quarter of the city (at the same time, there are also all too many examples examples of "brutalist"and other unlovely architecture left over from the grim half century of Communist dictatorship, the most prominent example being the Stalinist Palace of Culture and Science – not all that much to tour here, but worth a visit to the 30th-floor terrace for the view).
So Stare Miasto (part of the larger Śródmieście – city centre – is where everyone starts, and its epicentre is Rynek Starego Miasta (Old Town Square), lined with handsome Renaissance/Baroque townhouses. The surrounding streets a delight to stroll, and are packed with cafés, restaurants, galleries, and nightspots along with more lovely buildings (some of which you'll see marked as associated with Poland's greatest composer, Fryderyk – er, Frédéric Chopin). Another of the neighbourhood's most striking landmarks is St. John's Cathedral, full of Gothic art and evocative tombs of knights, rulers, and the great and the good. At the edge of the Stare Miasto, the massive brick Zamek Krolewski (Royal Palace) is open to the public to ogle its magnificent period furniture and works of art.
There are a couple of other must-visit palaces near the city centre, as well. Łazienki Królewskie was built in the 18th century for Poland's last king, Stanisław August Poniatowski, and comprises several marvelous buildings and structures on a 76-hectare (188-acre park). Also open to the public, Wilanów Palace is dubbed "the Polish Versailles", an opulent Baroque masterpiece in yellow and white, dating back to the 17th century.
As for museums, two of the best deal with the trauma of World War II. The 11-year-old Warsaw Rising Museum is a high-tech, interactive look at the city's most wrenching period – its occupation by the Nazis and the 1944 rebellion that led to its destruction – while the Museum of the History of Polish Jews does a wonderful job of documenting their many contributions to Poland as well as their horrific fate at the hands of Adolf Hitler's forces. The Muzeum Narodowe (National Museum) is also well worth a visit not just to learn about some of the great artists of Poland's past and present but also a collection of art dating back to the Middle Ages from Europe and beyond (Egyptian Nubian paintings, anyone?). And if you're interested in a great overview of what for most of us is a fairly unfamiliar history, the Stare Miasto's Museum of Warsaw is just the ticket.
As for the dining, shopping, cultural, and nightlife scenes, both Poles and many enterprising expats have turbo-charged all of it in recent years. Hipster central since the return of democracy lies across the Vistula on the east bank's working-class Praga District, whose high street Ulica Ząbkowska in particular is now home to myriad cafés, pubs, galleries, music venues and various other cool hangouts (there's also a nice park and zoo out here, as well as a branch of the Museum of Warsaw).
Finally, if you visit, consider picking up a Warsaw Tourist Card for either a 24-hour or three-day period, which will more than amortise its purchase price with free or discounted museums and attraction admissions, public transportation, tours, shops, galleries, restaurants, accommodation, and more.
More information in English: Warsawtour.pl.
https://youtu.be/J3VDbjsjyrE

images | Jacek_Kadaj,