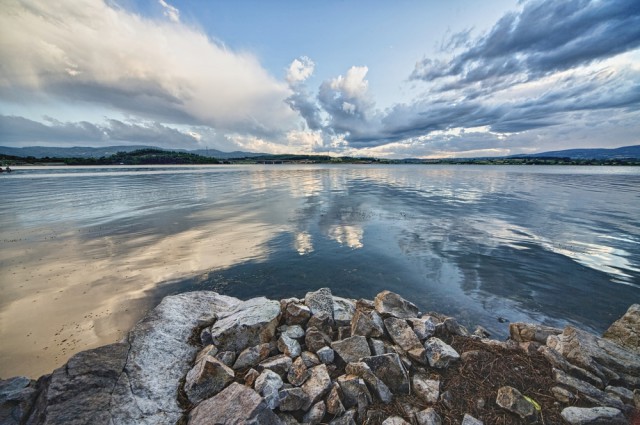 Perhaps Hungary's top draw outside the country's capital Budapest an impressive lake just an hour-and-a-half drive away which looms large in the Magyar national consciousness. Central Europe's largest lake at 77 by 14 kilometres (48×8 miles), Balaton – dubbed "the Hungarian sea" – offers a marvelous mix of history, resorts, wine, and spas.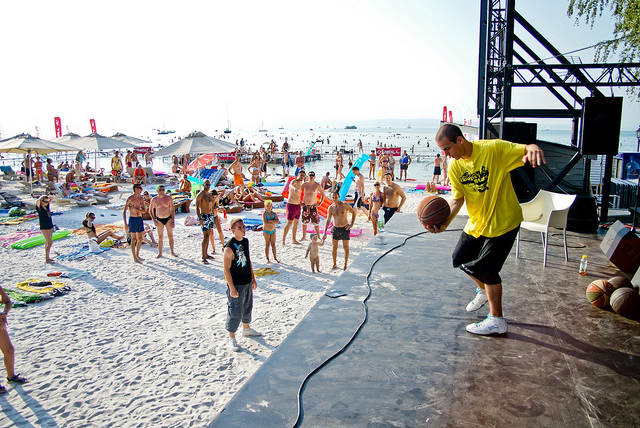 In the summer, it's the flat south shore of Balaton which is buzzing, with beachy daytime frolics and nighttime partying. The main party town is Siófok, with pleasant, statue-dotted parks, a handsome historic church; several museums (about geology/minerals, composer Imre Kálmán, and lake shipping/fishing); and most importantly these days beaches like Aranypart (Golden Shore) and Ezüstpart (Silver Shore), which are also venues for popular concerts, and good-size dance clubs. Zamárdi, another south-shore town, has been the site of the high-profile electronica festival Balaton Sound.
The north shore is rather different (you can get from one shore to the other via regular ferry service; the drive around the lake is about 225 km/140 miles), the terrain becomes hilly, the water deeper, and the vibe changes, becoming both more historic and more viniferous. Up here, a particularly well-known town is Balatonfüred, popular in the past especially with writers and artists, several of whose villas have been turned into museums. Today it mixes a resort vibe with wine, and carbonated mineral springs and baths also make it one of Hungary's prime spa destinations (another prominent spa, just inland from the northwest shore, is Hévíz, famous for its thermal lake, the second hottest in the world).
Just down the coast from Balatonfüred is the Tihany Peninsula, a historical district in its entirety, which in addition to a charming eponymous village (so charming its real estate prices are among Hungary's highest) is also home to a distinctive Benedictine abbey founded in the 11th century but whose current form is fairly simple, whitewashed 18th-century Baroque.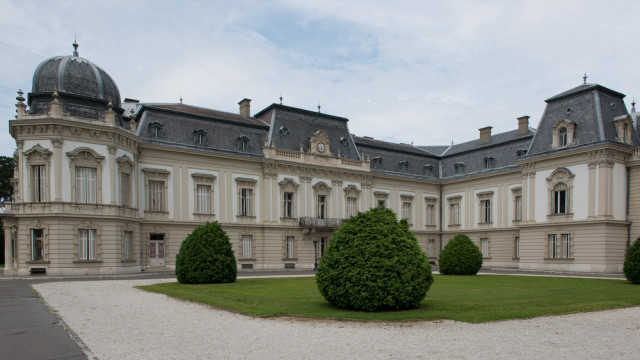 A bit farther down still, its major landmark a flat-topped mountain, Badacsony is an area of small, low-key resorts, villages, and vineyard-covered hills, with charming little cottages and wine houses. Then out at the west end of the lake, Keszthely has several attractions including the imposing Baroque Festetics Castle (above), with 101 rooms and surrounded by a beautiful traditional-English-style park, and Balaton Museum, with geological and archaeological displays. Other spots around the lake with evocative medieval fortresses include Szigliget, Rezi, and Tátika.
It must be said that Lake Balaton is fetching any time of year – during fall foliage season, for example, and even in winter, when it's a popular place to come skating, ice fishing, and iceboating. But summer is when it's in its glory, and well worth at least an overnight from Budapest.
https://youtu.be/dd1JMI-Akyg
images | ZoranKrstic,  filin ilia – aliyo.hu,  Fabio Lotti