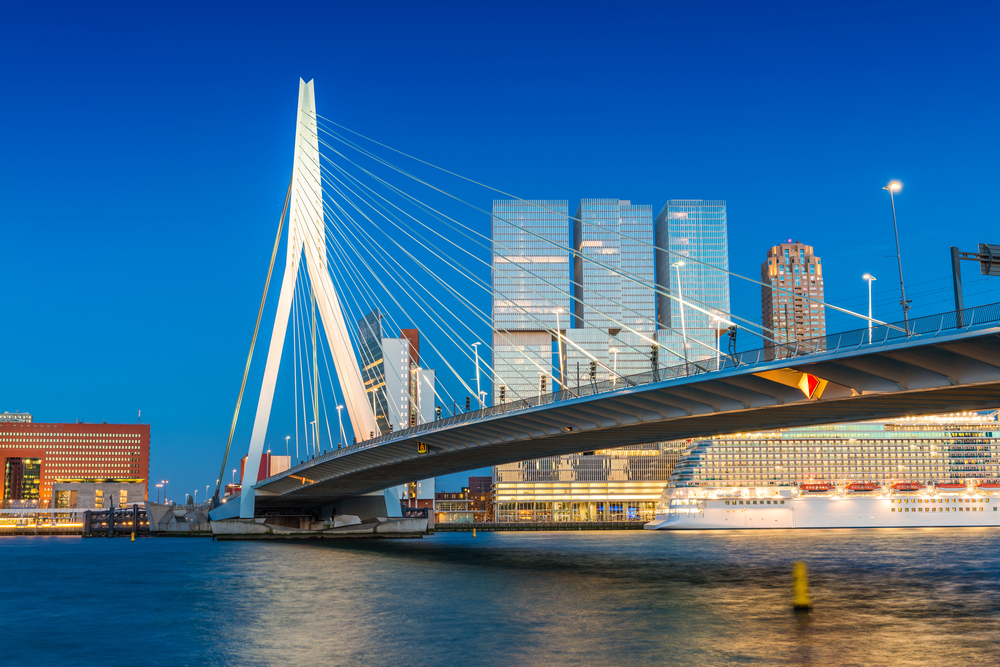 Most of us understandably think of Dutch cities as steeped in picture-postcard canals, quaint bridges, and low slung, stepped-gable houses, à la Amsterdam and Delft. But the Netherlands' second largest city (pop. 625,000) is a horse of a very different colour – and just as appealing in its own way.
On the Maas River near the North Sea in South Holland, a half hour from Schiphol Airport by train and motorway, dynamic  Rotterdam is instead Europe's largest port; this country's only metropolis with a true urban skyline; and a stellar showcase of today's cutting-edge Dutch architecture – the world-class innovativeness of stars such as Rem Koolhaas, Ben van Berkel, Jacob van Rijs, Winy Maas, and Nathalie de Vries. And as a European city break, "Manhattan on the Maas" offers an extremely exciting menu of art, culture, museums, dining, shopping, and nightlife.
In the museums department, for example, one of the best in town is the Bojimans van Beuningen, one of Europe's most impressive art collections. Opened in the mid 19th-century, it's home to some spectacular masterworks, from Bosch to Dalí (one of my favourites here is a famous painting by Breughel of the mythical Tower of Babel).
The Bojimans is is actually just one of several fine institutions clustered around central Rotterdam's Museumpark; others include the Kunsthal (often unusual temporary modern-art exhibitions in a striking modern building) and the Natural History Museum Rotterdam, an example of the genre which is especially interestingly curated.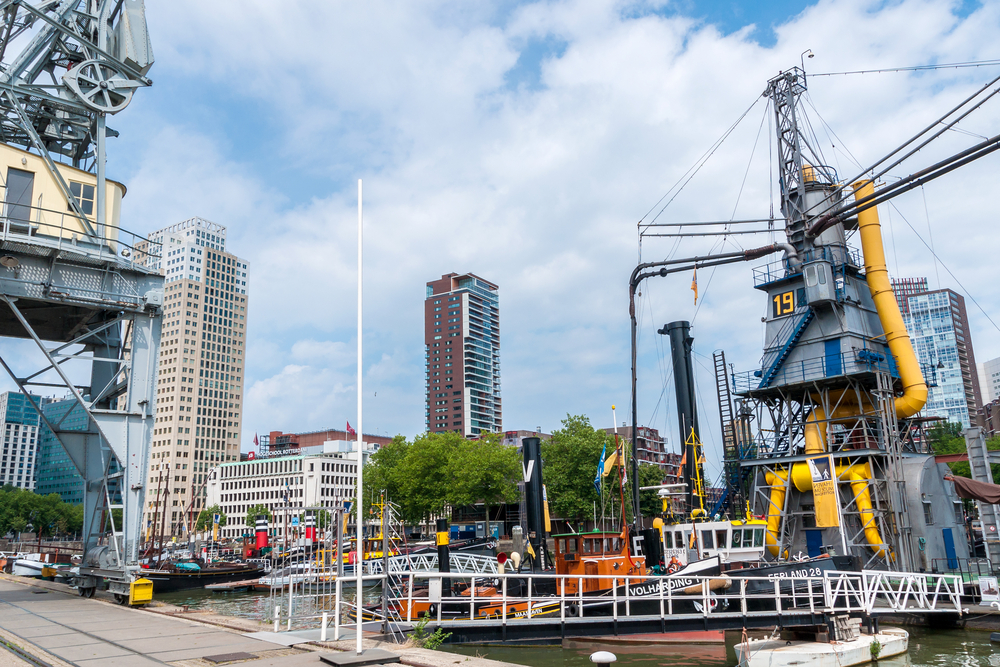 Also right downtown several blocks away, out on the Leuvehaven harbour, meanwhile, is another museum that's of particular interest given R'dam's seafaring history. The Maritime Museum is the country's largest open-air museum as well as one of the best of its kind in the world. It includes various types of vintage ships and boats as well as more than 800,000 artifacts covering the history of this port between 1850 and 1970. To supplement that, you can also take a Spido boat cruise of the harbour.
Over on the waterfront on the other side of Museumpark, you'll also want to schedule a visit to one of the city's top attractions, the Euromast tower, built in 1960 and rising 85 metres (606 feet). Not only does the observation tower up here afford panoramic views over the city and as far away as Antwerp in next-door Belgium, but also includes stuff like a fine restaurant; a luxury hotel (covered in this blog in a 2014 post about quirky hotels); a clear-glass rotating elevator called the Euroscoop; and for real daredevils, even the option to (gulp) zipline or abseil off the tower back to the ground.
I also geatly enjoy browsing the new Markthal, which opened in October 2014 as the Netherlands' first covered food market à la Borough Market in London and Barcelona's Boquería de Sant Josep. This one's definitely a horse of a different colour, though: a gigantic modern arch, glassed in and colourfully painted.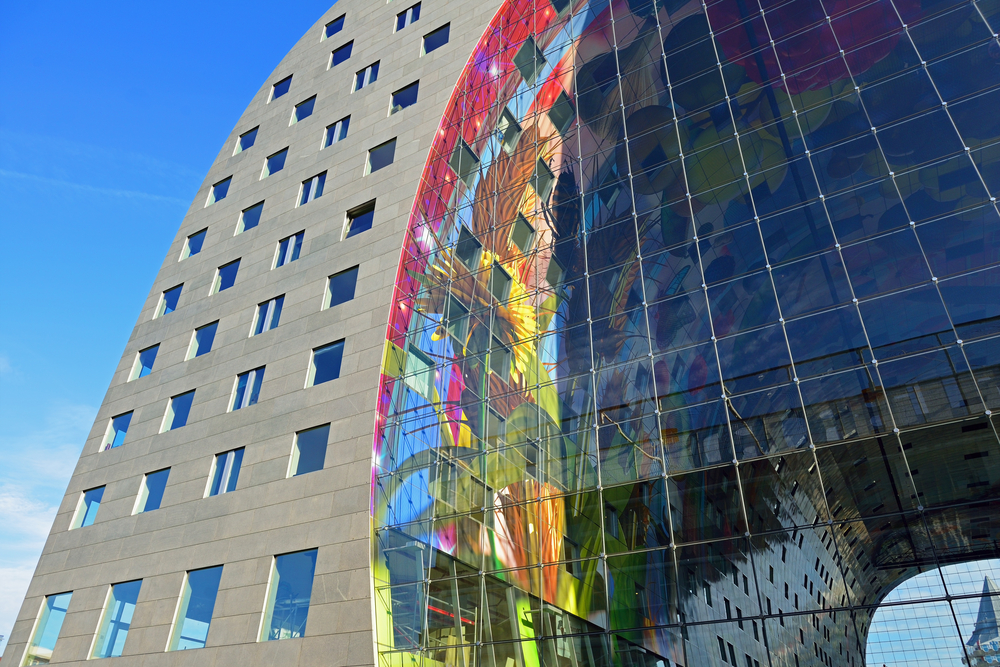 Actually, this is just one example of that famous innovative modern architecture I mentioned above. Especially if you're an architecture geek, there's plenty more where to provide days of admiring gawping: the most noticeable is probably Ben Van Berkel's Erasmus Bridge (top, inaugurated in 1996 and named after the 16th-century Dutch philosopher who hailed from here), but other sterling examples include the Piet Blom's Cube Houses (1977), near downtown's Rotterdam Blaak rail station and the Art Nouveau Witte Huis, Europe's first highrise, dating to 1898. The tourist office publishes a brochure of the top structures throughout the city.
(The latest proposed construction, unveiled in spring 2015, is the ginormous, circular "Dutch Windwheel", meant to become an iconic skyline attraction, with a hotel, apartments, and a roller coaster – all with a wind turbine at its centre, wow.)
Speaking of wind and architecture, not all traces of traditional Holland have been erased hereabouts. Besides the ealy-16th-century Sint-Laurenskerk, on downtown's Grotekerkplein, and the 1914 stadhuis (city hall), there are also seven classic Dutch windmills. Only a pair of these are open regularly, though (and infrequently – usually Thursdays plus every second Saturday of each month): De Ster (1777) and De Lelie (1829), on the shores of recreational Lake Kralingen in the northeast of the city.
And as cool as this city is by day, after dark it really shines, with Rotterdam dining from cheap (try a local favourite, french fries in a cone with mayonnaise and other yummy sauces) to haute (there are, for example, a half-dozen Michelin-starred restaurants here). In fact, it's considered by many, to even more than Amsterdam be the Netherlands' culinary and clubbing capital (including the country's biggest club); the area around the Old Harbour and the Witte de Withstraat, is particularly known for Rotterdam nightlife.
To paraphrase the old tourism tagline, all splendid ingredients for a "Rotterdamn" good time!
More info in English: Rotterdam.info.

images | CristinaMuraca, Ranzgen, Gerard Koudenburg