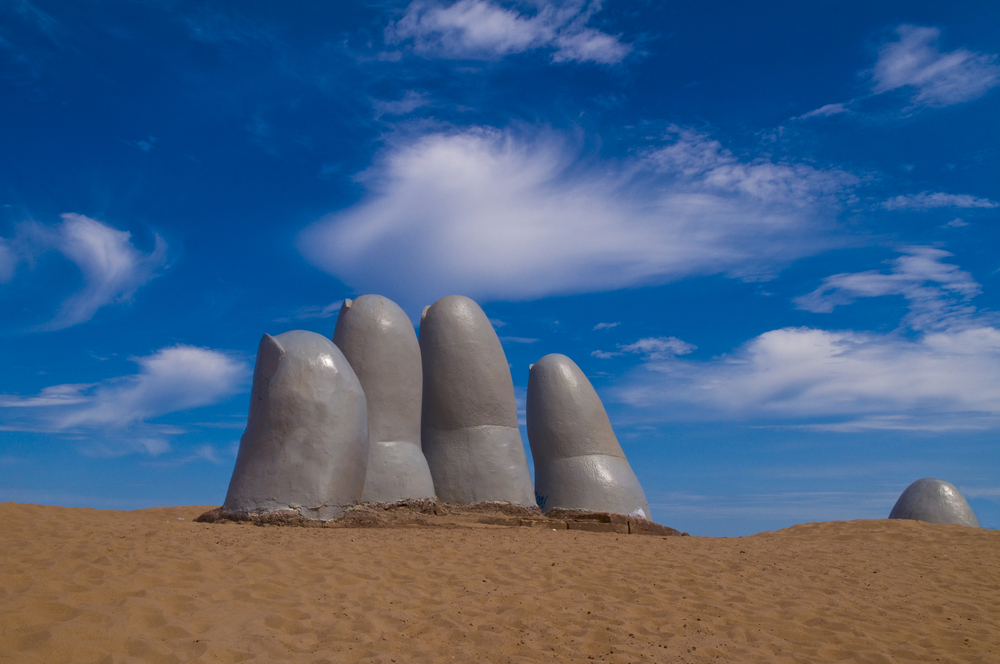 Way down South America way, one of the hemisphere's most chichi beach resorts sits astride the Atlantic coast of one of South America's lower-profile countries, Uruguay. On a narrow spit of land separating the Atlantic from the Rio de la Plata, Punta del Este is a 90-minute drive east of the national capital, Montevideo, and a 45-minute flight from Buenos Aires. Why do I mention the latter?
Because as popular as Punta is with many Uruguayans, it would be pretty much nowheresville without the well-heeled of neighbouring Brazil and most especially Argentina (and above all, Buenos Aires). Of relatively recent vintage as South American cities go (really dating to the end of the end of the 19th and beginning of the 20th centuries), it's still relatively small (permanent population around 15,000) but over the years has become the continent's plutocratic playground of choice, where St. Tropez meets Miami Beach meets the Hamptons.
This upmarket oasis features 20 miles of beautiful beaches backed by a yacht-packed marina and a bevy of fancy hotels (tops in town: L'Auberge, in the Parque del Golf neighbourhood), restaurants, casinos, and shops with a mix of local designers and luxury international brands. Though not quite yet as widely known in Europe and North America (or perhaps because of that?), Punta has become something of a celebrity magnet; pop tart Shakira owns a spread here, and other celeb spottings include Mick Jagger, Bruce Willis, Ralph Lauren, Kevin Bacon, and Naomi Campbell.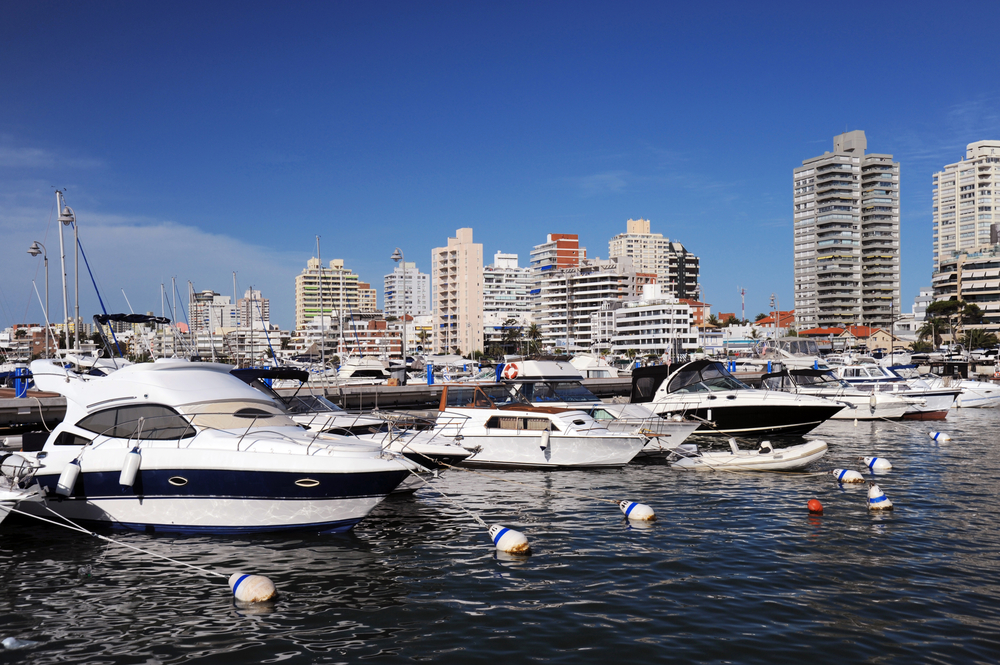 In this mix of highrises, midrises, and summer bungalows, during high season in January and February, the population shoots up as high as 250,000, while between March and December things are slow and many – but by no means all – lodgings and eateries are closed or pull back to limited schedules (even more so now that the faltering economies in Argentina and Brazil have been suppressing visitor numbers for the last couple of years). Average high temperatures December through February run about 24° Celsius (75° Fahrenheit) to 25° (77°F) and June-August around 15°C (59°F).
The most happening part of town is La Barra, with probably the most famous beach in town, Playa Bikini, where buff, bronzed bods abound, as well as Montoya (a favourite for surfers) and Manantiales, with its hip vibe.
Other top beaches are Playa Mansa (on the calmer, river side of the peninsula); Playa Brava (on the Atlantic side, with its iconic fingers sculpture, top, by Chilean artist Mario Irarrázabal); Playa El Emir, also super for surfing; and Playa Chihuahua, especially for those who like to bronze in the buff.
After a day out on the sun-drenched sand, the nightlife in local summer is also hot, starting with restaurants like the venerable Relaix & Châteaux member La Bourgogne; model hangout Café Flo in La Barra; casual/elegant Mediterranean O'Farrell Kitchen in Manantiales; dinner tends to be on the late side (10 pm onward), and afterward many of the fancy folk hit the clubs and pubs, either along the ritzy main drag Avenida Juan Gorlero or in La Barra, such as Tequila, Bikini Beach Bar, and gaming and other action at the Las-Vegas-style Conrad Resort and Casino.
(By the way, I must also not leave out José Ignacio, a fishing village 18 km away which has become another chic hotspot – though a lot more laid back – with some of the most fashionable restos and lounges in the area.)
Punta del Este Attractions
It's not all partying and swanning around beaches, just so you know. There's actually a handful of interesting attractions and activities. One, the 1860 lighthouse, is photo op only. But among those you can actually go into, one not to miss is the Museo del Mar (Museum of the Sea), a cozy bit of business covering shells and sea life as well as history of the area, beach resorts in general, and pirates (there's a nifty insectarium here, too).  If you're an art maven, check out the Museo Ralli in the Beverly Hills neighbourhood (yes, I kid you not), housing works by modern Latin American artists as well as select masters of Surrealism, with marquee names including Fernando Botero, Salvador Dalí, and Armando Amaya.
More awaits if you're inclined to hire a car and head out of town a ways. First stop, 13 km (8 mi.) out, should be Casapueblo (above), a Greek-islands-flavoured, all-white hotel complex that started out in the 1950s as a wooden beach shack built by Uruguayan artist Carlos Páez Vilaró; the artist's workshop as well as a museum devoted to him are still a central feature here (as is gallery where you can buy original art). Another artsy landmark just 4 km farther out is the Fundación Pablo Atchugarry , a centre which includes a 30-hectare (acre) sculpture park.
But as befits its lovely setting, adventure and ecotourism are getting to be a thing around here, too. There are whalewatching platforms over at the appropriately named Punta Ballena (Whale Point), and also highly recommendable is a boat ride out to a pair of offshore islets, Isla Gorriti (hiking, more fetching beaches, and some colonial ruins) and Isla de Lobos (one of the world's largest sea lion colonies). For something even a bit more interactive, you can book a horseback ride along the coast and through the wooded hills through local ranches (ranching is way big in Uruguay) such as Haras Godiva in José Ignacio.
And finally, a word to the broke (or at least the non-filthy rich): yes, Punta del Este is a playground of the wealthy, but that doesn't mean more affordable options don't exist here, both for more modest eats and budget hotels, flats, guesthouses/bed and breakfasts, and even hostels. That way you can save your pesos for those cover charges. 😉
More information: VisitPuntadelEste.com, ILovePunta.com.
Best fares to Montevideo from the U.K., from Spain.

images |  Kobby Dagn, Olga Gabay, talkingheads