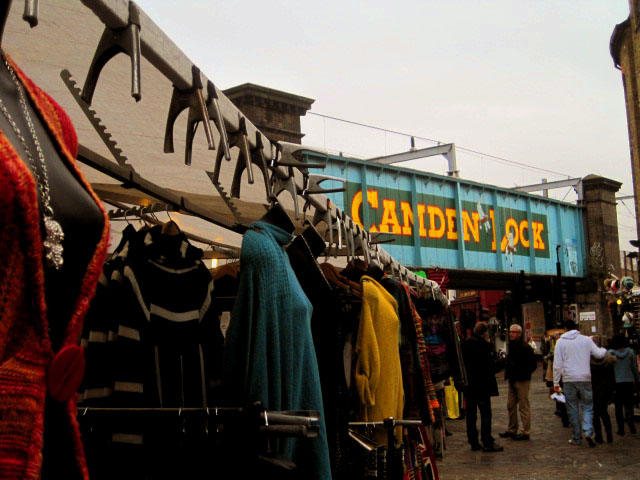 London Town has without a doubt been over the years a premier destination for aficionados  of pop culture, as well as modern culture in general. In my experience, here are my four top of the pops (you can I'm sure think of others – please share in the comments!).
Camden Market 
Ever since 1974, when a bunch of hippies set up stands with funky crafts and colourful threads, London's quirky urban tribes have been drawn to Camden. And so it is that each Sunday, this street market becomes one of the city's top attractions.
Its main thoroughfare, Camden High Street feels a bit like a souk, with its façades crammed with colourful ads. The perfect spot to browse for leather jackets, o si como punki das la talla con algunas tachuelas, or hipster spectacles.
You not only leave Camden done up like a rocker, Goth, punk prince/princess, or other oh-so-cool urban tribesperson, but also graze on delectable and inexpensive street food from all over the world (especially all over Asia – if you like curries, you'll be in heaven).
And after your market experience, there are also neat parts to explore in Camden (which after all is considered the unofficial rock 'n' roll capital of the U.K.), such as Regent's Canal , which cuts through the northern section of the neighbourhood; the London Zoo, and the house in Camden Square, where the talented but tragic singer Amy Winehouse once lived.
Abbey Road
Perhaps the world's most famous crosswalk is located right in the central London district of Westminster, thanks to the eponymous album by the legendary Beatles, recorded at Abbey Road Studios in 1969.
Many a music fan has "come together" to do it in the road, treading in the Fab Four's fab footsteps to recreate one of pop culture's most famous images (left), from that album's cover.  (Just bring along your silver hammer!)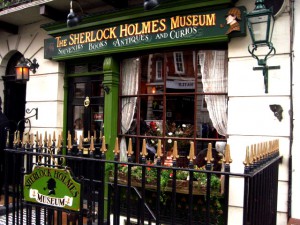 Elementary, My Dear Watson
Arthur Conan Doyle's iconic Sherlock Holmes may not have actually lived at 221B Baker Street (in those days it wasn't even a real address), but on the ground floor of a Georgian townhouse at the southwest corner of Westinster's Regents Park you can both see and observe the non-profit-run little Sherlock Holmes Museum, with period-furnished rooms set up as per descriptions in the novels. The game remains delightfully afoot.
Lost Boys and Faeiries
Another beloved fictional creation by another Scotsman, J.M. Barrie, Peter Pan also remains firmly part of many childhoods. Elegant Kensington Gardens (where Prince William and Princess Kate have a little ol' palace) is one of the main backdrops for Peter's exploits, being the first place he flies out of his bedroom window and where he plays the pan pipes for Queen Mab and the faeries and sails a thrush nest boat on the lake, the Serpentine. Today you can contemplate a statue – commissioned by Barrie himself and erected in 1912 – to the boy who would not grow up  (if you swipe your smartphone on a nearby plaque, you'll get a call from Peter himself).
Best fares to London from the USA, from Spain. 

 images  | José Alejandro Adamuz, Apple Records/Iain Macmillan, Chmee2