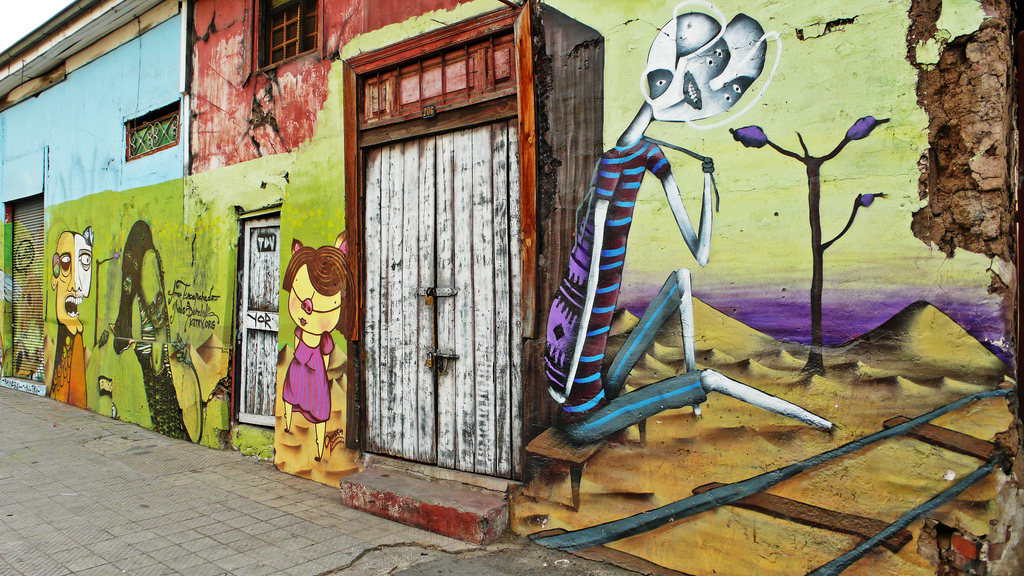 The hopping, happening district of Chile's capital between the Mapocho River and San Cristóbal Hill these days throbs with both colour and young people eager to take on the world. Back in the 17th and 18th centuries it was of course quite different – in this case a quarter where the colonial aristocracy erected its grand manses. More recently, in the 20th, it became something of a bohemian quarter of intellectuals and artists, most famously Nobel-Prize-winning poet Pablo Neruda, who moved to his house here, La Chascona, in 1955 (now open to visitors, it's one of Bellavista's top draws today).
But more than an area of monuments, Bellavista is a neighbourhood to be experienced by strolling the streets and experiencing the vibe – for example, how some of its walls and bourgeois facades have been given a 21st-century patina with bright colours and graffitti-flavoured murals. Browse the venerable craft fair at Calle Pío Nono and Calle Santa María for paintings, leather and woolen goods, ingenious items made out of recycled materials, and more. If you're still in a shopping mood, nearby is the "lapis lazuli route", a series of shops selling jewelry and other objects crafted with this hypnotising blue stone, of which Chile's Andes are among the world's top two most important souces.
San Cristóbal Hill is one of the top local landmarks, of course, and you can get up here via cable car. From the top, 880 metres (2,887 feet) up, you'll get some eye-popping views over the city. Back down at street level, head for one of of Bellavista's main squares, Plaza Camilo Mori (where one of the principal landmarks is a reddish manse called the Palacio Lehuedé) and have a coffee or something stronger at one of the many outdoor cafés that dot the neighbourhood. Right nearby, one of the most fun spots in the neighbourhood is complex called Patio Bellavista, with some 50 establishments including art galleries, restaurants, and pubs (some with live music).
And populating those and other estabishments, of course, are the locals, many of them twenty- and thirtysomethings. You'll note lots of young folks toting books and bookbags, too. Bellavista, you see, is home to the University of Chile Law School and other departments. All those students means a wealth of cheap but tasty street food options such as sopaipillas (fried dough with sweet syrup, though there are also versions with savoury ingredients) and fresh-squeezed fruit juices.
There are more substantial and upmarket dining options as well, of course, especially along Calle Constitución, Calle Antonia López, and Calle Dardignac. Two prime examples include Waldini (Calle Constitución 4) with top-notch, authentically Italian-style pizzas and coffee, and Santería (Chucre Manzur 1), whose Latin American fusion cuisine is out of this world.
If it's lively during the day, as sun goes down and the streetlights turn up, if anything so does the activity in Bellavista, which has become quite the nightlife hub. For one thing, there are 22 theatres here, such as the Mamut, the Aparte, the San Ginés, and the Mori. And of course, more noticeably, throngs of young people fill the streets and the nightspots, of which there are myriad options for nearly all tastes. For live jazz, try El Perseguidor (Antonia López 116). Indie bands and singers? Bar Loreto (Loreto 435) is your spot. As a foreign visitor, you might be especially intrigued by the Kite Mate's (Constitución 256) shows of the Polynesian culture of Rapa Nui (aka Easter Island). Many nights, the partying goes on till the wee hours (hey, the kids can always sleep in class).
Useful Facts

Santiago's climate is similar to that of the Mediterranean, with mild winters (remember, here's that's from May through September) and hot summers (December-March).

The Bellavista neighbourhood is generally quite safe, but as in all large cities, especially at night, have a care with pickpockets and avoid deserted streets.

The currency is the Chilean peso.

More information: Chile.travel.

Best Iberia fares from the U.K., from Spain.
images | IgalDan, rafa-alves