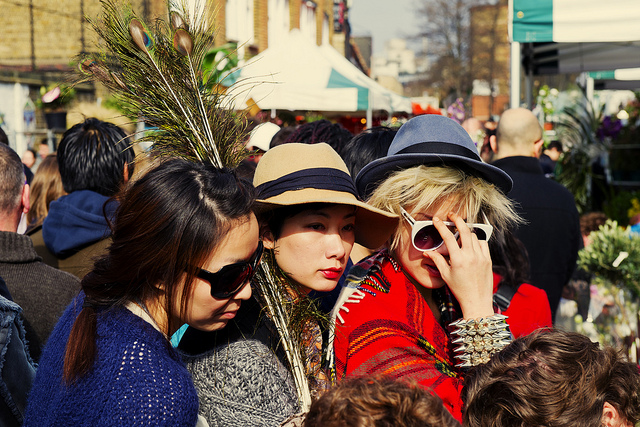 Oranges and lemons,
Say the bells of St. Clement's.

You owe me five farthings,
Say the bells of St. Martin's.

When will you pay me?
Say the bells of Old Bailey.

When I grow rich,
Say the bells of Shoreditch.

– Old English nursery rhyme
As it happens, this eclectically gentrified and recently trendy bit of London's East End has in fact managed to grow pretty rich of late. But even starting from humble beginnings, Shoreditch always had a personality all its own, dating back to Shakespeare's day when it was home to a number of theatres. In the 19th century it became industrialised, then in the 20th it was bombed during World War II and in the postwar period became home to a large Asian immigrant community. 
Then in the 1990s, creatives started trickling in (Damien Hirst was one of the more famous among them), fleeing high rents in the West End. More than a decade on, rents areas like Old Street, Kingsland Road, Shoreditch High Street (below) and surrounding streets are themselves sky high. And so it goes.
In any case, some might claim Shoreditch has already peaked and "the trendy brigade has moved on". But you wouldn't know it it stroll these streets today. Amid Victorian houses and occasional graffitti-sprayed walls, you'll see storefronts where avant-garde, preppy, homely, and downright tacky nestle side by side. There are touches of history, too, at Bunhill Cemetery, right across from the Old Street Tube station, final resting place of notables such as writer Daniel Defoe (Robinson Crusoe, among other works) and Romantic painter and poet William Blake, and the gracious red-brick Geffrye Museum of the Home (left), with a lovely display of period rooms and gardens showing how Brits of various classes lived through the ages.
Shoreditch's strongest suit these days, however, is the vibrancy of its street life and art, shopping, pubbing and dining scenes. Cutting-edge galleries like White Cube Gallery (1 Hoxton St.), Flowers East (82 Kingsland Rd.), and the Leonard Street Gallery (73 Leonard St.) are thick on the ground, as are groovy indie shops and marketplaces like the Brick Lane Market (right) and Backyard Market (and how about a shopping mall made from refitted shipping containers? Voilà: Boxpark, on Bethnal Green Rd. under the Shoreditch High Street Overground station).
Eating and drinking? But of course – everywhere you look, practically, but especially places like Great Eastern Street where you'll find a plethora of Vietnamese eateries (I especially like Hanoi Café and Long Kee) as well as more sophisticated spots such as the Great Eastern Dining Room. Combine shopping and grazing with a visit to the ancient, covered, and updated Old Spitalfields Market (which combines produce organic goodies, prepared foods, and a variety of casual fare with stalls full of all manner of vintage, collectibles, crafts and designer goods) and the merely decade-old Sunday Up Market (with similar offerings, plus a United Nations' worth of delicacies on offer).
And on weekends especially, you'll still spot today's belles of Shoreditch, the so-called "it girls" (as well as wannabes) roaming the streets in their quirky get-ups, frequenting hot spots like Loungelover (1 Whitby St.), overloaded with retro tchtochke. There are plenty of other brill spots for many weekends' worth of fun nights out: Callooh Callay (65 Rivington St.), a mod/retro hybrid; Bar Kick (127 Shoreditch High St.), with football tables and lots of colour; Queen of Hoxton (15 Curtain Road), with a deck, smashing views, and an open-air cinema in summertime; Cargo (83 Rivington St.) specialising in live music; and Plastic People (149 Curtain Rd.), for dancing to tracks from some really out-there DJs. There are a lot more still – including some which don't even put up signs.
Oranges and lemons? I think we can lay that one to rest.
More London on Love2Fly:
London On a Budget
A Very Creative Visit
Useful Facts

London has more than 8 million inhabitants (more than 12 million in its greater metro area).

London's summers are generally warm, with a July high of  24°C (75°F), and winters chilly and rainy (averaging 2-9° C/36-48°F).

The currency is the pound sterling.

More information: VisitLondon.com.

Best Iberia flight deals from the USA, from Spain. 

image | Chris JL, Iridiscenti, garryknight,  Stephen McKay