Happily, powderhounds in withdrawal don't have to hang on till December to hit the ski resorts. The Southern Hemisphere is happy to oblige us with some superb skiing on amazing terrain throughout the southern Andes, where the reversal of seasons means of course it's winter there right now.
The South America skiing season in Argentina and Chile runs from June through October, with skiing for all levels, modern lifts, some great off-piste skiing, quirky resorts and eclectic hotels. Stir in a day or two of wine-tasting at one of the outstanding wineries close to Santiago, or an evening beef-eating and tango in Buenos Aries, and you have the perfecto South America ski holiday!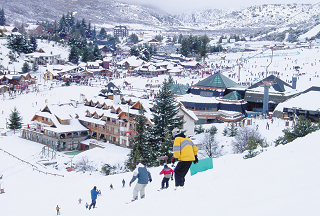 Bariloche, Argentina
Argentina has more than a dozen snow resorts scattered around the Andes, with resorts near Mendoza, the Lake District and Patagonia in the south, and Ushuaia further south. But Bariloche (top and right) is the biggest and best known in the country, and indeed, the most prominent on the continent.
Down in Patagonia, some 17 to 20 hours by road and a 2-hour flight from Buenos Aires, San Carlos de Bariloche is a pretty, Teutonic-flavoured city not far from the Chilean border. The main ski station here, Cerro Catedral, has a modern system of 39 lifts, mainly intermediate slopes, lots of off-piste, and a vertical drop of 1,070 m (3,512 ft.).
Bariloche also happens to be Argentina's chocolate capital (because of all its German and Austrian immigrants) and I'd highly recommend a visit to the Fenoglio Museum of Chocolate and a sweet browse along the chocolate shops of Calle Mitre, the main drag. You can stay at the Knapp Hotel, which is right by the lifts and has an in-house chocolate shop. 
Las Leñas, Argentina
A thousand kilometres north of Bariloche, in the western reaches of Mendoza province, the also large Las Leñas, dating from 1983, can at times be the most challenging ski resort in South America. But that depends on the weather and whether a particular lift is open or closed. Provided there's stable snow and not too much wind to open the avalanche-prone Marte chair, then expert skiers and snowboarders are in for a real treat. The lift provides the only mechanised access to some extraordinary off-piste, with plunging powder bowls and narrow couloirs.  The area is dotted with cliffs and, again, exposed to the possibility of avalanches, so it's the kind of place where a local guide is absolutely essential.
When the Marte chair is closed, Las Leñas amounts to an enjoyable but perhaps slightly bland Andean resort – a treeless wilderness a 90-minute flight from Buenos Aires to Malargue, followed by an hourlong bus ride; there are no cities or towns in the area but some robust nightlife nonetheless. All the accommodation here is in hotels and lodges within a short distance of a lift. The Hotel Virgo & Spa is the most comfortable place to stay, with an in-house cinema and a kids club.
Valle Nevado, Chile
One of the nearest ski resorts to a capital city anywhere in the world, 58 kilometres (36 miles) from Santiago, its first lifts were built in the 1980s. (Point of interest: in 1954 the famous "Boy of El Plomo" Inca mummy was unearthed in this area; it's now in Santiago's Museum of Natural History but you can see a replica in the local Hotel Puerta del Sol.)
Anyway, these same slopes today offer mainly intermediate skiing, and are linked by lifts to the resorts of El Colorado (Chile's largest) and La Parva. Experienced skiers can also take advantage of some good-value heli-skiing from the resort, which goes up to a (literally) breathtaking 5,000 m. (16,400 ft.).
The most comfortable accommodation is in Hotel Valle Nevado; neighbouring La Parva is a collection of smart holiday homes for weekenders from Santiago and El Colorado is a small resort near the wooden village of Farellones.
Termas de Chillán, Chile
Whilst Valle Nevado/Colorado/La Parva area may be the largest and most easily reached of Chile's three top ski areas, if you're up for something a bit more exotic, you're looking at a journey of 480 km (298 mi.) – some four hours by train – south of Santiago in the province of Nuble.
Here near the city of Chillán, the winter snow cover is deep, the earth's crust thin, and the Nevados de Chillán a trio of overlapping volcanoes that provide some excellent skiing. The resort and spa at the base of one of these smoldering peaks is another 50 miles up a scenic road. The village has an alpine look to it, with long runs through the trees served by a handful of lifts. The excellent off-piste includes the 14-km (23-mi.) Shangri-La, and Pirigallo – one of the resort's most famous itineraries, where fumaroles belch sulphur fumes.
Best place to base yourself is the Gran Hotel, which has ski-in ski-out accommodation, a wonderful spa, and a steaming swimming-pool fed by pipes from the volcano.
Smaller than the others but the country's oldest and most famous ski area lies 160 km (99 mi.) north of Santiago on the border with Argentina. The striking mustard- yellow Hotel Portillo – the only hotel here – sits on the shore of the beautiful Laguna de Inca surrounded by impressive peaks including Aconcagua, at the 6,960 m. (22,835 ft.) the Southern Hemisphere's highest.
The stylish resort retains the atmosphere of a bygone age in its lakeside dining-room, harking back to winters when tweed plus-fours were worn at breakfast-time. The walls are covered in antique leather and waiters wear bow ties and bright red jackets. The number of guests in the whole establishment is limited to just 450, so it's never crowded.
The ski terrain is steeper here than in either Valle Nevado or Chillán, and is served by a range of lifts including four 'va-et-vient' drag-lifts. These lifts are designed to survive the frequent avalanches that fall in the area. Each one is made up of a long cable, without any pylons which could otherwise be knocked down by avalanches. Should an avalanche hit the lift overnight, the cable drops and is buried until it can be located again. It can then be repaired or replaced, and then re-installed.
The other thing that makes these lifts different from ordinary drag-lifts is their size. Instead of the usual one skier per poma or two on a T-bar, the biggest of these lifts, called Roca Jack, hauls five standing skiers up the mountain on linked platters. Getting on and off at the same time is particularly tricky, since the lift moves at nearly 17mph before stopping on a slope that seems to be nearly vertical!
Some ski tour operators and travel worth noting: Audley Travel (Bariloche, Argentina); Scott Dunn (Valle Nevado and Portillo, Chile); Skiworld (Las Lenas, Argentina); Snowfinders (Valle Nevado, Chile). 
Felice Hardy is co-editor of the ski information website WeLove2Ski.com.
images | wernerluis, Boscos, Andre Charland, Jimmy Baikovicius, LetsGoChile.com, Ski Portillo