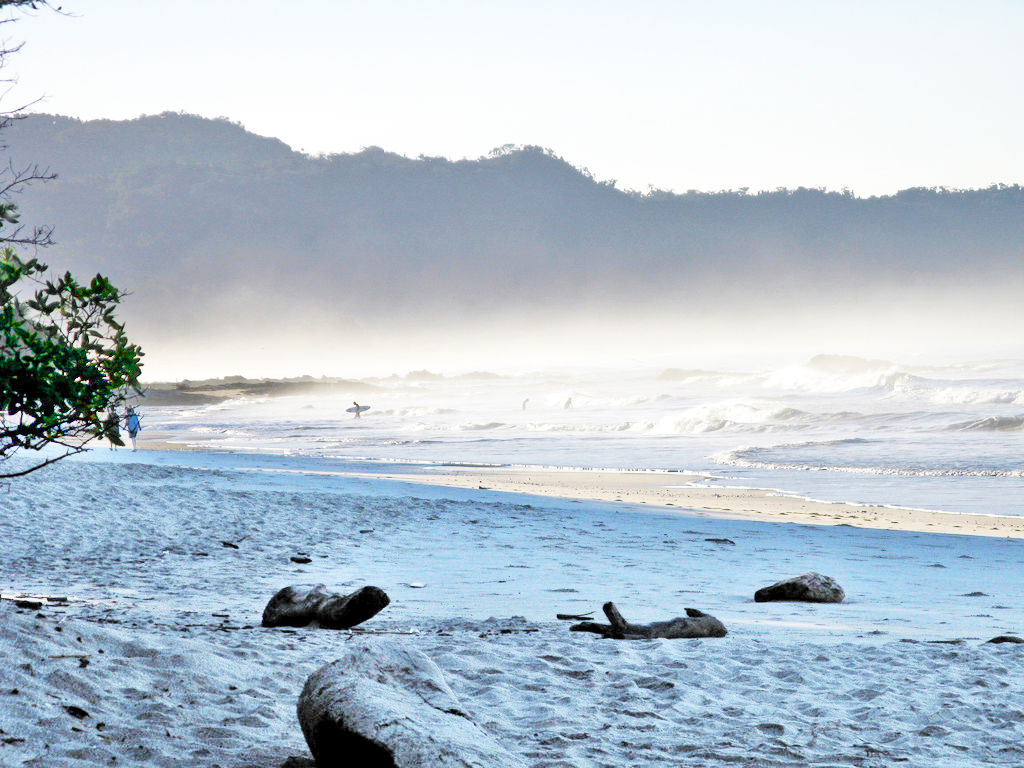 Costa Rica has cannily and famously leveraged its ecotourism riches into bank-account riches over the past several decades, but it wouldn't have become Central America's most successful destination without its plentiful playas – most of which line its 1,016 kilometres (630 miles) of Pacific coastline in the provinces of Guanacaste and Puntarenas. Following are the main top choices, from castaway stretches to strands buzzing with families or surfers, from north to south.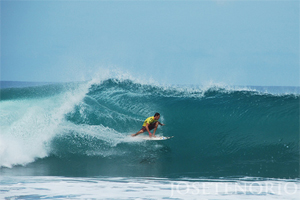 Playa Hermosa  Up north below Santa Rosa and Rincón de la Vieja national parks, "Pretty Beach" is just that, a nice watersports-oriented town with a relaxed vibe and a  crescent beach fringed with lush greenery and a string of seafood eateries and hotels spilling right onto the sand (it sometimes hosts watersports events, such as the ISA World Surfing Games in 2009, right). It's definitely got upscale Riviera-style pretensions, though, and tends to be pricier than many of the other resorts down the coast. Next-door Playa del Coco has similar lovely sands and crystalline waters (though more of what you might call a honky-tonk atmosphere) but is more accessible pricewise.
Playa Tamarindo  One of Guanacaste's most fetching beaches – one long expanse of white sand, known for surfing for years, its middle stretch thick with both experts, beginners, local surfing schools (swimming and wading can be a bit dodgy due to big waves, rip tides, and submerged rocks; canoeing and kayaking, though, are no problema). By now the town feels like an Americanised, Los Cabos-style holiday enclave, for sure, so if you're looking for a quite beach village, this is not be the spot. Instead, try…
Playa Avellanas  For a low-key, barefoot feel in the Tamarindo area, head 11 miles (18 km) south to a beach once mostly a surfer's secret, now a bit of a trendy hangout yet still relatively untouched, with a cool, much loved beach bar called Lola's (named after a much loved mascot who happens to be a large sow). Great for lunch, a day on the sand, and also its weekend party scene.
Nosara  An area, named for Playa Nosara and the town of Bocas de Nosara, with four fabulous beaches, two of them known first and foremost for surfing, Playa Nosara itself and Playa Guiones. For swimming and snorkeling, Playa San Juanillo and Playa Pelada are absolutely lovely. A fifth beach, Playa Ostional, is a must if you're here July through December, because it's where giant Olive Ridley sea turtles swarm ahore en masse to lay their eggs (there are organised, ecologically correct tours you can take). And BTW Nosara's also a mecca for yoga enthusiasts and New Age "seekers" of all types.
Playa Sámara/Playa Carrillo  Sámara is a zesty beach town on a long horseshoe bay with shimmering, silken sands and clear, calm waters that are great for swimming and kid-safe (since the surf is broken by a coral reef and Chora Island); behind it there's a bit of a beach-town scene but not quite as developed as, say, Tamarindo. If you want the same kind of beach and water but with a more castaway feel, drive 15 minutes south to Playa Carrillo.
Montezuma/Malpaís The beach areas down on the southern tip of the Nicoya Peninsula are greener with more dramatic scenery than up in northern Guanacaste, with mostly unpaved roads (which is one reason mass tourism hasn't yet moved in). So the vibe in the local towns is very surfer/Euro backpacker/neo-hippie/digital nomad/New Age seekerish. Playa Montezuma is the biggest and most popular local strand, but the best include Playa Santa Teresa (top) and Playa Carmen. There are some gorgeous waterfalls and nature tours to explore hereabouts, as well.
Jacó  Moving down into the Central Pacific area, this town was the very first to develop beach tourism back in the 60s, and as a result today it's been pretty thoroughly Benidormed, with all that implies. If you have any interest in rubbing shoulders with middle-class Costa Rican holidaymakers, this is one of their main destinations. Playa Jacó in town has strong rip currents, so not good for all that much except for on-beach activities and wading, but there are good beaches in the area including Playa Blanca and Playa Limoncito at Punta Leona, as well as Playa Herradura, and a little farther south, lovely Playa Esterillos.
Manuel Antonio  Another long-established resort area but one that doesn't have the same overbuilt feeling as Jacó, this has to be one of the world's more scenic stretches of coastline – a forested headland with spectacular ocean views, lined with lovely white beaches, and right alongside a nature reserve that's one of only two places in the world where you can commune with endangered squirrel monkeys. Playa Espadilla is the main beach, but Playa Manuel Antonio is even nicer with sheltered waters ideal for swimming and snorkeling. Other great local strands include Playa Biesanz, Playa Escondida, and Playita (this last a clothing-optional gay beach, because, yes, Manuel Antonio is also Costa Rica's premier gay resort). Down the hill is the town of Quepos, where most of the city services and budget offerings are located.
Dominical/Punta Uvita  The latest frontier in coastal development but so far of a fairly low-density type, this area, too, has some wonderful unspoiled beaches. Playa Dominical in the town of Dominical is suitable mostly for surfers, but Playa Dominicalito a bit south of town is great for swimming, as are Playa Hermosa and Playa Uvita. South of that are the beaches of Ballena National Marine Park (ballena meaning whale, as humpback whales and sperm whales breed and calve out here), which are great for swimming and snorkeling Costa Rica's largest coral reef. They include Playa La Colonia, Playa Arco, Playa Ballena, Playa Piñuelas, and Playa Tortuga.
And you know what? We're technically not even done yet, because the beaches of the secluded Osa Peninsula are also on the Pacific. But they're another story – and the subject for another fascinating post (watch this space!). Meanwhile, click here for Costa Rica's dreamy Caribbean beaches.
For more information, check the Guanacaste, Puntarenas, Central Pacific, and South Pacific sections of VisitCostaRica.com. For flight deals to capital San José from the UK, click here; from Spain, click here.
images | clarque, José Tenorio, hercios, Rauldmo