Iberia Airport Services, Iberia's airports division, has a lot at stake these days. It has presented its tender for the provision of handling operations in Spain's 41 airports. Its best assets are its capacity for innovation, its investment in achieve zero net emissions by 2025 and the experience of its team.
Today, International Women's Day, we want to give a voice to four great women who work at the airport, at the foot of the planes, who tell us about their experience in a man's world.They classify and load your bags, take you from the terminal to the plane and de-ice it when necessary. Do you want to know more?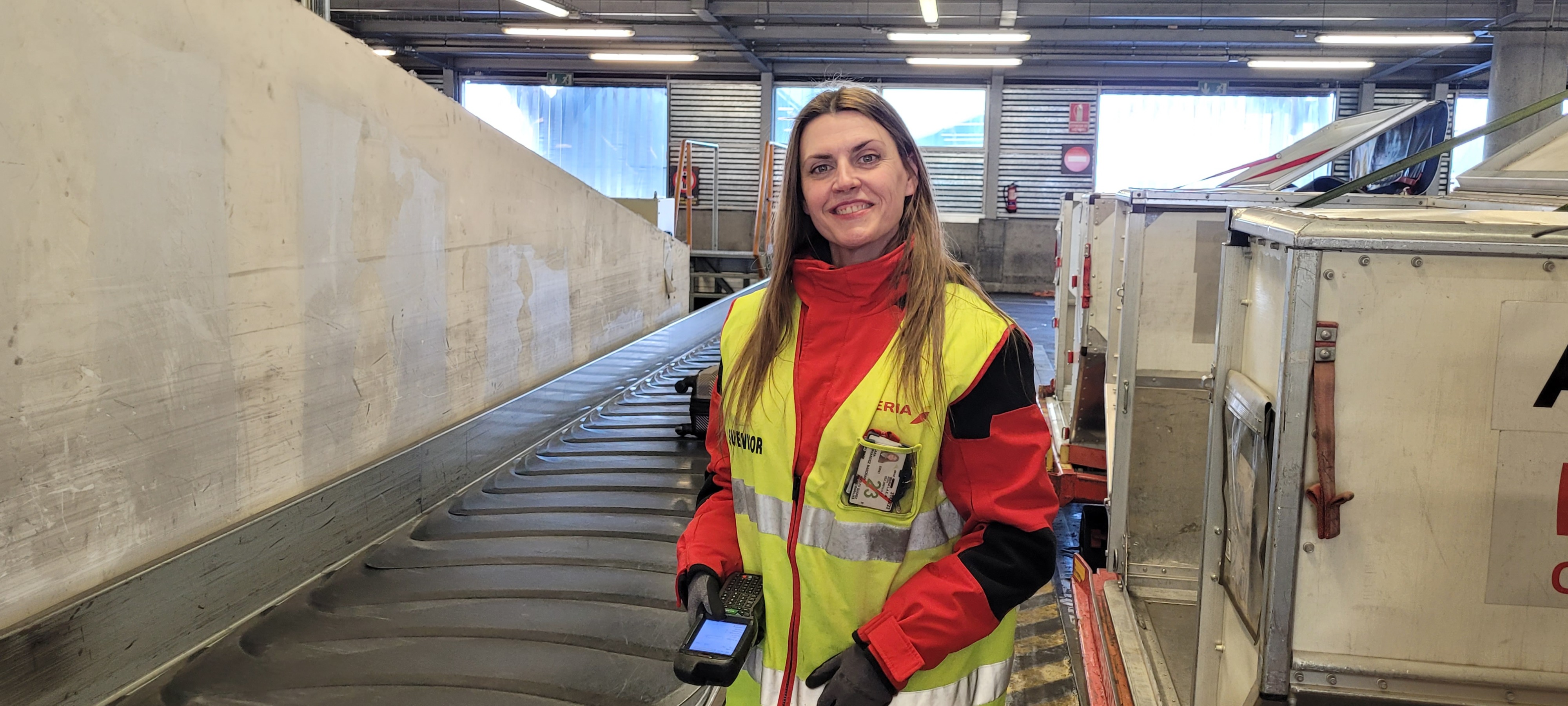 Clara
For me this March is special because I am celebrating 24 years at the airline.
My job is to take care that the baggage, be it suitcases or other packages or even animals, arrives at its destination together with the passengers; we are always very diligent in our work so that all this choreography that is set in motion with the arrival and departure of each plane goes smoothly and quickly. Although we are not very visible, we have a huge responsibility.
I remember when I came to work here there weren't many women in my department, and many thought that we couldn't do this job because of the amount of weight that we must move. But over the years it has been shown that, within our physical capacity, we do the job perfectly.
The airline has also gradually adapted to having women in this department and, for example, when the uniform was changed, it took this into account and designed a uniform for men and another for women. I also have to say we are the same with respect to work, salary, and access to positions of responsibility. Honestly, as a woman, I am very happy that I do not have the problems that you often hear about in other companies or places.
I love to travel whenever I can. When I am loading or unloading a plane I always think, what luck!
In the end, after spending so many years here, you make friends and we are like a family. And in my case it is literally family, because I have several relatives working here, now and in the past. Even my partner is also a colleague, a handsome Aircraft Maintenance Technician who accompanies me in my personal and professional life. And look, I just realized that we met in March!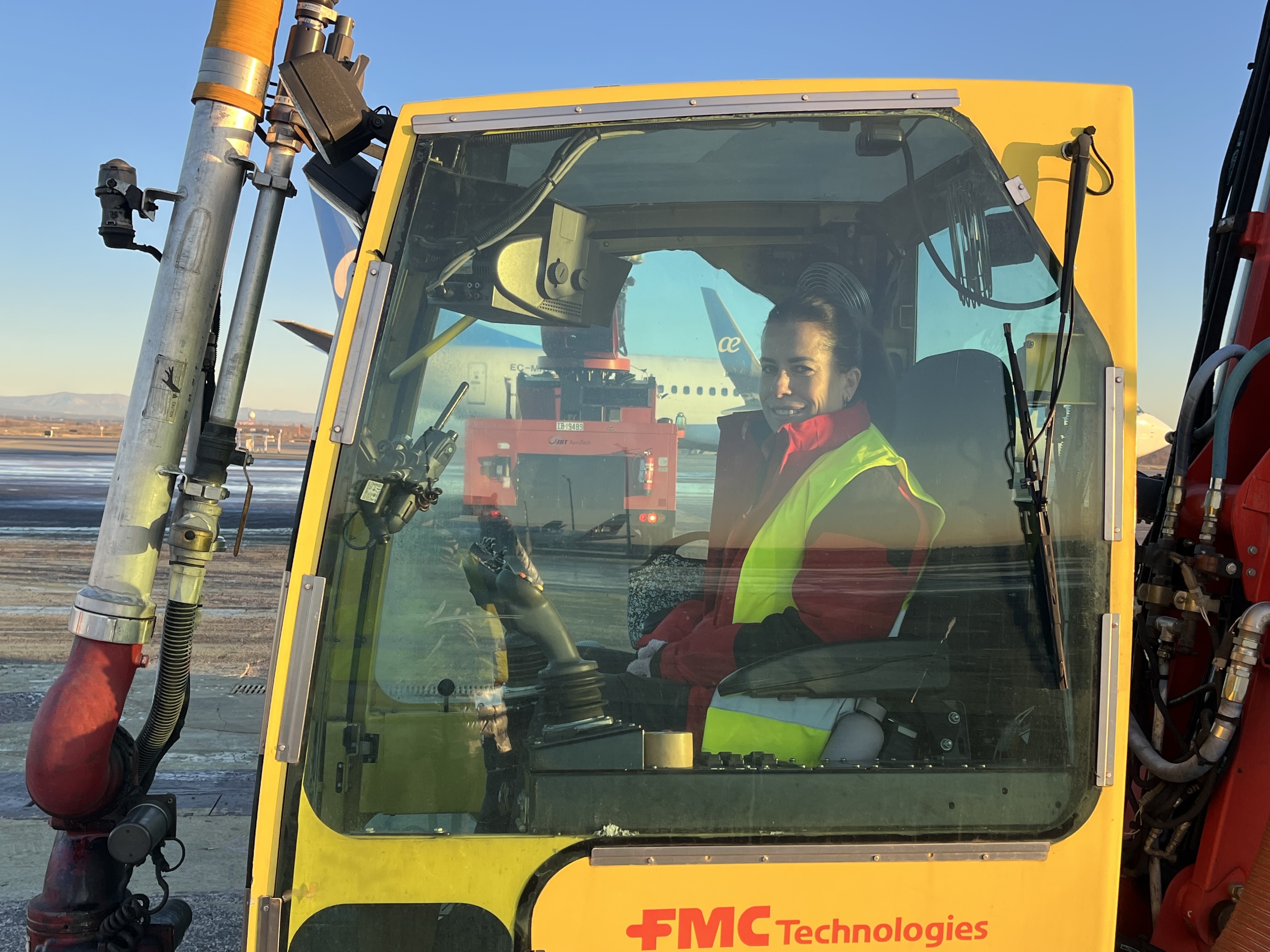 Mila
I have been at Iberia since 2002, imagine that!
I am one of the people who de-ices the planes.
I like my job very much, although I must say that it is also a bit demanding; it is a big responsibility because de-icing is a fundamental operation in the winter months. We have to apply the glycol, the antifreeze we use in aviation to de-ice the planes and all the critical points so that the aircraft can take off safely.
Although there are still only two of us women on the de-icing platform, in the more than 20 years that I have been with Iberia I do see that the situation has changed for women working on the ramp, and our presence is much more normalised.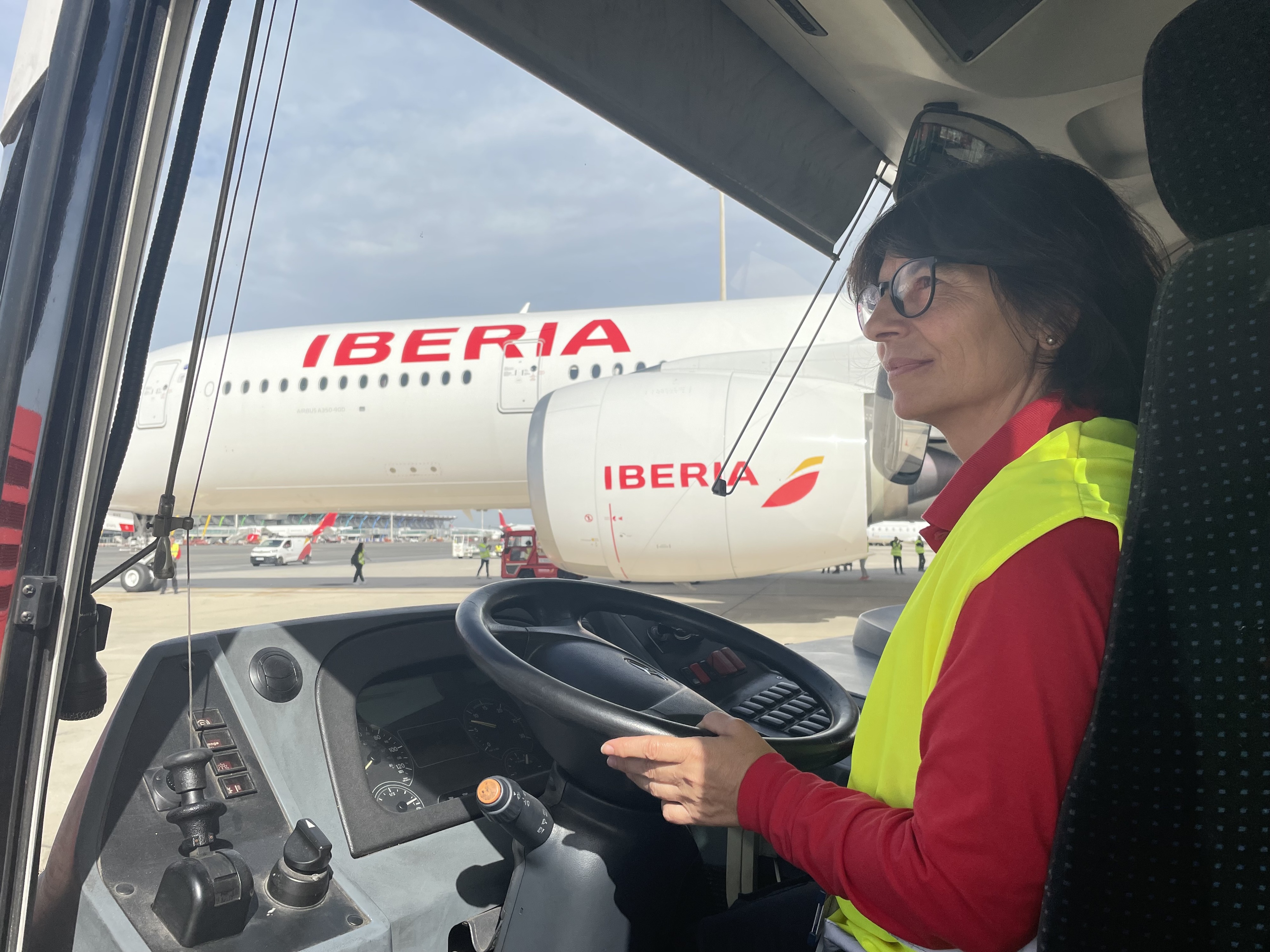 María Isabel
I have been at Iberia since 1999.
I am one of the people who drives the buses that take passengers from the terminal to the plane when it is far from the terminal.
What I like most about my job is the good relationship I have with my colleagues.
It provides me with a lot of independence on all levels. And it shows me that women are capable of doing any kind of work.
At no time have I felt discriminated against; I have always been treated like another member of the team, and that's the way I have always felt.
Regarding my life, I can tell you that I am an independent woman with a 28-year-old daughter whom I have raised alone.

Ruth
I started working at Iberia just four years ago, in March 2019.
My colleagues and I are in charge of loading and unloading the baggage. The first thing we do is wait in the waiting area for the plane to arrive and park. Once it has stopped and the anti-collision lights are off, we approach it to chock it and signal its position. And then we unload it, following all security measures to avoid bumping either the plane or ourselves. And finally, we take the baggage to the docks assigned to each flight, so that it arrives shortly after at the baggage collection area, where passengers are waiting for it.
Have I experienced discrimination because I am a woman? Absolutely not. From the first day I arrived I have been one more of the team and I really appreciate it.
What I like most about my job is the camaraderie and good atmosphere. And being able to work near an airplane, which is quite addictive.