Name: Anastasiya Klevchuk Shvets.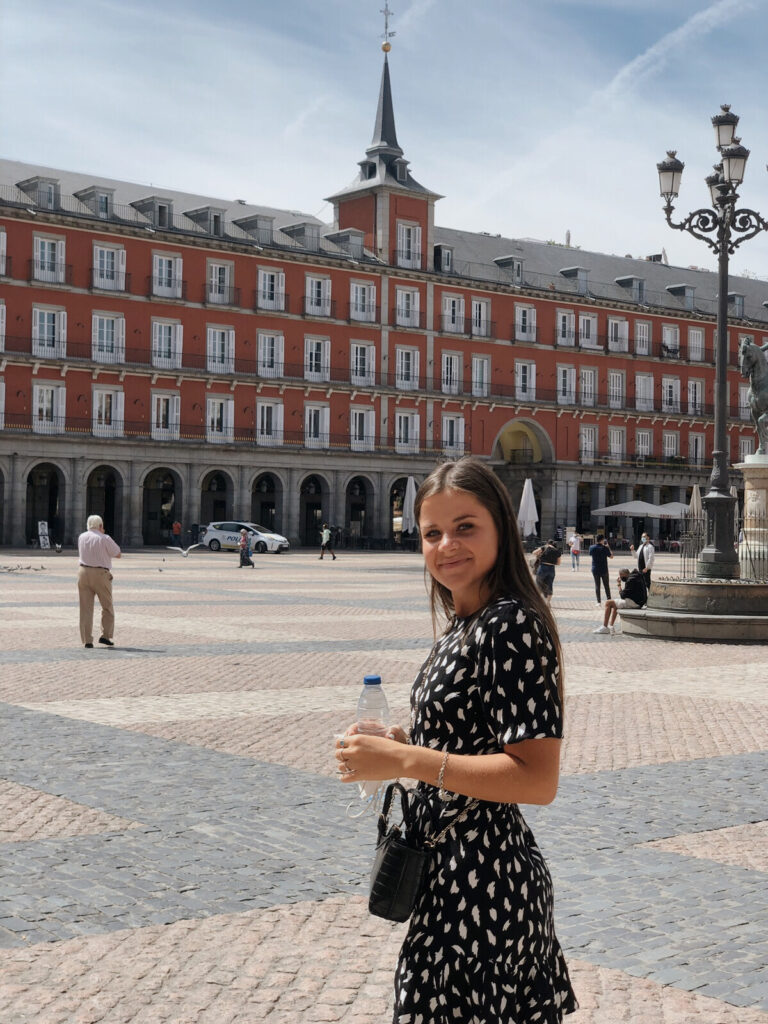 Role: Cabin Crew Member.
Nationality: Ukrainian.
Residence: Spain.
I am currently a cabin crew member for short- and medium-haul flights. One of my main tasks is to ensure the safety of passengers, while at the same time offering them the best service, accompanied by unforgettable moments to make their journey as comfortable as possible and an experience they look forward to repeating.
How did you come to Iberia and where do you live now?
I began working at Iberia in December 2018, after working as a crew member for another airline. I remember stepping into the offices and immediately feeling that this was the place for me. I am Ukrainian and my parents emigrated to Spain when I was 8 years old. I grew up in a beautiful village in the Valencia region, Peñíscola. I came to Madrid six years ago, looking for an opportunity; and I am still here, although I miss the sea breeze and, of course, a good "arròs a banda".
How have you adapted to the way of life in this country, both in terms of work and your personal life?
My adaptation was very quick. At school I was the only girl who didn't speak Spanish, so for my classmates and teachers I was very unusual and exotic; they all welcomed me very quickly and showed great interest in teaching me the language. I remember that in the playground they never left me alone for a minute; they always wanted to teach me a new word and they always made me feel like one of the group. I am enormously grateful to them.
What differences do you notice between the two cultures?
In my opinion, they are two very different cultures, starting with the way they see things, the customs, the celebration of holidays and, of course, the food. For example, Christmas for Ukrainians is celebrated on 7 January – it is the most important holiday of the year. On that day every family, as a tradition, prepares a sweet dish called "Kutia" (a mixture of boiled wheat grains mixed with seeds, honey, nuts and hazelnuts or sultanas). It is eaten before or after the main meal and symbolises good luck for the family during the year.
The children also go to their neighbours' and friends' houses on that day to sing carols called "koliadka" and they give them sweets or money. I have to say that my mother still makes "kutia" on that day, despite the fact that we have been here for more than 20 years.
What strikes you most about Spaniards?
The warmth of the people, the feeling of always being welcomed despite being far from home and your loved ones. They always say yes to anything involving sitting outside a café in the sun.
Do you know any other compatriots working for Iberia?
No, not at the moment, but it would be lovely. Although I have been here for many years and identify very much with Spanish culture and life, I am very proud of my roots and therefore it is always a pleasure to meet a fellow countryman.
What is your favourite spot in Madrid?
I love Madrid, its streets, its chaos in the middle of Gran Vía, its bars in the Malasaña area, its museums, its calamari sandwiches, and its nightlife. If I had to choose one place right now, I would go to Las Siete Tetas park to watch the sunset while looking at its most emblematic buildings.
A pending trip
I am planning a trip to San Lorenzo de El Escorial, to learn more about the history and curiosities of its monastery.
Your ideal Sunday
My ideal Sunday would start on a sunny terrace in the Plaza Mayor enjoying a vermouth. Then I would head towards La Latina, to get lost in the Rastro and its atmosphere, and end up at the restaurant "El Capricho Extremeño" to have a great slice of toast with goat's cheese and jam.