Henrique Seruca
Part of Portugal, this three-island Atlantic Ocean archipelago just over a thousand kilometres (some 670 miles) southeast of the Iberian Peninsula offers a a balmy,  subtropical climate (averaging 25º Celsius/77º Fahrenheit in summertime and 17ºC/63ºF in winter); dramatic, craggy landscapes that are among Europe's loveliest; charming villages; and of course the chance to visit vineyards producing the famous fortified wine named for it.
That name, of course, is Madeira,and its allures include dreamy beaches and exuberant nature (most notably a swath of 150 square km (58 sq. mi.) of laurisilva (laurel) forest – around 20 percent of its territory – which has been declared a UNESCO World Heritage Site because it's one of the last remnants of Europe's ancient, primeval forests.
There are so many fantastic experiences awaiting you here, and here are 11 of the top options to consider (including exciting adventure options, as Madeira has in recent years become increasingly popular for activities that will definitely get your adrenaline pumping):
Jose Mendes
Lavradores Market
As the capital, air-and-cruise-ship gateway, and actually the only real large city of this archipelago, Funchal is the place where all the best of fertile Madeira comes together, and for fantastic local products as well as photo ops, you can't do better than stop by the Mercado dos Lavradores in the middle of the city's charming old quarter, with narrow cobblestone streets and historic buildings dating back to the 15th century, the earliest years of Portuguese colonisation. The building which houses this typical Iberian covered market was built in Art Deco style in 1940, and inside you'll find 122 stalls selling a wide variety of produce, meat, fish (including the local speciality, black scabbard fish), flowers (lots of birds of paradise!), herbs, spices, handicrafts, and typical delicacies such as local chocolates, wheat bread, and coconut balls. Lavradores is open every day except Sunday.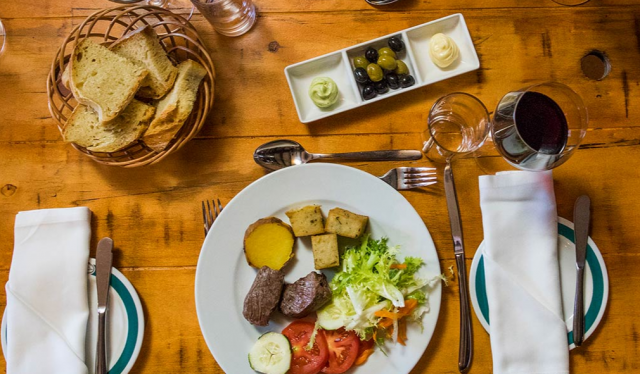 Madeira Must-Eats
The archipelago's subtropical climate and rich volcanic soil yield world-class fresh ingredients which are showcased in dozens of fine-dining restaurants and scores more that are more "humble" but still do a yeoman's job of serving up classics of both Portuguese cuisine and particular Madeiran specialities. Examples of the latter understandably include lots of seafood, such as the elongated, deep-water black scabbard fish mentioned above, eaten as a fillet seasoned with garlic, lemon juice, salt and pepper; dipped in egg and flour; and then fried in olive oil. Meanwhile, the more familiar tuna are served as filets marinated in a molho de vilão, a sauce made from vinegar, olive oil, garlic, oregano, and pepper. Other prominent local seafood includes swordfish, grouper, bacalhau (cod, which is hugely popular and traditional all over Portugal), and chewy crustaceans called limpets.
The favourite Madeiran way of consuming meat, meanwhile, is in the form of espetada (skewers), cubes of beef or pork, with salt, garlic, and bay leaf (plus, in the case of pork, marinated in white wine). then roasted on a brazier. And mains will often come with sides such as fried corn, sweet potato, onion salad, typical bolo do caco bread (hot rectangles with garlic butter) and semilha baked potato. And for a grand finale, sweet/salty passionfruit pudding is popular.
Andre Carvalho
Wild Wicker Toboggan Rides



Probably unique in the world, Madeira's carros de cesta have since the mid-19th century been a traditional way of getting back down to the main part of capital Funchal after you've seen the sweeping views from and checked out the 18th-century church and impressive tropical gardens at its highest point, Monte (you can get up here via cable car, tuk-tuk, or if you're up for it, a four-kilometre/2½-mile walk). The carreiros who alternately push, pull, and ride behind the pair of passengers per carro are appropriately decked out in white uniforms, straw boaters, rubber-soled boots which they use as brakes. At speeds of up to 48kph (30 mph), it's surely one of the world's most fun ways to experience a local tradition!
Andre-Carvalho
Jeep Safaris out on the Island



A bit more accessible for many, there are a number of half- and full-day 4×4 tours offered by various operators in Funchal which are perfect for navigating the twists and turns of this amazing and rugged landscape, both on- and off-road. Many include meals of delicious local cuisine and features such as a dip in the natural pools of  Porto Moniz and hiking the centuries-old levadas (water channel) trails (for more on that, see below).
Andre Carvalho
Hiking & Trail Running



Madeira is crisscrossed by all manner of nature trails, from relatively level and doable for all to steep and better suited to the more experienced. One particular local peculiarity is the trails along the 1,400-kilometre (870-mile) network of levadas (above), water channels built in the 16th century and also landmarked as a UNESCO World Heritage Site.
A variation on the above is "trail running along" some of these pathways, and it's become enough of a thing here that there's an annual race which attracting trail runners from across the world. The Madeira Island Ultra Trail stretches 115km (71 mi.) from Porto Moniz to the town of Machico, and this year it's scheduled for 20 November.
Rheadive
Snorkelling/Diving
Warm temps, clear waters, and a volcanic underwater landscape dotted with caves and even a sunken ship has been making Madeira an increasingly appealing snorkelling/diving destination. Dive operators and shops are based mostly down south in Funchal and Caniço.
Pedro Gomes_Scorpio
Wildlife Spotting



These islands' rich environment and flora on both land and sea support hundreds of species which delight locals and visitors alike. In the water, kayakers as well as passengers on boat tours can spot whales, dolphins, sea turtles, and seals, while on land Madeira is counted among Europe's top birdwatching destinations. Birding tours are also available to its five nature reserves, with more than 350 species (a number of which are endemic, and two of which are endemic: the trocaz pigeon and the Madeira firecrest).  Spring and fall are the best times to come, as these seasons also allow birders to spot a number of rare migratory species.
Clube Naval do Seixal
Kayaking/Canoeing
Paddling your way around Madeira's gorgeous coast (most notably the stretch near its easternmost point Ponta de São Lourenço, near the town of Caniçal) gets you to spots not otherwise accessible, including dramatic sea caves and castaway coves. And there a a number of kayaking/canoeing outfitters/tour operators that make sure you have a safe and wonderful experience. Just avoid January and February, when the weather tends to be stormier.
Tiago Sousa_Desenquadrado
Surfing/Windsurfing
Since the mid-1990s, Madeira has also become the "Hawaii of the Atlantic", a top destination on the world surfing circuit. with the season running from September to May and the best time from November through January. Top spots on the main island include Jardim do Mar, Lugar de Baixo, Paul do Mar, Ponta Pequena, and São Vicente (slightly calmer than the others, and site of a surf school).
Meanwhile, stiff breezes and relatively calmer waters off the south of the island make for excellent windsurfing in spots like Achadas da Cruz, Caniçal, Caniço, Funchal, Porto da Cruz, and Porto Santo.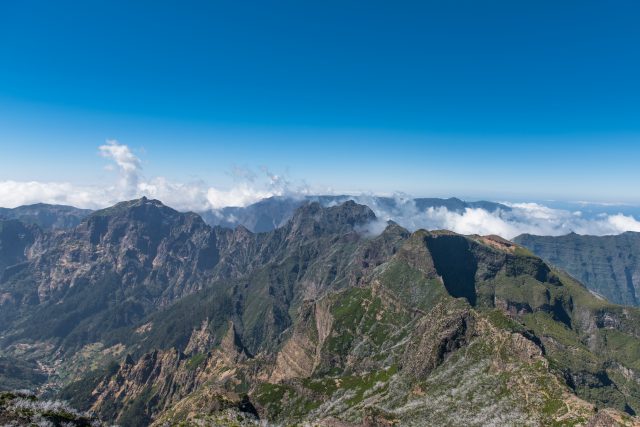 Mountain Biking



On the more adrenaline-inducing side, Madeira's mountainous terrain is couldn't be more perfect for MTB, with a slew of XC trails for all skill levels, especially along the north and west coasts. Some top pro riders use this as their winter training grounds, and there are annual competitions such as the Madeira Island Bike Race, the Trans-Madeira, and even a race through the streets of Funchal. So come grab a fattie, get stoked, and shred some gnars!
Luis Freitas
Canyoning
The mountainous terrain here also means plenty of gorges, ravines, and waterfalls to feed a sport that's become increasingly popular worldwide. Canyoning is navigating these great gashes in the earth via climbing, rappelling, swimming, jumping, and scrambling, and opportunities on Madeira – considered one of the top regions in Europe for the sport – range from mild (appropriate for beginners, found especially in the south of the island) to wild (best tackled only by the experienced and proficient, more in the north).
From mild to wild, it's all pretty exciting, no? To learn more about everything Madeira has to offer, check out VisitMadeira.pt as well as this blog's own previous overview, "Have Some Madeira, M'dear!"