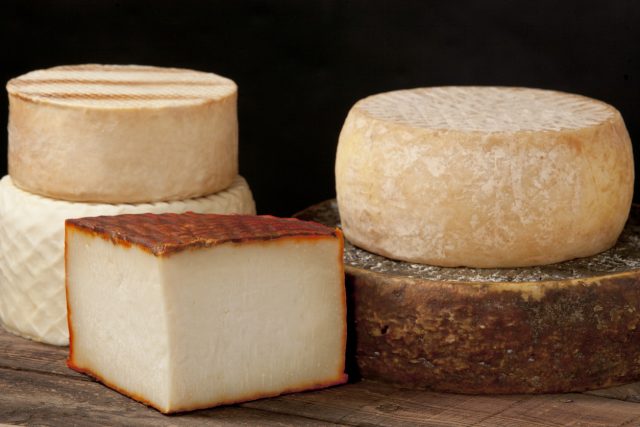 If you know anything about Spain, you're aware that it's crammed end to end full of tasty treats, and possibly that each region has its own distinctive local dishes and delicacies, from honey and ham to wine and cheese. The seven sun-drenched Canary Islands off the northwestern coast of Morocco are no exception. Here, where the per capita consumption of cheese is the highest in the entire country, each island home to at least one homegrown type of high-quality cheese, some of which have won international recognition and three of which have their own "denominations of origin".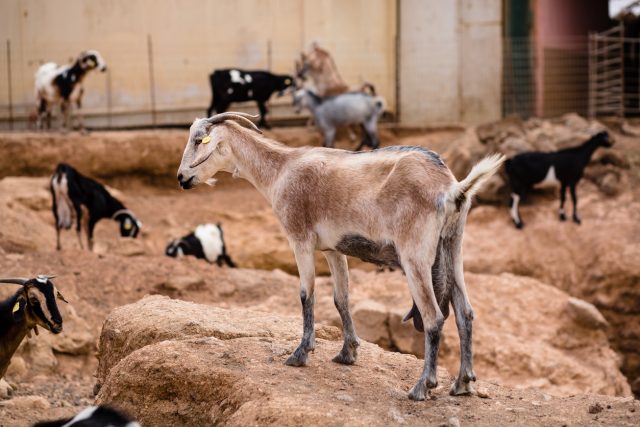 Factors that make the Canaries stand out in particular include the islands' natural conditions, with their particular topography and weather systems (including a number of singular microcilimates). Another is its three native breeds of dairy goats (above, all with a common ancestor), which feed on native plants – all of which lend a distinctive flavour to the first-rate Canarian cheeses which are artisanally produced with age-old traditional techniques in some 500 cheesemaking operations.
The variety of local foodstuffs also extends to related products such as almogrote (a kind of pâté made with aged cheese, red pepper, garlic and olive oil) or torta de cuajada (a "curd cake" dessert with fresh cheese as the main ingredient), both typical of La Gomera island. It's also common to savour cheese fried on a grill and accompanied by various types of mojo, a pungent sauce made of vinegar, hot peppers, sea salt, cumin, garlic, olive oil, and either paprika (red in colour) or coriander (green mojo).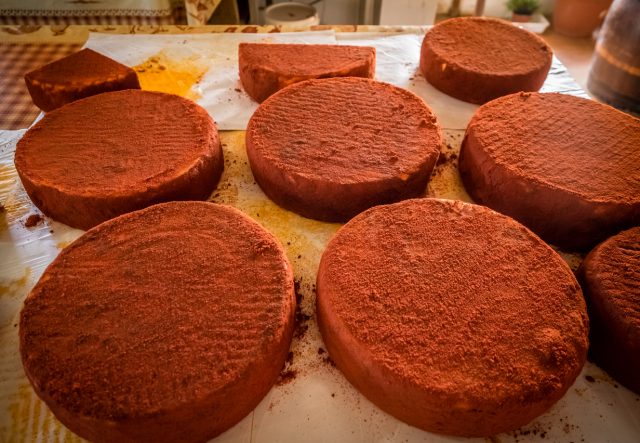 Fuerteventura – Majorero Cheese
Made on the second largest – and wonderfully wild – island, Majorero was the first Canarian cheese to be awarded denomination of origin status, in 1996, as well as the first goat cheese in all of Spain to be so recognised. Coming in both semi-cured (three months of maturation) and cured (four months) varieties, Majorero's name comes from the cabra majorera, one of the native goat species, although for cheeses being cured for longer periods up to 15 percent sheeps milk may be added.
Easily recognisable for its distinctive appearance – an orangish rind dusted with black pepper or gofio (a typically Canarian kind of flour) and the palm leaf imprint used to mold it – Majorero has a mild flavor when fresh, much more intense and slightly spicy when left to cure longer. In the town of Antigua near the centre of Fuerteventura you can learn all about this cheese and other aspects of island culture at the Museum of Majorero Cheese.
La Palma – Palmero Cheese
Also great for nature- and beach lovers, on the culinary front the Canaries' fifth largest island is known for its queso palmero, made from the raw, unpasteurised milk of another indigenous goat species, the cabra palmera. This cheese is smoked using almond shells as well as prickly pear and Canarian pine, giving its rind a dark colour.
Cylindrical in form, with a light, slightly salty flavour, Palmero is usually eaten fresh, although there are also semicured and cured varieties, making it perfect for pairing with many other foods and wines.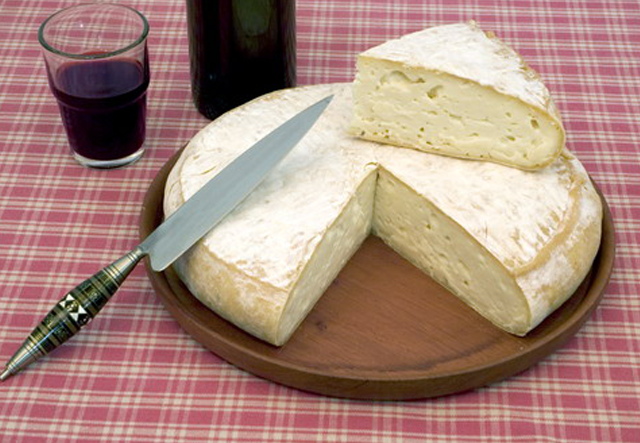 Gran Canaria – Flor de Guía
The archipelago's second most populous island is also its biggest cheese consumer. And the star product here is named "the Flower of Guía" after the town of Santa María de Guía, one of three places on Gran Canaria where it's made.
The yellowish rind gives may to a creamy interior made by mixing sheeps and cows milk as well as on occasion goats milk in lesser quantities. There's a very slight bitter undertaste because Flor de Guía is the only Canarian cheese to use an extract from the thistle flower to promote fermentation. There are also a couple of other variants, Media Flor de Guía (made with half thistle extract, half extract from calves' stomachs) and Guía (made with the animal enzyme only).
Coming to the Canary Islands? As you can see, it's way more than just beaches and nature – it's definitely also a fantastic place to say "cheese"!