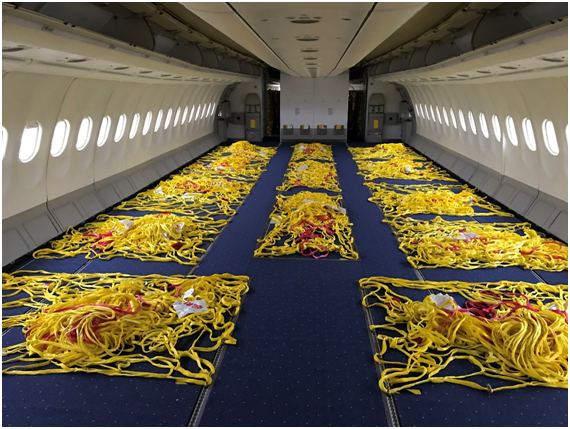 In the world of aviation, airlines either adapt or stay in a rut. And so in the uncertain times which have come upon us in these past few months, with passenger demand down but cargo demand up, we've decided to convert three of our our passenger long-haul Airbus 330s to cargo use in response to changing market conditions. The first pair to be converted have already made their first flights, to Los Angeles, where since last month we've been operating four flights per week.
This retrofit has basically meant taking out all of the aircrafts' passenger seats and crew facilities as well as the disconnection of all relevant electrical systems in order to allow our engineering and maintenance teams to install 33 slots on the floors where cargo packets will be anchored to the rails on which the seats were formerly attached. This net arrangement allows these aircraft to transport up to 18,000 kilos (105 cubic metres, or 39,683 pounds/3,708 cubic feet) in addition to the cargo space already available in their holds.
All this has been carried out according to the specifications by manufacturer Airbus and approved by the Spanish Aviation Security Agency (AESA). Iberia's ramp-operations manager Daniel Durán observes that the loading and unloading of these planes is " much more manual, but we are reinventing ourselves and thinking in new ways about how to make this operation much more efficient". To see a little bit more about these changes, check out this video (in Spanish only):
https://www.rtve.es/alacarta/videos/telediario/aerolineas-transforman-aviones-pasajeros-cargueros/5708981/
And according to Iberia sales director Guillermo González, "since February/March we haven't stopped adapting, trying first to help society by transporting public-health supplies using our existing passenger configurations, and now to update our business to meet new needs" – which has also become especially relevant when it comes to diversifying that  business. IAG Cargo, a division of Iberia's parent company International Airline Group (IAG), is incorporating these newly converted aircraft into a large international network that includes more than 350 destinations.
All of this leads to major growth expected in cargo traffic beyond Los Angeles to/from other destinations such as China most especially but also various Latin American and U.S. cities. As our commercial director María Jesús López Solás comments, "this is a chance we should take advantage of. In the current circumstances we have to adapt better than ever to what the market demands, and this operation will allow us to further diversify our income streams and activity for our employees".
And that, of course, benefits everyone, including you, our passengers. So here's looking forward to a productive year ahead!