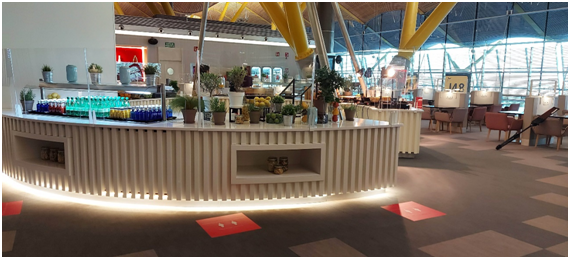 At Iberia, one of the casualties of the coronavirus/COVID-19 pandemic was our premium Premium Lounge Dalí (named, of course, after 20th-century surrealist Salvador Dalí, one of Spain's greatest artists) in Terminal 4 at our hub in Adolfo Suárez-Madrid Barajas, and so we're happy to report our VIP services are once again complete as this safe, comfortable space reopens after we've renovated it so that you can enjoy our top-notch, exclusive (and non-surrealist) amenities with complete confidence.
The Dalí lounge's return to (relative) normality comes with rigorous new protocols to guarantee the health and safety of our premium passengers, including different flujos de acceso y salida; strengthened cleaning and desinfection routines; the instalation of hydroalcoholic gel throughout the space; a reduction in seating; and the setting aside of specific areas for groups which share the same household.
The Dalí Premium Lounge is located in the northern section of Barajas airport's Terminal 4, very close to check in for the Madrid-to-Barcelona "air bridge" and right in front of the security checkpoint – meaning quick access to both.
At the same time, we've also updated other services for our Business, Iberia Plus Gold, Platinum, and Infinity passengers to provide maximum quality whilst minimising the need for physical contact. On the one hand, a selection of newspapers and magazines, now available entirely online via our PressReader, allowing access to more than 7,000 Spanish and international outlets by scanning a QR code. On the other, a redesign of our culinary offerings – thanks to the debut of our new catering company Do&Co – centred around the Mediterranean diet, crafted with fresh, top-quality ingredients and meticulously presented. Hot food will be offered in individual, self-contained portions to reduce the use of shared serving utensils as much as possible.
Más allá de los servicios indicados, ponemos a tu disposición una amplia vinoteca con 22 vinos españoles atentamente seleccionados, áreas privadas de trabajo y conexión wifi ilimitada. Todo, en un espacio de dos mil metros cuadrados pensado únicamente para tu disfrute y comodidad.
Esta reapertura de la Premium Lounge Dalí coincide con el refuerzo del programa de invierno con vuelos a más de 75 destinos en España, Europa y América, el 70% de la red de Iberia en esta época del año, con la recuperación paulatina del servicio a bordo en nuestros vuelos (con la posibilidad de degustar productos frescos y/o comida caliente) y con la reedición de la revista de a bordo Ronda Iberia, que presentará nuevo diseño en un adaptado formato digital.
orientadas a que, como siempre, y especialmente en estos momentos de dificultades, Iberia siga siendo la aerolínea de confianza.