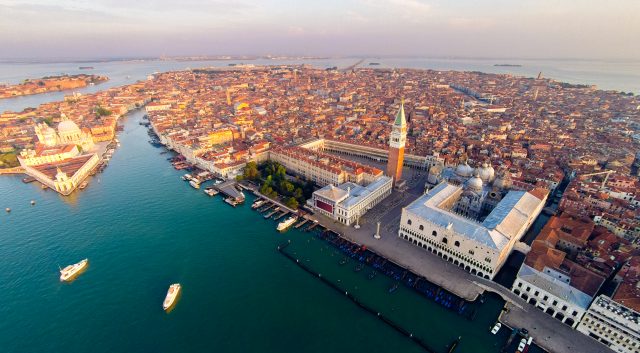 Just as we've all had to adapt our lives to the "new normal" of the pandemic, now that folks are travelling again, there's a new normality in visiting various destinations, including cities around the world. And quite a few of them can still be enjoyed in very nearly their full splendour whilst following the protocols and guidelines meant to keep us safe.
An excellent example is one of Europe's most glorious cities, "La Serenissima", which of course is packed with wonderful palaces, churches, and museums. But arguably the most magical and exotic aspect of Venice is strolling and experiencing its piazzas, canals, bridges, parks, and other open and outdoor spaces, many of which make visitors feel like they're on a stage set (as which the city has indeed often served). And the autumn is an especially delightful time to visit, both weather-wise and because of its fewer crowds. And here are some of the best open-air options in this UNESCO World Heritage Site.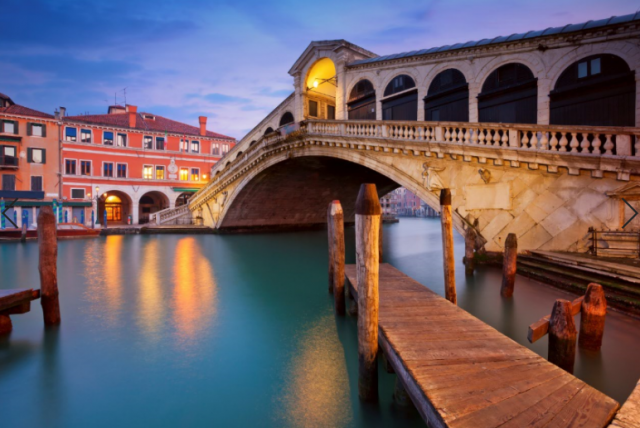 Take in the Grand Canal
The Canale Grande (Canal Grando in Venetian dialect) is Venice's largest, nearly four kilometres/2⅓ miles long and ranging from 30 to 90 metres/98-295 feet wide), as well most important. It's lined with the grandiose palazzi and other structures (including the Basilica of Santa Maria della Salute and the Peggy Guggenheim Collection) that for the most part are the legacy of the great merchantile Republic of Venice (697-1797), built in styles including Venetian-Byzantine, Gothic, and Baroque. Besides seeing the canal and its palazzi by gondola or vaporetto (water taxi), you can also cross it on foot – meaning of course via one or more of its four bridges:

Ponte Rialto
The city's oldest, most famous, and arguably most beautiful, dating back to 1173 and built in its current form in 1591. Connecting the districts of San Marco and San Polo, the Rialto has of course become a central icon of Venice due to its silhouette – two covered, ramped sections connected by a central portico. It's lined inside with small shops selling a variety of things, from jewelry to high-end, tourist-oriented  merchandise such as Carnevale masks.

Ponte dell'Accademia
Much more modest, this one's located in front of the Accademia vaporetto station and the Gallerie dell'Accademia – one of Italy's most prestigious museums and home to the world's single most important collection of Venetian painting, including Bellini, Canalettto, Tiepolo, Tintoretto, Titian, and Veronese, but also plenty of other famous Italians, such as Da Vinci and Mantegna. The 48m (157-ft.) span was built in steel in 1854 but then rebuilt in a bowed shape and relatively simple wood design in 1933 (and had to be demolished and rebuilt in 1985) but offers particularly lovely canal views.
Ponte degli Scalzi
The "Bridge of the Barefoot Ones" (referencing the friars of the Discalced Carmelite order based in the nearby 18th-century church Chiesa degli Scalzi) is also ramped on either side, and built in stone in 1934. Connecting the Canareggio and Santa Croce districts, it's also very near the Santa Lucia railway station.

Ponte della Costituzione (Ponte di Calatrava)

The fourth bridge is also of the most recent vintage (opening in 2008 and a bit controversial because it stands out as a modern landmark amid a largely traditional cityscape). It's largely known as Calatrava Bridge because it was designed by Spanish starchitect Santiago Calatrava. – though you wouldn't necessarily know it, as this span of just under 80m (262 ft.) connecting Santa Lucia Station with the Piazzale Roma doesn't flaunt the high-flying swoops and organic curves of his most characteristic works. Instead, it's a low, relatively restrained arch of steel and concrete clad in tempered glass and limestone from Istria (on the coast of present-day Croatia) which has traditionally been widely used in Venice.


Explore Out in the Venetian Lagoon
Another fantastic option is to use the vaporetti to island hop through the Venetian Lagoon, the enclosed bay between the old city and the barrier islands of Lido di Venezia and Pellestrina, and includes many other picturesque and low-key islands including Burano (above), Murano, and Torcello.
With one town, one village, a good deal of Liberty (what Italians call Art Nouveau) architecture, grand hotels (many less pricey than most in the historic centre, by the way), many good restaurants, and kilometres of beaches (even including dunes!), Lido has long been a seaside and spa resort. And it's also famous for hosting since 1933 the Venice International Film Festival (which this year was held 2-12 September).
Burano, meanwhile, is known for its lace work and colourfully painted houses; Murano for its colourful, artisanally blown glass; and Torcello the impressive 7th-century Cathedral of Santa Maria dell'Assunto (below), with fabulous Byzantine mosaics, and 15th-century Ponte del Diavolo (Devil's Bridge), very typical of traditional Venice, with no side railings.

Enjoy Some of Its Parks

Most people sure don't associate Venice with green parks, but there are a number of them, of mostly modest size, stashed amid these old streets, lanes, canals, and piazze. And if you're willing to head a bit off the beaten path – a 25-minute stroll from St. Mark's Square along the lagoonfront Riva degli Schiavoni – you'll find an expansive spread called Parco delle Rimembranze, in the Castello district of Sant'Elena island (in fact, it's also known as the Pineta di Sant'Elena). Amid lawns, flowerbeds, and trees (predominantly pines), it's a weekend favourite getaway for Venetians to stroll, picnic, play football, skate, bring the kids to the playground, and simply hang out for a bit of peace and quiet from the rest of the city. (The rimembranze in the name, by the way, refer to remembrances of the fallen in World War II.)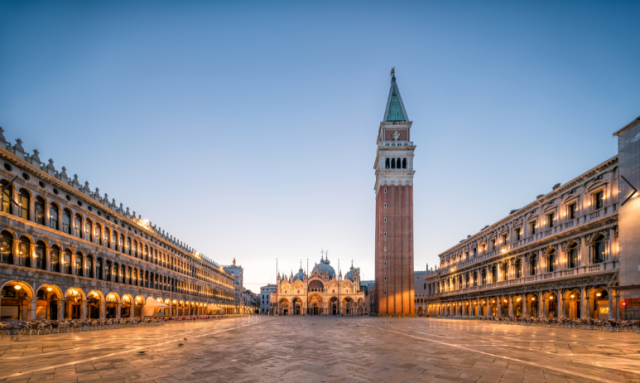 Savour its Sunsets
What could be more romantic than enjoying a spectacular sunset from a gondola? Other options for particularly fabulous sunset views include the docks on St. Mark's Square and alongside the Rialto Bridge.
Experience its Grand Palazzi & Churches
Most of these classic buildings are once again open to the public, but if you want to avoid enclosed spaces as much as possible, many of the local highlights offer as much or more eye candy on the outside than inside. Our list of must-see façades – either from the streets or the canals – would include palazzi such as the Venetian Gothic Palazzo Ducale (Doge's Palace, built in 1340 on St. Mark's Square); the 18th-century Baroque-Rococco Ca' Rezzonico; the also late Gothic Casa di Carlo Goldoni. Four basilica churches of particular note, meanwhile, are the most famous, the grandiose, Italo-Byzantine Basilica di San Marco (above), which dominates the square of the same name; San Giovanni e Paolo, built in the 1430s; the red-brick, Venetian Gothic Santa Maria Gloriosa dei Frari; and the octagonal, Baroque Santa Maria della Salute, at the entrance to the Grand Canal.

Come and discover (or rediscover) the watery wonderland that is Venezia, with cheap flights on Iberia. And buon viaggio!