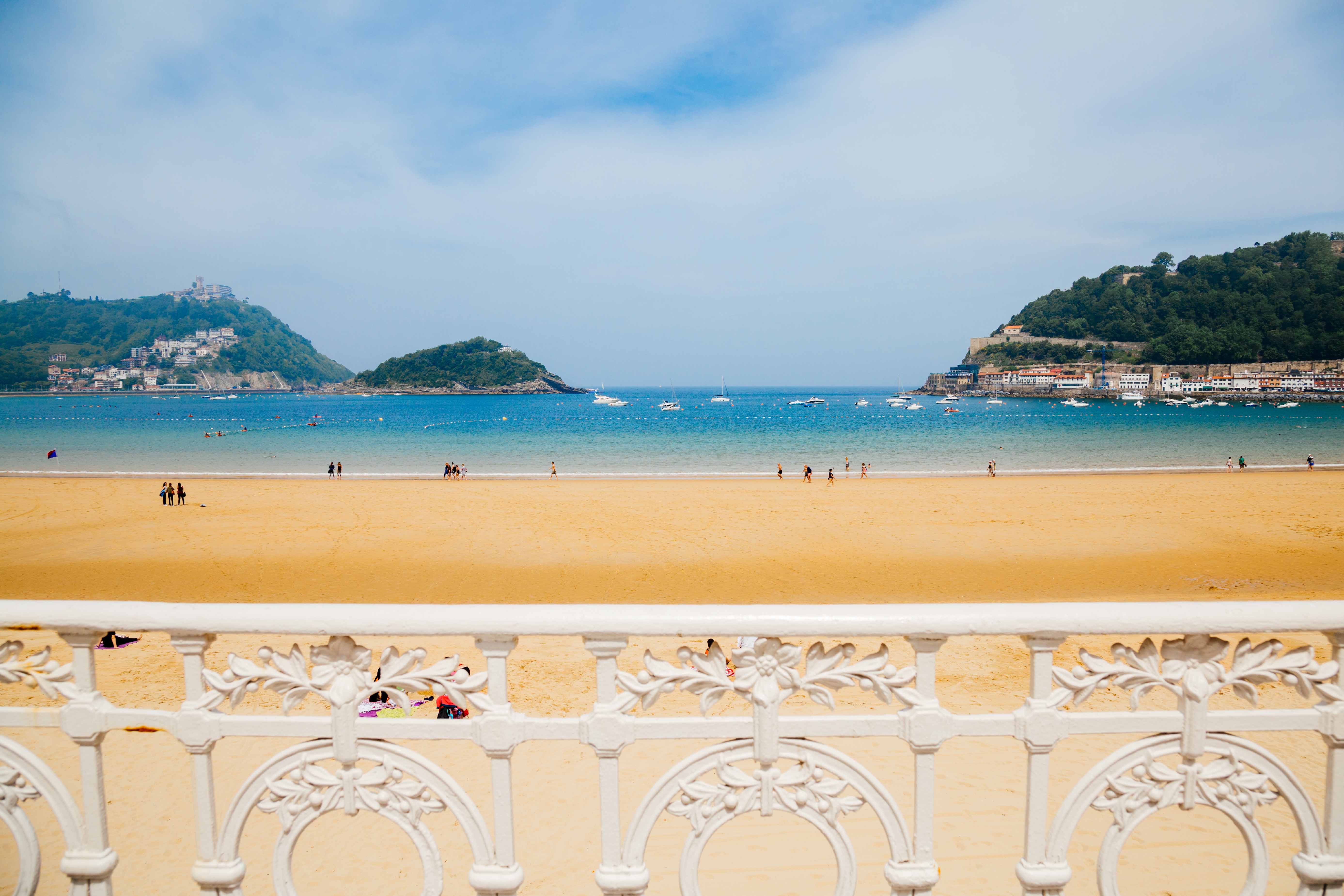 Spaniards – and increasingly, visitors from beyond our borders – have a special fondness for visiting Euskadi – aka the Basque Country, the rolling, verdant region astride the bracing Bay of Biscay – especially in summer, when as points south are baking, up here it's a refreshing low 20's Celsus (low 70s Fahrenheit) during the day and 16 or so Celsius (low 60s Fahrenheit) at night. Its beaches are spectacular; its food is famously beyond scrumptious; and the cities, towns, and countryside of its three provinces, Álava, Vizcaya, and Gipuzkoa, delight with history, culture, nature, and adventure.
Each provincial capital boasts its own special charms, of course, including Vitoria-Gasteiz in Álava (also the capital of the region as a whole) and Vizcaya's big, bustling Bilbao. But today I'm turning my attention to San Sebastián (known in Basque as Donostia), the gracious seaside capital of Gipuzkoa with a population around 186,000 and which beginning in the 1860s became Spain's first true beach resort for the rich, the famous, and the aristocratic – and still has the architecture and culture to prove it.
And here are several "did you knows".  Did you know that Euskadi has perhaps Spain's most distinguished culinary lineage – for example, with eight Michelin-starred restaurants (including four with three stars, the most of any community in Spain)?  That some of the most iconic scenes in Game of Thrones were shot in Basque locations? That Gipuzkoa is mainland Spain's smallest province by area? And that more than half of this province's population calls San Sebastián home?
Sitting on the picture-perfect Bahía de la Concha (Seashell Bay) just 20 kilometres from the French border, this city's origins can be traced to settlement by ancient Rome, but much of what we see here today dates back to the French-flavoured, bourgeois/aristocratic Belle Époque of the late 19th and very early 20th centuries. And despite its modest size, it punches well above its cultural weight internationally thanks to annual festivals such as the San Sebastián International Film Festival in September and July's Jazzaldia jazz festival.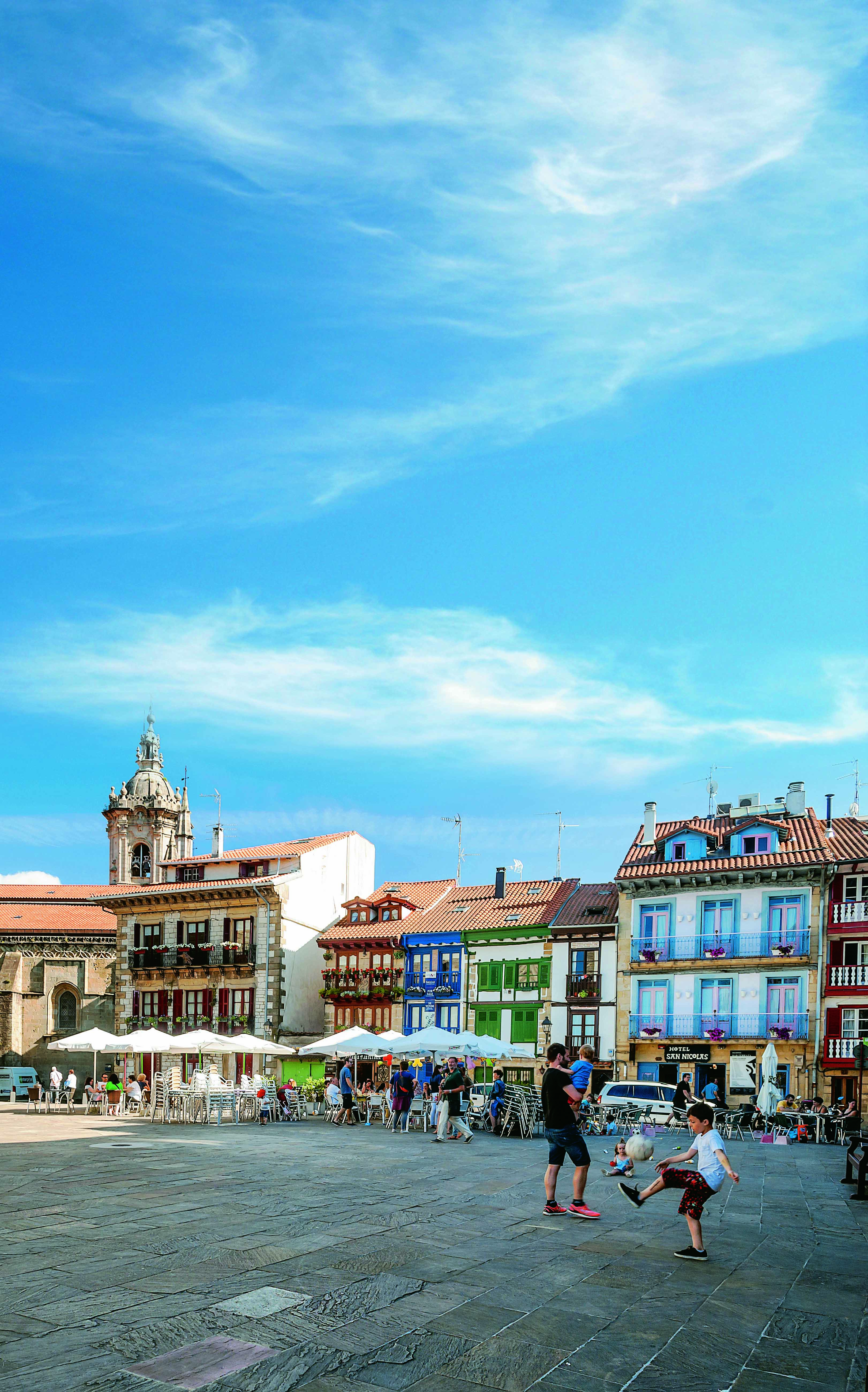 3 Top Spots in/near Town

La Concha
Perhaps San Sebastián's most iconic spot – and right front and centre in the city – the crescent-shaped Playa de la Concha is 1,350 metres (TK feet) of fine, soft, golden sand running along the bay of the same name. Considered by many Spain's best urban beach (one of the best in all of Europe, even), it's lined by a gracious, vintage-lamppost-adorned promenade, and right across from that, a variety of Belle-Époque buildings housing bars, restaurants, hotels, and spas.

Monte Igueldo
At the western end of La Concha Bay, this 181m (594-ft.) hill jutting out into the bay serves up cinematic views out over the bay, the beach, and the waterfront, especially from the terrace of its castlelike, 17th-century onetime lighthouse El Torreón (which also features an exhibit of traditional Basque life and customs). The best way to get up here is via funicular railway at the end of the promenade, which will take you up to a cute, retro-feeling funfair with 20 attractions including a wooden roller coaster, bumper cars, flume ride, and haunted house.
Hondarribia

About a half hour east of San Sebastián, right at the French border, one of the Basque coast's most picturesque towns has a population of around 17,000 and is notable for the cobblestone streets and handsome architecture of its walled, 16th- and 17th century old quarter, but also its Castillo de Carlos V (dating as far back as the 12th century and now a parador, one of Spain's quasi-public network of historic inns) and the Santa María Gate in the old town wall. Don't miss La Marina neighbourhood, the old fishermens' quarter, awash in colourful façades. This is also a great eating town, for sampling scrumptious seafood and Basque specialities.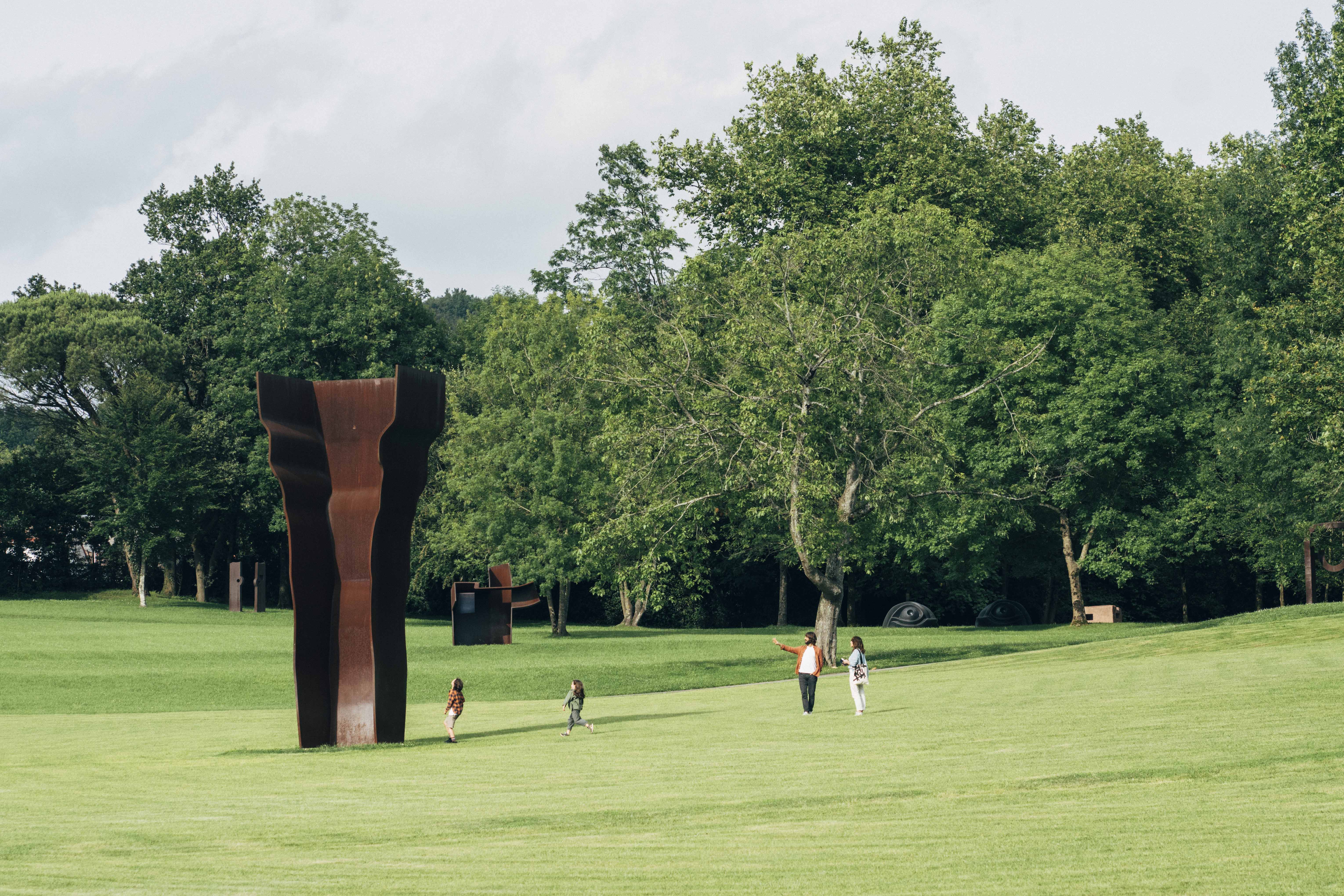 A Giant of Basque Art
Abstract sculptor Eduardo Chillida (1924-2002) is considered one of Spain's greatest artists, and on the outskirts of the town of Hernani, a 15-minute drive south of San Sebastián, there's an open-air museum, the Museo Chillida-Leku, devoted to his work. It's an enormous swath of lawns, gardens, and woods (where the larger pieces are displayed) along with a restored Basque farmhouse inside which you'll find his smaller/more delicate works, along with a café and museum shop. In addition there's an interesting and varied cultural programme held outside during the warmer months.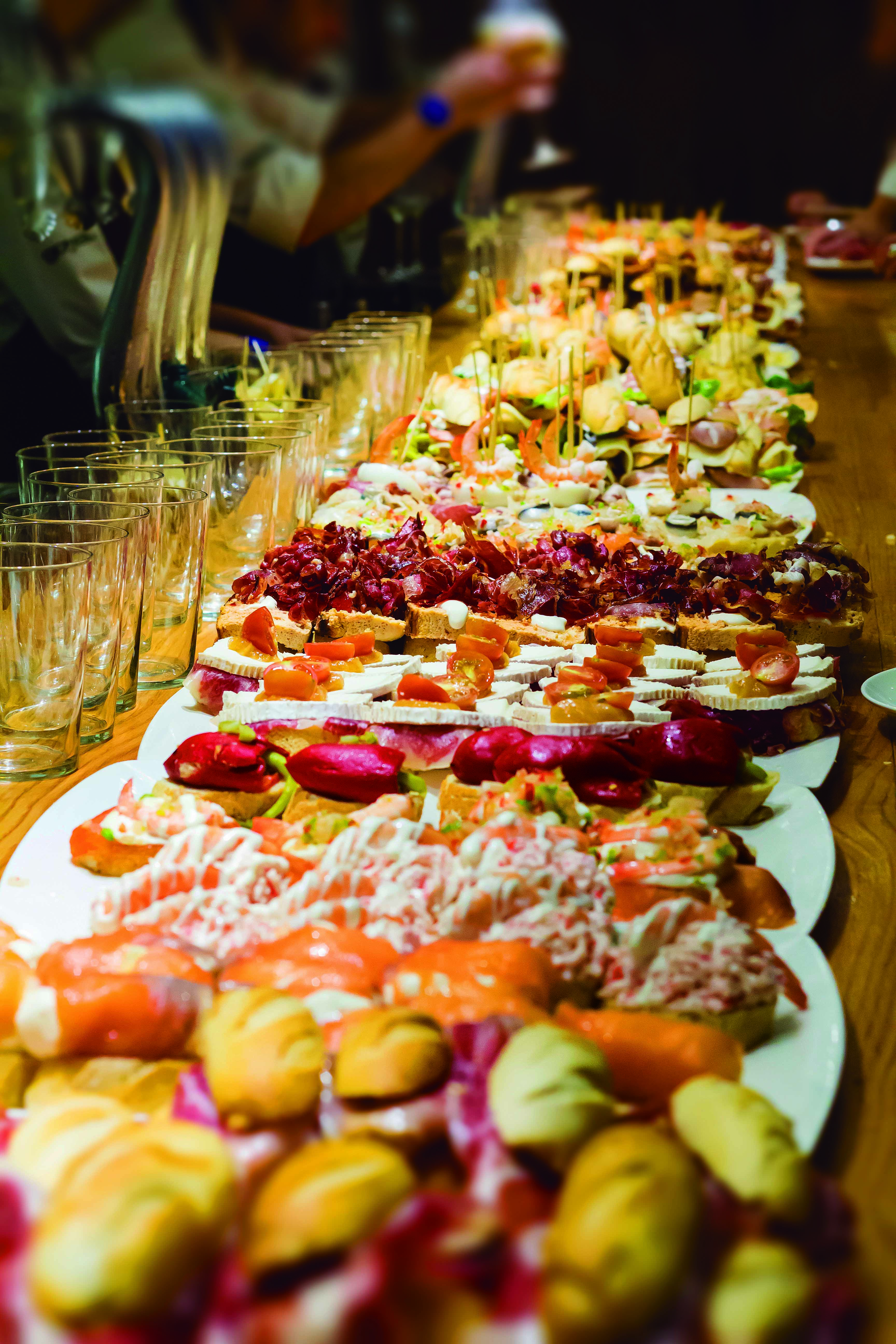 Epic Eating
Along with some of the world's most superlative gourmet fare, San Sebastián is also said to have the best traditional Basque pintxos (also spelled pinchos, the local term for tapas), especially when it comes to those containing bacalao (codfish).  These come in various types, though, and here are several of the main ones:
Txapelas
Named after the typical Basque beret, these are essentially bread rolls stuffed with various fillings.
Traineras
A flatter kind of bread-based pintxos, which take their name from the sails of traditional Basque fishing boats, they carry stuffings such as cod al ajoarriero (in a rich mixture of garlic, red chili, green peppers, and tomatoes) and various types of scrambled eggs.
Tiger-mussel croquettes
Croquetas (especially ham) are a staple all across Spain, and up here the local twist is making them from mejillones tigre (tiger mussels), steamed, folded with spices and other ingredients into a rich bechamel sauce, breaded, and fried.
Spider-crab Pintxos
Txangurro and txaka (two words for crab) are also big in Euskadi, with myriad treatments and interpretations. One of the most common preparations is as tartaletas de hojandre (flaky tarts). whether sitting on flake pastry or stuffed within. Another distinctive take is tortilla de txaka (crab-stuffed potatoe omelette), in which Spain's classic and iconic tortilla de patatas gets stuffed with crabmeat mixed with mayonnaise.
La Gilda
Perhaps the most famous pintxo of all was invented in 1946 at San Sebastián's Bar Casa Vallés and consists of olives, spicy green peppers, and anchovies on a skewer. Fun fact: the film festival was on at the time, and its top draw was the Hollywood film Gilda, with Rita Hayworth in the title role. The pintxo was likened to her character: somewhat spicy and very salty.
So on your next trip to Spain, make like a Spaniard and come avail yourself of the many delights of this destination that's classic but has kept up with the times like nobody's business.