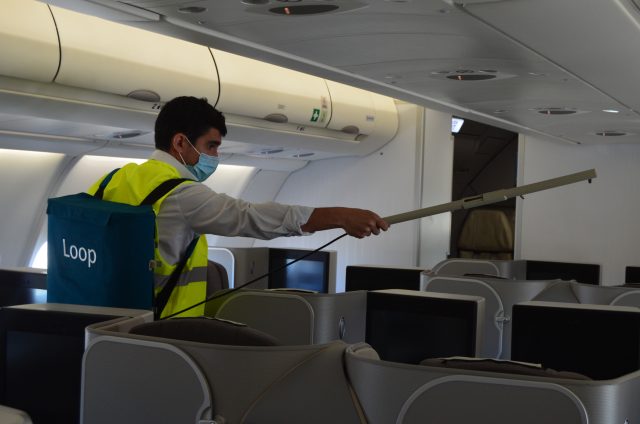 There's no denying that the effects of coronavirus and COVID-19 have changed the world in many ways, including of course the airline industry. And Iberia has been spending months working hard to ensure that you feel safe when you fly with us. That's why we've instituted numerous hygiene measures and protocols before, during, and after each flight on top of those already in place before the pandemic. Today we'd like to explain these innovative and sustainable solutions to provide you peace of mind as an airline passenger.
The cleaning of our aircraft begins with a procedure of spraying with liquids capable of eliminating pathogens: a spray of particles is applied that kills any virus it encounters in seconds, laying down a film that remains active to eradicate it completely. Subsquently, a cleaning of surfaces is carried out capable of destroying pathogens in all areas of contact with passengers. 
For the sterilisation of our short- and medium-haul aircraft carried out in Madrid in the afternoos, our providers Multiservicios Aeroportuarios (Airport Multiservices) has  introduced layovers the use of electrostatic guns loaded with a fine mixture of special products designed to eradicate particles associated with COVID-19 – a process which allows rapid and uniform desinfection even in the most hard-to-reach areas of seat-back trays, seats as well as their armrests and headrests, overhead bins, and lavatories.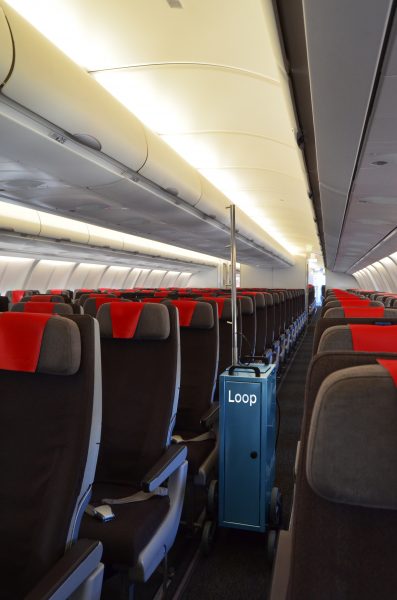 For day-to-day cleaning of equipment, the Spanish startup Loop Disinfection has designed for Iberia a system of cabin desinfection that's easy to handle and low in electricity consumption, which makes the process sustainable as well as efficient and effective.
The Loop Disinfection systems allows even coverage over all surfaces thanks to the use of a special fluid that dries practically instantaneously. It's deployed by three separate teams – Airline Loop, Standard Loop, and Portable Loop, this last utilising a backpack made of sustainable fibres – which allow uniform and thorough disinfection of even the hardest to reach areas of seats, aisles, and lavatories by generation droplets just 100 microns in diametre.
This disinfection system has been designed according to the guidelines established by the European Aviation Safety Agency (EASA) and International Air Transport Association (IATA), and has also been certified by various other authorities and manufacturers in the aviation inudstry, including Airbus and Boeing.
In addition to all of this, to further prevent the suppress the proliferation of bacteria (as well as unpleasant odours), our disinfection teams are utilising environmentally friendly, multi-use cleaning cloths and mops made from plant fibres including bamboo pulp.
So as you can see, Iberia has been working hard to protect your health and safety as well as that of our cabin crews. And we look forward to welcoming you aboard our cleanest flights ever!