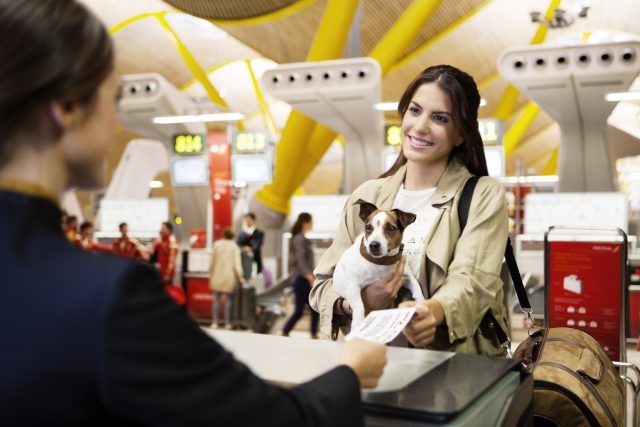 Like much modern public transport, flying runs on timetables – and deadlines. And many a flight has been missed because passengers aren't sufficiently aware of the deadlines they need to meet in order to catch those flights – it can be easy to forget or become confused about them. So in the interest of avoiding that major inconvenience, I've put together a list of types of flights and the deadlines passengers need to meet in checking in and boarding on time.
Baggage-Check Deadlines



On flights within Spain or to/from Schengen Area countries,* if you need to check bags, the general rule is you should arrive at the airport 45 minutes before your flight's departure time to present yourself at one of Iberia's points of contact.** If you're travelling without checked luggage or already completed check-in online, you may instead arrive 30 minutes ahead.
Again, this is a general rule – meaning there are exceptions. One is that at certain airports the check-in deadline may be earlier due to security considerations – and your carrier will inform you of this ahead of time. Others in the case of Iberia are:
Spain's Madrid-Barcelona 'Air Bridge': 15 minutes ahead (20 minutes if a jetway has not yet been assigned).
Short- and medium-haul flights: 45 minutes.
Long-haul flights: Departures from Madrid 55 minutes, from most other airports 60 minutes (except for Guatemala City, 40 minutes, and Caracas, 120 minutes). 

Africa flights: Departures from Madrid Barajas Terminal 4S 55 minutes, from other airports 60 minutes. 

Tel Aviv flights: Departures from Madrid Terminal 4S 55  minutes.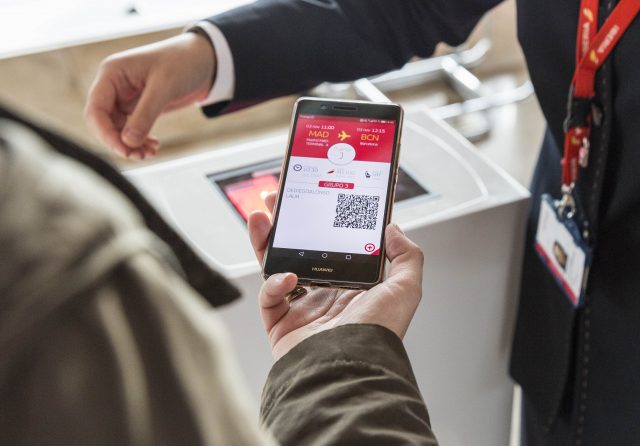 Boarding Deadlines



Passengers are officially requested to be at their boarding gates a minimum of 20 minutes before departure time. So keep that in mind, building in the additional time necessary to pass airport security (generally 15 minutes will suffice for this, depending on the airport and how busy it seems), find your gate, and otherwise do whatever you need to do at the airport before boarding.



Special Cases
For flights to Tel Aviv from Spanish airports, Iberia is legally obliged to carry out additional security measures that mean passengers will need to arrive at boarding gates at least 90 minutes prior to departure time.
Similarly, United States authorities require additional security for flights to that country which obliges passengers to arrive four hours before departure. In the case of connecting flights, it's important that you get to the boarding gate of the relevant airport as quickly as possible.
If you're flying from airports in Lima, Mexico City, Bogotá, Guayaquil, or the USA, you'll need to present yourself at your boarding gate three hours ahead.



Important Final Notes



If you fail to arrive within the above stipulated timeframes, you unfortunately run the risk of having your ticket voided.
Also, always please remember to have easily accessible the following current and valid documents:
National Identity Card and/or passport for flights to or from destinations in the European Union and Schengen Area.
Passport (along with any required visas) for other countries.
Make sure that your carry-on bags meet the size limits and verify which of your checked bags qualify for free transport and which will need to have additional duty paid. More information on luggage here.
Hey, as a frequent flyer myself, I know all of this is a pain, but it's all in the interest of security and/or smooth operation of flights. So better safe than sorry – and buen viaje!

* The 26 Schengen Area countries include, besides Spain: Austria, Belgium, Czech Republic, Denmark, Estonia, Finland, France, Germany, Greece, Hungary, Iceland, Italy, Latvia, Liechtenstein, Lithuania, Luxembourg, Malta, Netherlands, Norway, Poland, Portugal, Slovakia, Slovenia, Sweden, and Switzerland.

** Iberia points of contact include: check-in counters; your assigned boarding gate; Iberia information desks; and for Business and Business Plus passengers, Iberia's VIP lounges.