Last week I tossed out eleven cool things about places in Iberia destinations which you may not've known, but add an extra dimension to visitors' experiences of these great cities. Well, that was so much fun I decided to dig up ten more tidbits. Ready?
London
Also known as the Millennium Wheel, one of the newer landmarks on the skyline of Britain's capital – opened to the public in 2000 – is 135 metres high and 120 in circumference (443 x 394 feet) and made up of 32 passenger capsules, each representing a London neighbourhood. But the quirky thing is that, following the old superstition, there's no capsule 13 (so the numbering goes from one to 33). It may mark the new millennium, but as we all know, old habits die hard.
Rio de Janeiro
Like the rest of Brazil, Rio is famously football-mad, and its Maracanã Stadium is the country's biggest and best known temple to o jogo bonito ("the beautiful game"). Since a renovation in 2010-13, it seats 78,838 spectators, but back in July 1950 it broke the world record for attendance, packing in a whopping 199,854 for the last game of the World Cup (and that was the official number – unofficially it was reckoned as high as 210,000). Unfortunately for the local fans, Uruguay beat Brazil 2-1 – a defeat so shocking it went down in history as "the Maracanazo".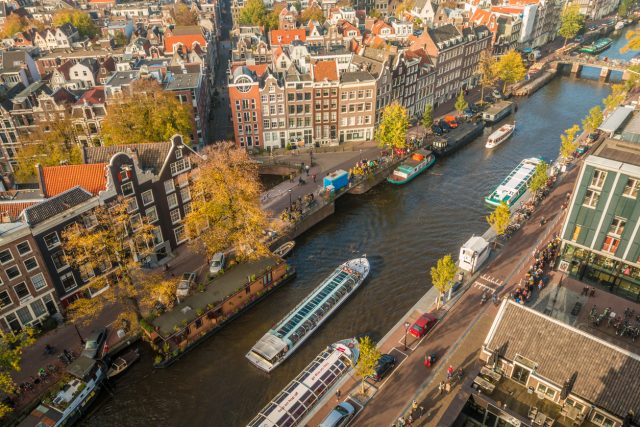 Amsterdam
Everyone knows that the capital of the Netherlands is famous for its UNESCO World Heritage canals, built in the 17th century. But not many realise what that means by the numbers. So here we go: that means 165 canals and some 100 kilometres (62 miles) of waterways around 90 islands, crossed by some 1,500 bridges. All this is organised within three of the biggest canals, the Herengracht, Prinsengracht, and Keizersgracht, arranged concentrically around Amsterdam's historic old town.
Budapest
Do you have a particular number you consider "good luck"?  In Hungary's capital it's 96. For it was in the year 896 that the Magyar peoples first settled this area and established the Kingdom of Hungary. Then that number kept cropping up throughout the succeeding centuries. For example, two of the city's most iconic buildings,  St. Stephen's Basilica and the Parlament building, both rise to a height of 96 metres (315 feet) – and there's a law on the books stipulating that no new construction may be higher than this (which is why there are no skyscrapers hereabouts). Furthermore, the latter was inaugurated in 1896 to commemorate the original kingdom's founding, and its main staircase has 96 steps. Finally, it was that same year that the first line of continental Europe's first Underground was built (which by the way is also a UNESCO World Heritage Site in its own right).
Bilbao
Ever since its inauguration in 1997, the futuristic Guggenheim Museum has been one of  this city's premier attractions, as well as one of Spain's largest museums. But apart from Frank Gehry's swoopy, shiny architecture, its main star for many is the enormous sculpture which stands guard alongside it. Puppy is a 13m (43-ft.) West Highlands white terrier created in 1992 by US artist Jeff Koons out of stainless steel, then covered with some 37,000 flowers, including begonias, impatiens, lobelias, marigolds, and petunias. They're switched out twice a year, in May and October, to reflect the seasons – a job that takes ten days of work by 30 gardeners at once.
Rome
When you're out and about in the Eternal City, it's not unusual to hear bells pealing every so often, given the more than 900 churches in the epicentre of Roman Catholicism. But especially if you're in the vicinity of western Rome's Janiculum Hill, you may also notice a boom at precisely noon each day. It's a tradition begun by Pope Pius IX in 1847 as a way to remind the city's churches to start ringing their bells, and moved to the lookout terrace here in 1902 near the statue of Italy's foremost independence hero Giuseppe Garibaldi.
Shanghai
Ancient though it may be, China's largest city today is also one of the world's most modern in many ways.  One of those ways is its SMT, currently the world's only commercially operated maglev train (maglev meaning magnetic levitation, suspended and moved forward between magnet-lined rails), reaching a speed of 431 km per hour (268 mph). Finished in 2004 at a cost of approximately 1.2 billion euros (£1bn/US$1.33bn), it connects Longyang Road in Shanghai's futuristic Pudong district to Pudong International Airport, 30 km (19 mi.) away, in as little as seven minutes and 20 seconds.
Miami
It will come as no surprise that one of the mainland USA's warmest and greenest major paradise destinations (just one brief snowfall recorded in all its history, in January 1977) is positively packed with parks of varying sizes – more than 900, in fact – ranging from pocket plots that are oases in the urban landscape to sprawling swaths of nature. Some of the most worthwhile from the visitor's point of view include downtown's Bayfront Park along the water, with impressive bay views and striking landscaping, featuring curved lines and concentric circles. One bridge south and also on the bay, the petite Miami Circle Park at the mouth of the Miami River stars the remains of the Miami Circle, a ceremonial structure of South Florida's first known human inhabitants, the Tequesta people, some 2,000 years old. South Pointe Park at the southern tip of Miami Beach also features imposing views out to sea, as well as of the mammoth cruise ships lumbering just a few metres away to and from the cruise port.  Crandon Park on Key Biscayne offers some wonderful natural areas in addition to a popular beach, golf course, tennis courts, and environmental centre. And speaking of nature, there are several large swaths to enjoy it, including Key Biscayne's Matheson Hammock Park; Oleta River State Park, up north; Biscayne Bay National Park down south; and of course the wilderness of the Everglades National Park out west.
Brussels
South of the old town's hub, Grand' Place, the diminutive, early-17th-century statue/fountain of the little peeing boy called Manneken Pis is one of this city's crowd pleasers. But did you know that he is also periodically garbed in colourful outfits, depending on the season and occasion (you can see more than a thousand of them on display at the Brussels City Museum). What's more, north of the Grand' Place you can also find his female counterpart, Jenneke Pis, erected in the late 1980s, and their dog pal Zinneke Pis (more properly known as Het Zinneke), doing his business on a knee-height street post since the late 1990s.
Barcelona

Near the top of Tibidabo Hill in the north of the city, the charmingly retro Tibidabo Amusement Park (at 118 years, Europe's third oldest, and the world's oldest that's still in operation) is a sentimental favourite of locals and visitors alike, as well as a great place for sweeping views out over Barcelona. And one of its most singular attractions is a red, life-size replica of a Rohrbach Roland, the plane that flew Iberia's very first commercial route, between Barcelona and Madrid, beginning in December 1927. Holding ten passengers, it offers a lazy circular spin suspended more than 500 metres (1,540 ft.) above the city.