Per square metre, few are the cities with as much amazingart as Florence, the cradle of the Italian Renaissance. It's everywhere – in its streets, in its monuments, and of course in its museums – so much that this city was once famous for causing Stendahl Syndrome, a psychosomatic condition involving rapid heartbeat, fainting, confusion and even hallucinations, occurring when people become exposed to objects or phenomena of great beauty. And here we provide a look at the top four temples of art in this city, served by Iberia with 11 direct flights per week.
Florence's most popular museum – as well as one of the world's, and by most reckoning Italy's most important – was once the collection of the legendary Medici family which controlled Florence during the 16th and 17th centuries. It harbours key works – arranged in chronological order – of the Italian Rainaissance such as Sandro Botticelli's Birth of Venus (above), with other old masters including the venerated Italians Michelangelo Buonarroti, and other Italians such including Caravaggio, Giotto, da Vinci, Rafael, Titian, in addition to other European greats such as Rembrandt, Rubens, and Velázquez. Schedules and entrance fees vary according to times of year.  Given the Uffizi's size and importance, so as not to miss the most important works a guided tour is ideal. You could literally spend days here, but you will want to dedicate a minimum of an hour and a half.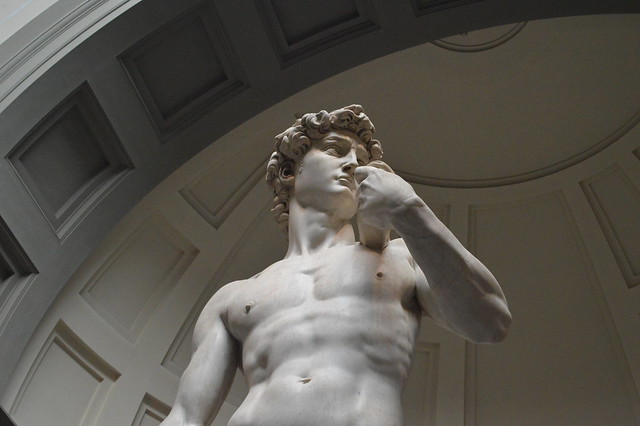 Founded in 1784, Italy's second most visited museum is of course best known for housing Michelangelo's immortal, four-metre (17-foot) statue of David. But its 11 rooms are packed with master works of other artists including Botticelli, Domenico Ghirlandaio, Giambologna, and Andrea del Sarto, along with a collection of Russian icons and rare antique musical instruments including a 1690 Stradivarius violin.
Housed in the 15th-century Palazzo Pitti, the Palatine Gallery displays more than 500 paintings and sculptures mostly of the Italian and European Renaissance but also later, with works by Botticelli, Venetian sculptor Antonio Canova (including his famous Venere Itálica, commissioned by Napeoleon Bonaparte), Caravaggio, Raphael (La Donna Velata), Rubens, Titian, Tintoretto, Van Dyck, and Veronese. Admission here also includes a visit to the sumptuous apartments (closed in January) and a pair of famous gardens, the Boboli and the Bardani. And there's yet more in the palazzo, including a modern art gallery, the Granddukes' Treasury silver museum, the Costume Gallery, and a carriages museum.
Less well known (and hence crowded) than the preceding trio, this crenellated onetime barracks and prison built in the 13th century is now home to priceless paintings and sculptures by Benvenuto Cellini, Donatello (including his own famous David), Gimabologna, Michelangelo, and Lucca della Robbia. The museum also contains wonderful collections of maiolica ceramics, textiles and tapestries, ivory, silver, armour, and coins, and its interior courtyard (above) is a true medieval gem.
Final note: if you're a museums maven, the Firenzecard card is an excellent option; 85  euros includes 72 hours' priority admission for the holder and any family members under age 18 to all four of these museums including dozens of other Florence museums and other sites, as well as discounts and offers on shopping, entertainment, and more (another 7 euros adds access to public transportation for the same period).