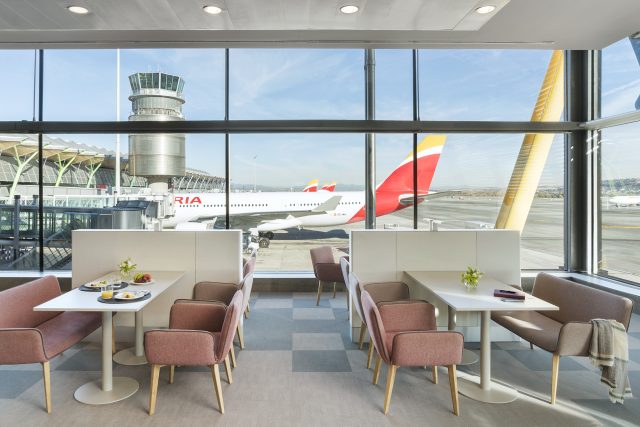 Iberia VIP service is all about not only preferential treatment, but also perks that save our passengers time – that increasingly precious commodity in today's world. And here's a rundown of its considerable advantages:

Separate Preferential Airport Check-In
When checking luggage, find shorter wait times and even more attentive service.

Fast-Track Access at Airport Security

Oftentimes the long lines here end up being the most annoying part of the airport experience. Spare yourself all that with VIP access at nearly all airports in the Iberia network!



VIP Lounge Access

Many airports these days do offer increasingly great amenities as a matter of course, but kick your waiting experience up a few notches by taking advantage of the comfort and tasty free food/drinks and other services in Iberia-affiliated VIP lounges throughout the world.




Preferential Boarding

Boarding your flight – especially a crowded one – is also always a bit of a production, isn't it? But VIP status gives you first crack at it, before general boarding. Another nice perk, indeed!



VIP Parking in Madrid/Barcelona
At Barajas and El Prat airports, this awesome extra takes the hassle out of stashing your car whilst you travel, providing free pickup, parking, and car delivery when you return. More on how it works for different destinations:

Three days for domestic flights to/from the Canary Islands.
Three days for international flights to/from Europe, the Middle East, and Africa (except Dakar and Johannnesburg, see below).
Seven days for intercontinental flights to the Americas, Asia, and Dakar/ Johannesburg.
Limousine Service
Alternatively, if you don't drive or want to ditch your car altogether, in several cities we can also provide eligible passengers with a luxury vehicle to ferry you between the airport and your home, hotel, or workplace. More details:
Service available at airports in Madrid; Barcelona; Santiago, Chile; São Paulo; Mexico City, and Buenos Aires.
Subject to availability.
Must be requested at least 72 hours in advance of your flight, via Serviberia, any Iberia office, or your travel agency.
Any schedule change needs to be made at least 12 hours in advance.
Eligibile passengers include Business Plus on intercontinental flights operated by Iberia (as opposed to code shares; also, the ticket must be full fare, not reduced fare) as well as Business Plus Platinum with a ticket bought with Avios.
Exlusions: Passengers on codeshare flights numbered IB4XXX, IB5XXX, IB7XXX, and IB9XXX, as well as flights operated by Iberia for our Level brand (IB26XX).
Important Note: Flights to and from Barcelona will have to make their connection either in Madrid or in Barcelona on a regular Iberia flight with an immediate connection.