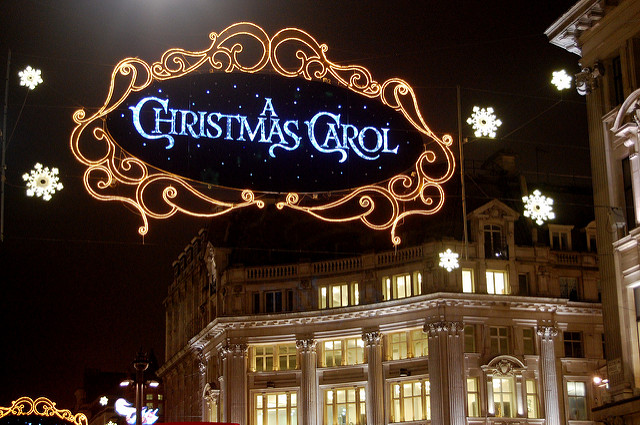 One of the all-time classic Christmas destinations is the city where Charles Dickens penned A Christmas Carol 175 years ago. And of course the London of today offers an enormous variety of holiday happenings and experiences, from the traditional Victorian of Dickens' era to cutting-edge modern. Here are just a handful of London Yuletide highlights…

Holiday Lights
First off, of course, is the fact that from mid November through early January much of the city is awash in bright coloured lights and other decoration. Among the best spots to experience the brilliance of this holiday cheer is Regent Street, Oxford Street, and Carnaby Street (below).



Trafalgar Square
Built in 1830 to commemorate Britain's famous victory over Napoleon in the Battle of Trafalgar, this square is home to monuments including the column to Lord Admiral Nelson and the statue of the first U.S. president George Washington (all was obviously forgiven!) and institutions such as the National Gallery. And the square especially puts on the ritz for the holiday season, strung with festive lights and with pride of place going to a towering Christmas fir tree gifted by Norway every year since 1947 in gratitude for British support during World War II. In front of the tree during this season, choirs sing Christmas carols daily.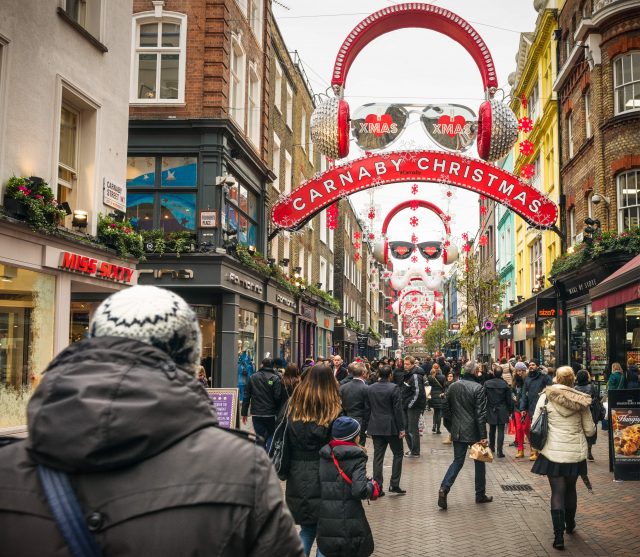 From mid-November to 1 January, a goodly chunk of London's most famous park is given over to a winter/holiday theme park, centred around an ice-skating rink, an array of Santa Land rides including a 60-metre-high (TK-foot) Ferris wheel, along with a Secret Forest of snow/ice sculptures and various shows, booths, and other venues. A surefire family favourite!
Christmas Markets
Britain's capital is already known for its cool year-round street markets, from Notting Hill to Camden Town to Portobello Road, and at this time of year they proliferate even more. Particularly salient examples include the Winter Market on the Thames River in Southbank; the British Red Cross Christmas Fair in Guildhall; and the Country Living Magazine Christmas Fair at Islington's Business Design Centre. And don't forget to try the mulled wine!
Department Stores Pull Out All the Stops
These were essentially invented here in the 18th century, and they're always worth a visit any time of year – but all the more so in this season, when they, their windows, and their food halls are tarted up to a tee. Start with of course with the classic  Harrod's in Knightsbridge, and if you have time, also check out Marks & Spencer, Fortnum and Mason, Selfridges, Liberty London, and Harvey Nichols.

London Eye Fireworks

Since this enormous Ferris wheel first opened to the public in 2000, the spectacular, equally enormous New Year's Eve fireworks display around it has become an annual crowd pleaser!
New Year's Eve Parade
Ever since 1987, the streets of the West End have been the backdrop of a multicultural extravaganza including colourful floats and performers of all stripes and from all around the world, from clowns and acrobats to singers and dancers. The action starts at noon from the Hotel Ritz.
Holidays on Stage
London is also famously one of the world's main theatre capitals, and venues all over the town stage holiday specials, such as classic ballets at the London Coliseum and especially the Royal Ballet's annual run of The Nutcracker (both in Covent Garden).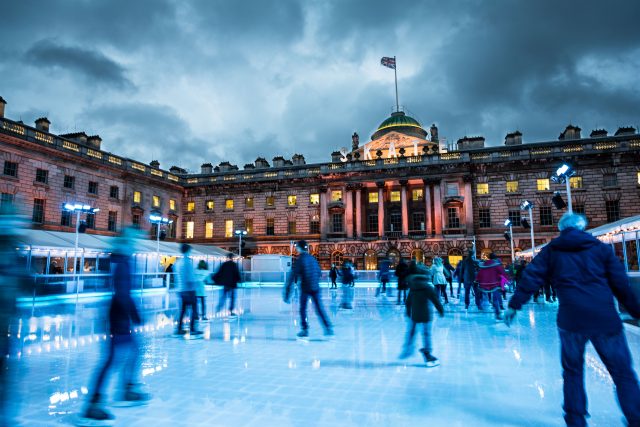 Ice Skating

Besides the rink in Hyde Park mentioned above, an even more classic skating experience against an elegant, historic backdrop is the grand one at the late-18th-century Georgian palace called Somerset House. And Wednesday through Friday the fun comes with a soundtrack from some of hottest talents of the world DJ scene.
Ice, ice, baby!