When I visit a city, I tend to prefer meandering its streets instead of its museums -soaking up local life – and I've often found some of the best places to do that are its public markets, where I can rub shoulders with locals in one of their natural habitats. And recently in Porto, capital of Portugal's north, I recently had some great experiences, and so I'd like to pass on what I've learned about four of its best traditional markets.
Opened in central Porto in 1917, my favourite public market here (top) has become a city icon, its white neoclassical façade, soaring central nave and pair of side passageways these days sporting a faded metallic grandeur that for many is exactly part of its charm, along with its many family-run stalls selling not just fresh meat, fish, sausages, and flowers, but also local crafts (especially based on quintessential Portuguese cork). It's a real multisensory experience to roam its narrow corridors taking in the colourful sights and heady aromas, and have a seat at one of the restaurants for a frosty beer and a plate of local delicacies (fresh cod and other seafood being top of the list, or course) at very attractive prices.
Having said all that, I'm sorry to add that the market is closed for remodeling until 2020, and in the meantime, many of the merchants have set up a temporary Mercado do Bolhão in the modern Centro Comercial La Vie on Rua de Fernandes Tomás.
Another standout among Porto's 19th-century architecture due to its distinctive red-ironwork silhouette, this 133-year-old bit of business was actually a public market for only a short time, and today has been converted into an exhibition space for art, photography, and design, along with a performance venue.
Of quite a bit more recent vintage – opening its doors in 1952 – this bright, airy space was recently remodelled and modernised inside as a foodie wonderland, including not just 3,200 square metres (34,44o sq. feet) of space devoted to 67 stalls and shops but also office space and even an 85-room hotel. It's a great spot to browse and graze, with its gourmet offerings from Portugal and all over the world. You order your goodies, then enjoy them at a series of communal tables (cooking classes are also available). And that's not all – Bom Sucesso is also a success on the cultural front, with various exhibitions, theatre works, and music performances always on offer.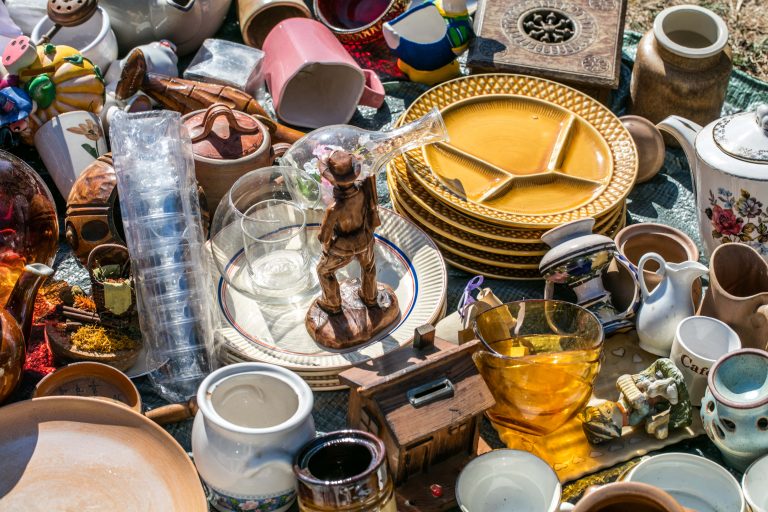 Open-Air Flea Markets
You may also want to spend some time browsing one of several sprawling mercados de pulgas in the downtown area. The best known is the Feira da Vandoma (above), along the Avenida 25 de Abril, where on Saturday mornings hundreds of montras (vendors) offering a bewildering variety of second-hand merchandise, antiques, and collectors' items. On weekdays, check out the Feira de Artesanato de Santa Catarina, on the eponymous Rua de Santa Catarina, where you're sure to score some unique mementos and/or gifts for the folks back home at montras specializing in leather, décor, basketwork, and metalwork – all of exquisite quality and at very good prices. A third one to keep in mind is the Mercadinho dos Clérigos, in front of the mid-18th-century Baroque church Igreja dos Clérigos. Here a speciality is old books, but there's also plenty here to interest visitors, including antiques, handmade toys, and collectibles – you never know what treasure you might unearth here. The catch with this one is that it's only held the second and fourth Saturday of each month.
More info: VisitPorto.travel.