Once upon a time, you got a stamp in your passport in nearly every country you visited. With the arrival of e-visas and more seamless travel in, for example, Europe's Schengen Area, "stamp collectors" are increasingly left without their coveted souvenirs. Although you don't need a passport to enter the Most Serene Republic of (La Serenissima Repubblica di) San Marino, bring it anyway, because you can get a shiny stamp applied at the tourist office with pride, care and attention.
That's of course far from the only reason to visit the world's smallest and oldest republic.
This territory of just 61 square kilometres (24 sq. miles) with a population of barely 34,000 is organised around the Città di San Marino, its capital city ensconced on Monte Titano, rising 749 metres (2,457 feet) abruptly and majestically from the flat, green countryside barely a half hour from the city of Rimini and a bit under an hour from Bologna.
The origins of one of Europe's quirky microstates and enclaves date back to 301 CE when Marinus the Dalmatian, a Christian stonemason from the island of Raab (now in  Croatia) came to Rimini to help rebuild its city wall. But fearing for his life after proselytising Christianity in the not-yet-Christianised Roman Empire, Marinus fled to Mount Titano and built a small chapel and laid the foundation to an independent republic, a status San Marino has kept to this day. Despite the imposing fortress, they managed to do so not by the power of arms but largely the power of words and relationships, parlaying Napoleon Bonaparte and later Italian unification leader Giuseppe Garibaldi into not swallowing them up.
Inka Piegsa-Quiscotte
Thus today San Marino remains one of a just a quirky handful of European microstates and enclaves – not a part of surrounding Italy, nor a member of the EU (although they are allowed to use the euro as their currency). Another peculiarity of today's republic is that they have two heads of state, who are elected every six months (!).
From here it's onwards and upwards to UNESCO World Heritage old town and the three fortress towers which are San Marino's most iconic landmarks. The main (and oldest) tower is the 11th-century Fortalezza di Guaita, plus 13th-century Cesta (both open to the public) and 14th-century Montate (privately owned). Get a €10.50 Multi-Museum Pass at the tourist office, which grants access to the towers and several museums (below).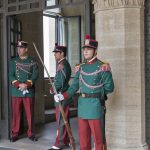 Then follow the meandering cobblestone streets down toward Piazza della Libertà, (above), site of the seat of government, the Palazzo Publico, where around lunchtime the changing of the guard, consists of five chaps in splendid blue -and-yellow uniforms marching in formation to the entrance and taking up position. Like the guards contingent, the sammarinese police force is small (for example, I saw just one traffic policeman, who held out his arm to let me pass a zebra crossing although not one car was in sight).
Highlights not to miss along the way, include the early-19th-century neoclassical Basilica di San Marino and pay your respect to the bones of St. Marinus, which are kept there in an urn. There are some other churches, but I, being a museums fan, made my way to several of San Marino's dozen or so – first to the Museo di Stato in Piazza Titano, housing artifacts related to the republic's history and of course the saint, then the  Galleria Nazionale, housed in a pretty 1930s building and a delight for lovers of lesser known 20th century Italian artists. Others include the Antique Arms Museum in the Cesta tower and the Museum of Immigrants, documenting the sammarinese diaspora abroad. To my surprise, I saw a sign to a wax museum, but passed that one by.
And speaking of getting stamped, San Marino's stamps and coins are valuable collectors' items, and if that interests you, visit the center of Ufficio Filatelico Numismatico on Contrada del Collegio (bank balance allowing, you can buy some there too).
For fans of retail therapy, the republic also offers tax-free shopping, and you may want to stock up on lucury brands, perfume, alcohol, tobacco, and so forth – which is actually one of the reasons why so many visitors – especially Italians – come here. Otherwise, the streets are also lined by one shop after the other, many offering the usual tourist tat but some also serious baubles and fabulous cosmetics.
There are two more settlements apart from the capital further down the mountain, Borgo Maggiore (below, also with some wonderful mediaeval buildings and hardly any tourists, even in high season) and Dogana (in the republic's northeastern corner, and actually the main point of entry by road, it's the most populous town, with some 7,000 inhabitants). For those who are into hiking, just follow the paths through the woods down from the towers.
All that climbing and walking around makes you hungry and thirsty, and you'll find plenty of restaurants and cafés catering to you, mostly with typical staples of the surrounding Emilia Romana region, including pizza and pasta. But if you have a sweet tooth, you need to try the one sammarinese specialty: Torta Tre Monti. Made from thin layers of wafers, it's filled with either chocolate or hazelnut cream, covered with fondant chocolate, and formed in the shape of the three towers – hence the name tre monti, "three hills".
For me, the end of October turned out to be an ideal time to visit: the sun was shining, the sky was blue, and best of all, just one tour bus with about 25 passengers arrived. During the summer, when thousands of visitors come here every day it gets terribly crowded and makes it difficult to even walk along the narrow streets, leave alone to enjoy the fabulous views across the region – sometimes on a clear day as far as the Adriatic Sea. Just choose the right time of year to visit and let yourself by surprised by how beautiful and interesting this tiny but proud republic is!
More info: SanMarinoSite, ItalyHeaven.co.uk, SanMarinoPerTutti.com.
Inka Piegsa-Quischotte is an attorney turned travel writer/photographer, currently based in Alicante, Spain, whose work has appeared at GoNomad, GoWorldTravel, EuropeupClose, and BBC Travel. Her blog GlamourGrannyTravels.com is dedicated to female baby boomers who love to travel in style and comfort.