Bordered by Belgium to the west and north, Germany to the east, and France to the south, this 2,586-square-kilometre (just under a thousand sq. miles) constitutional monarchy – officially a "Grand Duchy" – is not just one of the world's smallest countries (pop. 537,000) but likely its most prosperous, with the highest average household incomes internationally along with low income inequality. And to boot, it's also among its most liveable and progressive (for example, current prime minister Xavier Bettel is gay, and in 2015 even became the very first head of state to have a same-sex wedding), and significant in Europe as one of the three de facto capitals of the European Union, home to institutions such as the European Court of Justice and the Secretariat of the European Parliament.
All very nice for the Luxembourgeois, to be sure, but visitors, too will get some terrific travel value out of their stay here from a variety of standpoints – historic, architectural, and cultural, of course, but also in terms of dining, ecotourism, vineyards, and even adventure around the towns and a variety of rugged, forested terrain.
The capital, Luxembourg City, is a highly historic, fortified bit of business atop sheer cliffs, and dates back to the castle built by the Franks in the 10th century. It's no longer here (though if fairytale castles interest you, this country is known for them, scattered throughout its territory), but there's plenty else to see and do in its UNESCO World Heritage Ville Haute (High City, the mediaeval quarter), starting with the Grand Ducal Palace, built in the mid-16th century as the city hall, offering guided tours each summer from mid-July through August, and the late-Gothic, 17th-century Cathedral of Notre-Dame, of course open all year round. Not far off, under the site of that original Frankish castle, you'll have a grand time exploring the maze of the Bock Casemates (above), hewn out of the rock as fortifications in the 17th and 18th centuries. And get the context for it all at the engrossing Luxembourg City Museum, as well as the MNHA (National History and Art Museum), and don't forget to take a stroll along the Chemin de la Corniche, atop the city ramparts.
The Ville Basse (Low City) below also merits exploration, particularly the picturesque, traffic-free, cobblestone Grund neighbourhood. Its main landmark is the Benedictine Neimenster Abbey, its current iteration dating back to 1688. After the French Revolution it saw a variety of uses, but for the last 20 years has been serving as the headquarters for the NGO European Institute of Cultural Routes, and housing a cultural centre with an ever changing roster of exhibitions and events.
Meanwhile, over in the Kirchberg neighbourhood, home to many banks (Luxembourg is also something of a financial power notorious as one of those tax havens for the righteous and shady alike) and international institutions, contemporary-art lovers will enjoy the 12-year-old Mudam (Musée d'Art Moderne Grand-Duc Jean), designed in nonlinear style by starchitect I.M. Pei and showcasing both Luxembourgish and international artists.

After dark, these days Luxembourg can also boast a goodly variety of restaurants, cafés, and bars/clubs – not just in the Ville Haute but also other areas like Grund and Les Rives de Clausen – including an increasingly multicultural menu thanks in part to the 49 percent of the grand duchy's populace that hails from beyond its borders (a mix of immigrants and staffers of international institutions).
The mostly rural lands beyond the capital city are utterly charming to roam, as well, dotted with historic, picture-postcard towns/villages along with fairytale castles such as the whitewashed, 12th-century Château de Clervaux, reconstructed after destruction in World War II and now also home to a photography exhibition as well as a museum devoted to one of WWII's pivotal engagements, the Battle of the Bulge. Even older and (to me) more evocative is the Châteaux de Beaufort outside the eponymous village – not one but two castles – the saluxembourgndstone ruins of the original 11th-century fortress and alongside them a Renaissance pile begun in 1649 and actually inhabited until 2012 (tourable by advance appointment). Probably best known of all is the Romanesque/Gothic Château Vianden (above), one of Europe's largest fortified castles west of the Rhine River, built between the 11th and 14th centuries; others include Bourscheid, Esch-sur-Sûre, Larochette, and Useldange, and Wiltz.
And here's another thing you probably didn't know: Luxembourg makes some mighty fine wine – nine varieties, to be precise (including its very own sparkling white crémant). The Moselle Valley's Route du Vin features dozens of vineyards (many of which receive visitors) along with a number of wine festivals – all guaranteed to keep oenophiles happily occupied for days on end, should they so choose.
Beyond that, would you believe this little corner of Europe is top notch for adventure travel? Especially in the Mullertal and Guttland regions, it's a real delight to hike and bike through the rolling hills and some of Europe's thickest, greenest primordial forests, and spots like Naturepark Mëllerdall with its fantastic, labyrinthine rock formations. To get more of a taste of the grand duchy's biodiversity, there are five nature centres such as the futuristic Centre Nature et Fôret Biodiversum in the town of Remerschen, surrounded by wetlands and including a 2.5-kilometre trail where visitors can spot many of the more than 250 species of local birds. And for seekers of a bit more adrenaline, there are also several paragliding sites around the grand duchy, as well as opportunities for kayaking and canoeing – even sailing and windsurfing.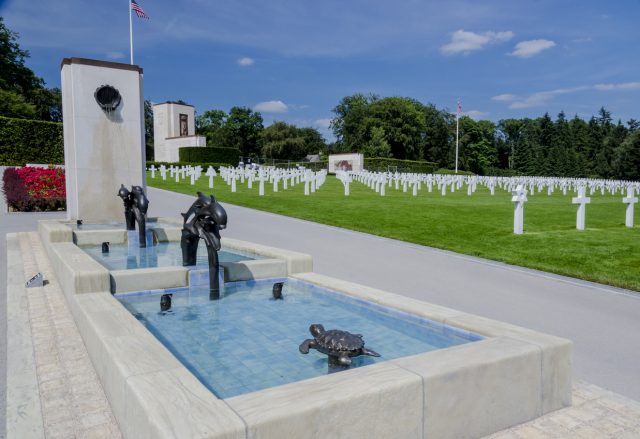 And finally, another distinctive corner of Luxembourg tourism is its World War II sites. Occupied and absorbed into Nazi Germany from May 1940 till late 1944, it was most famously the site of the Battle of the Bulge (December 1944-January 1945), one of the war's bloodiest, and the last major German offensive on the western front. More than 5,000 of the U.S. casualties of that battle lie in the World War II Luxembourg American Cemetery and Memorial in the eastern section of Luxembourg City, just south of the airport (U.S. Third Army general George S. Patton is also interred here, and there's also a General Patton Museum in Ettelbreck that documents his life as well as events of the war in Luxembourg). About 1.5 kilometres away is the cemetery for the nearly 11,000 Nazi soldiers who dies in that battle. Other museums include the aforementioned exhibition in the Chateau de Clerveaux, the National Museum of the Resistance (covering the Nazi occupation and the resistance thereto), the National Museum of Military History; another Battle of the Bulge Museum in the Chateau de Wiltz, and the Deportation Memorial in the train station of the town of Hollerich, about locals sent to concentration camps as well as shanghaied into the Nazi army.
Along the way, you'll want to take note of some local particularities, starting with the language, Luxebourgish, reminiscent of of a cross between German and Dutch). Culinarily, also be on the lookout for specialities such as Bouneschlupp (a creamy green bean soup with potatoes, other veggies, and smoked bacon); Judd mat Gaardebounen (smoked neck of pork with broad beans); Kuddelfleck (tripe served breaded or with a spicy tomato sauce); Stäerzelen (buckwheat flour with smoked bacon and sometimes cream); and Friture (small fried Moselle River fish, eaten with the fingers); pike in Riesling sauce; and Ardennes ham, which is served almost everywhere with bread as Hameschmier).
So as you can see, one of the more influential of Europe's mini-states gives great tourism. Especially if you find yourself nearby, carving out several days to experience it is well worth your while!
More info: VisitLuxembourg.com, Luxembourg-City.com.