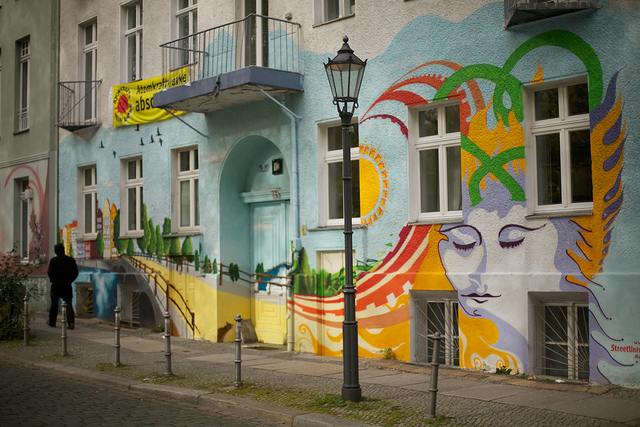 Punks with litre-size steins of beer; festive gay street demos; women in headscarves, sometimes even veils cruising grocery aisles; graffiti scrawled across façades in a bid to awaken social consciences; hipsters on the prowl for vintage comic books… All are multifarious faces of one of Berlin's most trendy, bohemian, and multicultural neighbourhoods, Kreuzberg. For most of three postwar decades a low-rent West Berlin backwater surrounded on three sides by the Berlin Wall (you can get the whole story in the FHXB Friedrichshain-Kreuzberg Museum on Adalbertstrasse), this working-class district some four square miles (10½ km²) in area became a magnet for Gastarbeiter ("guest workers") immigrants from all over Europe and North Africa, and above all from Turkey. That earned it the moniker "Little Istanbul" and a reputation for cultural diversity that along with low rents helped bring in the artists and bohemians, creating a mix that today helps make this one of the continent's trendsetting capitals.
As a city, Berlin may have a tendency to come across as somewhat grey for some, but in X-berg – as many in the younger generation dub it – a kaleidoscope of colour and various other sensations is always jumping out at you. A wunderbar way of starting out the day: breakfast in one of its many inexpensive bakeries such as Salon Sucré (Görlitzerstrasse 32), where the aroma of croissants wafts tantalisingly out into the street. The Turkish population is especially concentrated in the vicinity of the Kottbusser Tor Underground station, and so it's in this area you'll find most of the Turkish restaurants, bars, and shops (some of which specialise in clothing and merchandise so kitschy it feels like you've stepped into a time warp). And should it happen to be
Tuesday or Friday, a stop at the Türkischer Markt am Maybachufer is in order. Located along the Landwehr canal which borders the district, the Maybachufer Turkish Market is Berlin's second- largest street market, with an eastern bazaar-like feel and a plethora of stalls hawking produce and food (not just Turkish but international as well), fabrics, accessories, clothing, flowers, as well as arts and crafts. Afterward, following a trail of colourful wall murals and graffiti, take a stroll along Bergmannstrasse, with its second-hand book and record shops, as well as a variety of ethnic restaurants including Chinese, Japanese, Iranian, French, and of course Turkish.
In Görlitzer Park you'll see Berliners strolling, picnicking, having barbecues, and playing sports, while Oranienstrasse, the heart of X-berg (above), is full of hookah bars, cafés whose uneven walls are adorned with vintage décor, and bohemian bookstores and sundry shops that stay open till 3am. I'd recommend a visit to the Museum der Dinge (Museum of Things), which provides a creative overview of everyday design from the beginning of the 20th century up to the present day, and the Künstlerhaus Bethanien, an exhibition space and music school filled with young people from all over the world and specialised in avant-garde art that's often transgressive and/or particularly attuned to the social/cultural issues of the day. Another couple of idiosyncratic stops: a vineyard in the hills of Viktoriapark, growing grapes for the only wine produced in Berlin; Kreuz-Neroberger, which the city government likes to gift to its most illustrious guests; and the Schokofabrik Women's Center hammam on Mariannenstrasse, an authentic Turkish bath in a onetime chocolate factory that's brilliant for both relaxation and cultural immersion. X-berg is wunderbar for nightlife, too, and Oranienstrasse is ground zero, with Club SO 36 one of the most fun, cool, and unpredictable nightspots – you never know when you'll end up leaving this one!
Useful Facts
Berlin has more than 3 million inhabitants.
The climate is cold in winter but sunny in summer, with July and August the most pleasant times to visit.
The currency is the euro.
Foto | rsepulveda,  seven_resist,  kohlmann.sascha, valakirka