photos | Siam Park

Spain's Canary Islands have of course become of one Europe's most popular go-to destinations for sun and fun. And as such their vibe has become increasingly international, these days including a range of visitors and local offerings from all over the Western world but reaching beyond, especially into Asia – for example, with dozens of Thai restaurants alone. And this year, its single most popular attraction – also Thai-themed – is marking its tenth anniversary: Yin di ton rap (welcome) to Tenerife's Siam Park!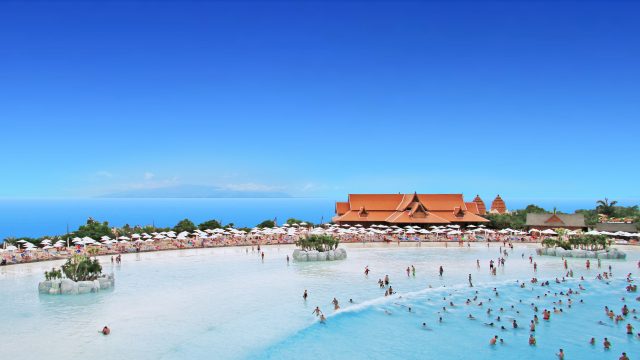 Down on the island's southern coast, the Costa Adeje, this 18.5-hectare (46-acre) water park is an easy-peasy drive from the capital Santa Cruz and various other resort areas – and if you don't want to spring for taxi ride, the park runs shuttle buses from various points, such as Las Américas and Los Cristianos (for details, click here).
Its 25 buildings are the largest single group of Thai architecture outside Thailand, all knit together with a dozen awesome water rides, from it signature wave pool (above, with a white-sand beach and the highest waves of any in the world) and world's biggest lazy river to the newest, the Singha water slide, which whooshes riders upwards and through multiple bowls, reaching speeds of 30 kilometres (18 miles) per second (there's also an area for little kids). It's this mix of ambiance and attractions that has made Siam Park the world's most popular water park for five years running, as per the members of TripAdvisor.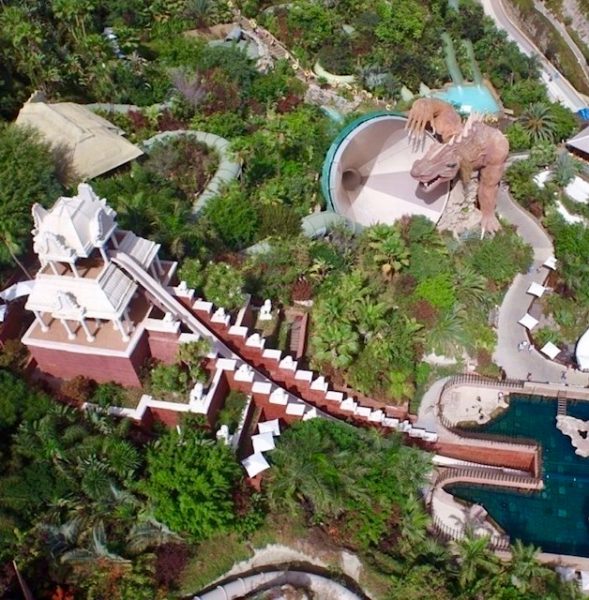 Park hours are 10 am to 5 pm in winter, and it's open an hour later in summertime (and again, I recommend getting there as early as possible). Admission costs start at 37 euros for adults and 25 for ages 3 to 11, with various more expensive premium tickets including lunch and fast-track ride passes available. Options for a nice feed abound, with five eating and drinking spots: the Tea House, which in addition to infusions and other drinks also serves excellent crêpes; the Beach Club, with burgers and other casual fare; the barbecue and libations of the Beach Bar; the Thai Bar, pouring drinks both alcoholic and not; and Sweet Siam, as the name implies, specialising in sweets as well as ice cream. Some do feel prices tend to be a bit high, so feel free to bring your own!
A couple of tips: don't forget your water shoes (or buy some on site) and sunblock; and arrive early to avoid the longer lines that form at rides in the afternoon. And finally, let me leave you with a fun fact: Siam Park has a number of eco-friendly features in place, including its own water-saving desalinisation plant.
The bottom line is that while Tenerife offers myriad fun ways to get wet, there's none more exotic than a day at Siam Park!
Related: Tenerife's 'Parrot Park' Is Actually a Critter-Palooza