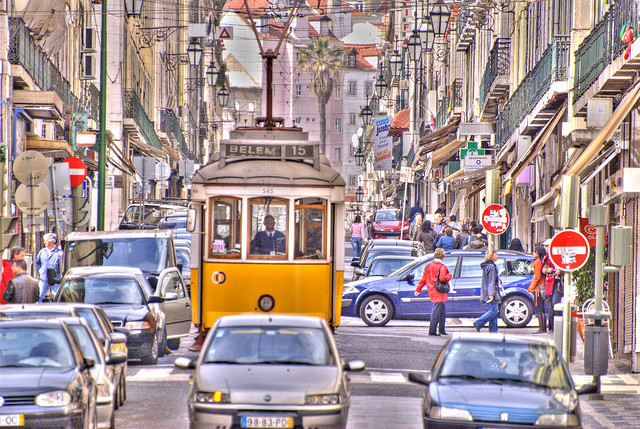 Designer boutiques, chill-out lounges, vintage clothing shops, organic brunches, pop-art T-shirts – SoHo in London or New York's East Village? Try the historic, somewhat melancholy senhora on the Tagus River. Even amidst economic crisis, Portugal's capital Lisbon is doing its best to cast off its image of spalled buildings and little old ladies dressed in black, reinventing itself with a wave of youthful energy. These days traditional and cutting-edge share the selfsame cobblestones, and of course we still have to give the old days their due, starting at the grand square that's historically been the city centre, the 18th-century Praça do Comércio, with its galleries and its U-shape open to the river. From there the Rua Augusta leads into the Baixa neighbourhood, dating from a similar period, built after the great earthquake of 1755. Its Rossio section is typical, with the neoclassical Dona Maria II National Theatre and the Café Nicola, an Art Deco landmark once favoured by the literary set. Some areas are quite grandiosely ambitious, such as the area around Avenida da Liberdade, Eduardo VII Park, and Marquess of Pombal Square – you might think you were in Hausmann's Paris.
We're just getting started, of course. Heading up to Lisbon's oldest district, the atmospheric Alfama, we see the fortresslike, Gothic/Romanesque Sé (cathedral) is one of the few major buildings that survived the earthquake. Historically Moorish in flavor, the multicultural vibe continues in this neighbourhood today thanks to the immigrants which flock here. Continue uphill to the terrace near the Church of Santa Luzia for spectacular views over the rooftops of Lisbon, and the Castle of São Jorge, amid a warren of mediaeval streets.
Take one of the charmingly kitschy streetcars (number 15 from Praça do Comércio, to be exact), to Belém out west, a once aristocratic area with fine monuments including the famous Belem Tower (a spectacularly stolid bastion built at the edge of the Atlantic in the early 16th century); the Jerónimos Monastery (simply exquisite); the Cultural Centre of Belém (Portugal's largest mecca for performing arts, music, and photography); and the National Archaeology Museum (covering Iberia back to prehistory and beyond, including ancient Egypt).
Back downtown, take the Santa Justa elevator, a neo-Gothic contraption dating back to 1901 up to the Chiado, and have a cup at another famous literary café, A Brasileira; out front you'll find a seated statue of one of Portugal's most famous and mystical poets, Fernando Pessoa (which if it could talk would no doubt cast a hex on all the tourists grabbing it for a photo op). Take a spin through the lanes and plazas of the Chiado, and then hop on the trolley or funicular up one of Lisbon's seven hills to the Bairro Alto (Upper Town), which has become the capital's party and hipster central par excellence.
Bairro Alto's Rua de Don Pedro V is full of antiques shops, art galleries, and smart designer boutiques, and the trendiness continues along Rua do Norte, where old-timey establishments have transformed themselves into fun showcases of the boho, vintage, and pop (like Sneakers Delight, right). Peckish? There's a little bit of everything up here, from traditional and nouvel Portuguese (get decadent at Chef Nuno Flag Lima's The Decadente) to molecular (check out 100 Maneiras, with a Bosnian owner-chef, no less). Afterward, you have your pick among nightspots of all flavours, from chic wine bars to traditional taverns, video/dance pubs, and lounges, with sounds and vibes ranging from eclectic to gay to alternative and chill-out to fado, Portugal's answer to flamenco. Until the wee hours. If it's fado in particular you're after you'll find some authentic joints over in the Alfama like Clube de Fado or Casa de Linhares – even if you don't speak Portuguese, bring tissues and be prepared for a blub. And for an alternative nightlife scene with perhaps a little more breathing room than the narrow lanes of the Bairro Alto, for a change of pace you can head northeast of downtown out to an area called Parque das Nações (Park of the Nations), site of the 1998 World Exhibition. This is Lisbon's truly hypermodern zone, a bit like its Canary Wharf, full of futuristic architecture as well as attractions (such as one of the world's biggest aquariums), hotels, shops, dining, and nightlife.
As you can see, the old senhora has had a bit of work done…
Useful Facts:
Lisbon has 570,000 inhabitants.
The currency is the euro.
It's one of Europe's warmest capital cities. Its winters are on the rainy side because of the influence of the Atlantic ocean, but temperatures rarely drop below 5° Celsius (41° Fahrenheit). Spring and summer are sunny.
Flights from the UK, from the USA
More information: VisitLisboa.com, GoLisbon.com 
images | victor_nuno, lloydi,