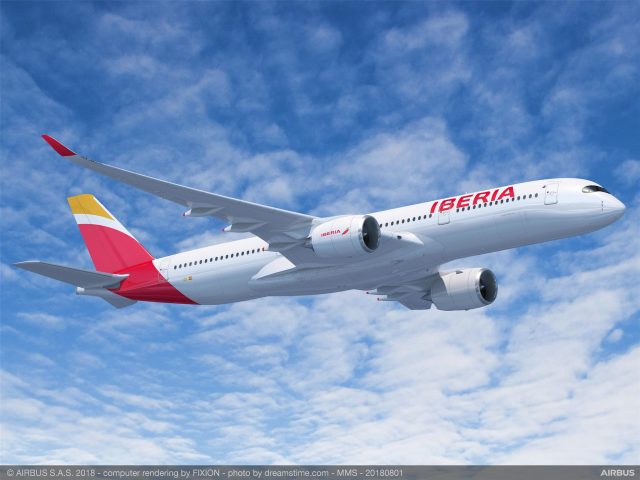 Picture this:
A jetliner which saves 25 percent on CO₂ emissions.
A jetliner which saves 25 percent on fuel consumption.
A jetliner which save 25 percent in operating costs.
It's not a dream, but now a reality, in the form of the A350, the latest and greatest of the impressive product line of the European aerospace consortium Airbus – which slightly edges out main rival Boeing in terms of annual production – and one of which are the newest members of the Iberia fleet, with more to follow very soon.
One the one hand, it will reduce impact on the environment, while on the other, it will make our passengers' flights more comfortable – a win-win! This new generation of planes – the most cutting-edge on the market – comes with a remarkable set of characteristics:
An efficiency which far outstrips any other larger commercial jetliners flying today, starting with its Rolls Royce engine and smart design. These translate into lighter weight and easier maintenance, with 70 percent of its composition in advanced substances such as titantium and carbon fibre.
An amazingly quiet ride – the quietest of any commercial jetliners to date.
LED ilumination which provides unprecedented aesthetics as well as functionality.
Continuous high-speed WiFi that, again, will be the best in commercial aviation.
Seven-zone temperature control and cabin air replacement every two to three minutes, including improved regulation of humidity and ventilation without air currents.
Expanded storage space in overhead lockers as well as expanded windows in each row, providing a greater sense of roominess.
Improved ergonomic seat design for the 293 economy-class seats, as well as those in 24 in premium economy, and 31 in business class.
Come and try out this fantastic new addition to our family! Just another way Airbus and Iberia are working to improve the airline-passenger experience in the second decade of the 21st century – with more great developments to come!
More information here (in Spanish).