Up on the northeast coast of the Dominican Republic, on the Samaná Peninsula, is one of the loveliest landscapes in the Caribbean. The 1,600-square-kilomtre (618-sq.- mile) spread that comprises what is today Los Haitises National Park was a sacred place for its pre-Columbian inhabitants, the Taínos, and today it is one of the Caribbean's most biologically diverse regions. Explore it by water, on the ground or beneath it. Let's have a quick visit, shall we?
If you're lucky enough to get a look at Los Haitises from the air, you may think you've discovered the lush, dramatic dreamscape of James Cameron's scifi blockbuster Avatar (in fact, it was used as a backdrop for scenes in another movie, Jurassic Park). Verdant mounds 30 metres (100 feet) or more dot a rainforest landscape in which water and land play hide and seek. These green mounds are called mogotes and are part of a type of landscape known as karstic. The limestone that forms the mogotes is porous, and the action of the rain and water create holes that end up forming caves.
And indeed, although haitises means "highlands" in the Taíno language, the park offers as much to see below its surface as above, creating a great variety of spectacular ecosystems for the traveller.
The DR's Largest Water Reserves and Cave System
This corner of the Dominican Republic is the rainiest part of the country. Its porous soil means rainwater accumulates underground, forming a large system of fresh- and salt-water caves, along with the DR's largest water reserves. And not surprisingly, these caves are one of the park's biggest attractions today.
You can visit them and swim in their pristine waters in a most unusual environment. It was down here that the Taínos performed their rituals and sheltered from frequent hurricanes. On some walls you can still see intriguing Taíno petroglyphs (above) that are thousands of years old.
The two most visited caves are La Línea and El Arenal. The first, also known as the "Cave of the Railroad", receives light from a large opening in the roof. On the walls of its wide entrance, you'll spot Taíno paintings that show humans, shamans, gods, sharks and even humpback whales.
El Arenal's entrance is next to a beautiful beach. The waves hit its walls, creating small pools under hundreds of sleeping bats. Here, too, you'll find petroglyphs – one of an owl with a thick mustache being the most famous.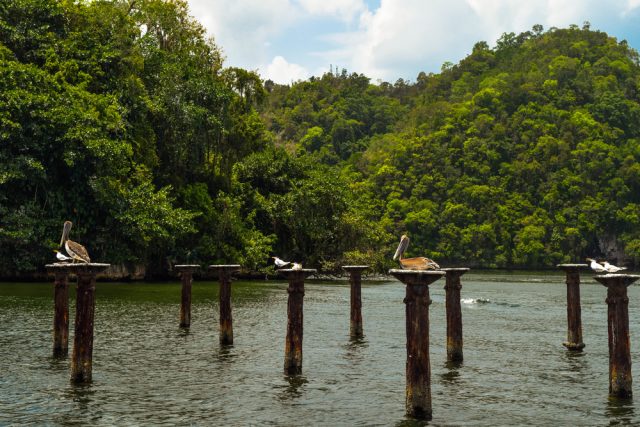 Bountiful Biodiversity
When you approach Los Haitises by boat, you'll see pelicans circling the mogotes – perhaps the most striking of the 200 bird species found here. If you're lucky, dolphins and manatees will escort you to the shore as your boat sails over dreamy waters in all shades of blues and greens.
Once on land, dozens of different types of critters – mostly reptiles, amphibians, and snakes – will be watching you, still and largely invisible, camouflaged among the diverse flora. The park's also home to manatees as well as a pair of little mammals found only here, the Hispaniolan solenodon (a shrewlike nocturnal burrower with a long, flexible snout) and the Hispaniolan hutia (another cute little rodent, both burrowing and tree-dwelling), both of which are endangered.
Ways to Explore
One of the reasons that Los Haitises National Park is one of the most visited places in the Dominican is the wide range of outdoorsy activities here, including kayaking or motor boating among the mangroves and cays; exploring on foot the many trails that connect its beaches, caves and forests; and snorkeling/diving off its beaches and mangroves.
Los Haitises makes a wonderful day trip from Samaná Town, Las Galeras, Las Terrenas, even over from Punta Cana. In short, a perfect Caribbean destination for nature lovers!
More info: GoDominicanRepublic.com, GoSamana-DominicanRepublic.com.