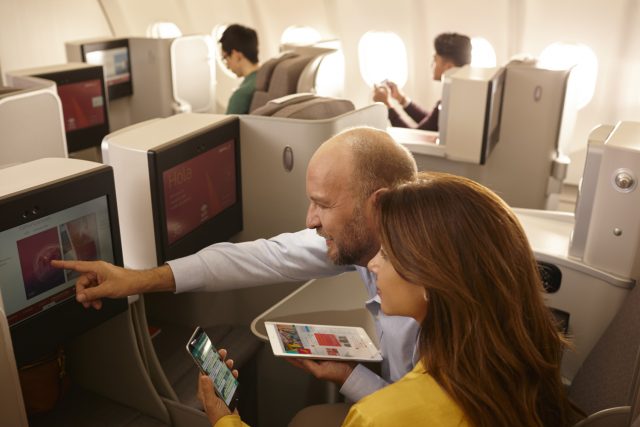 For better or worse, the frantic pace and constant "connectedness"of modern life makes it hard for many of us to function without the latest tech gadgets – to the point that for some, leaving home without their mobile phones is like going out naked. Not surprisingly, then, travelling without access to our Internet-connected gadgets is a serious handicap for many, as the hours we spend in flight can be put to much better use.
Fortunately, with Iberia you can easily stay connected while flying. Apart from modern seats and an innovative entertainment service, our long-haul aircraft are equipped with built-in WiFI that works with your own devices. Once you reach 10,000 feet, you can follow these simple steps to get online:
Switch on the device you want to use.
Activate the WiFi on settings.
Connect to the inflight "Iberia WiFi" network (if the device is a smartphone or tablet, you must activate this while staying in airplane mode).
Open the browser and click on the "Connect to the Internet" button.
A window will open where you will choose the Internet plan that suits your needs, or enter your promotional code if you have one.
Finally, register and you're done!
Things to keep in mind:
– To save on data consumption, activate the battery-saving mode on your device.
– Voice applications are not allowed, therefore, no Skype, Facetime, or WhatsApp calls; text only.
– We offer global coverage – with the exception of Chinese air space, where there is still no regulatory approval.
– Connect when the mobile signal indicates you may do so.
– In case of interference, the crew may prohibit use of the service.
Rates
Full flight €29.99. Data limit 200 MB.
3 hours €19.99. Data limit 100 MB.
1 hour €8.99. Data limit 40 MB.
Regulation of electronic equipment during flights:
– During takeoff and landing, larger devices will have to be turned completely off and stored.
– Any such devices checked with your luggage must be turned off previously.
– Careful with the use of lithium batteries. More information here.
– The following devices may always be on, in airplane mode or equivalent, of course: tablets and handheld notebooks, mobile phones, personal computers with or without a mouse, music players, bluetooth devices and portable video game consoles.
– The following devices are always prohibited due to security reasons and interference with other aircraft devices: TVs, remote-controlled toys, cordless computer mice, AM and FM radios, computer or video game peripheral devices.
Additionally, hover boards, air wheels and mini-Segways may not be brought on board with you or checked with your luggage.
Knowing all this and taking these rules into account, we can all enjoy peaceful flights without the need to stop our work or disconnect from the real world, where technology and the Internet play such a crucial role.
Happy connecting and happy flying!