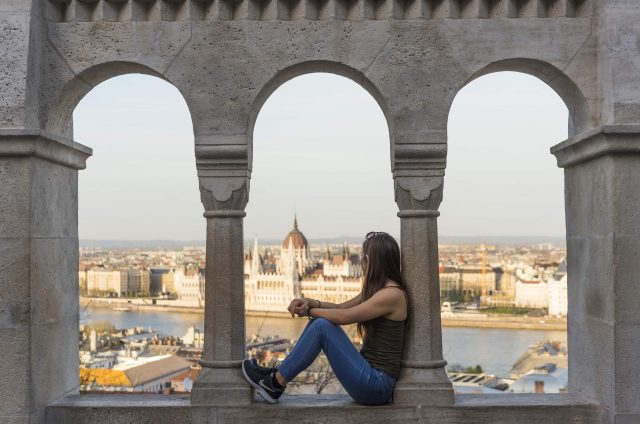 Yes, Hungary is one of my favourite countries in Europe – all the more so now that summer is upon us. I say this not only because of the magic of well-known festivals such as Sziget in Budapest or Balaton Sound out on Lake Balaton, but also the whole way of life in this charming capital this time of year, when buildings, parks and the Danube River itself dress up, knowing they will be seen from any of the terraces that light up the capital city's skies. Restaurants, bars, nightclubs, and even movie screens offer a different perspective of the city from above, and these come in all flavours, from alternative to chic, romantic to businesslike – truly something for every taste. A pretty cool and different way to enjoy the essence of the city, wouldn't you say?
Budapest is known beyond its borders for its awe-inspiring architecture, for its great dining, and of course for the thermal waters that have turned its historic spas into absolute musts. But for some years now, there is also an extra nocturnal ingredient to captivate any visitor: a handful of outdoor terraces perched literally atop the city, a skyline full of music and magical environments. There are rooftops where music and culture are front and centre, predominates, others perfect for designer cocktails and romantic dinners à deux, still others specialise in electronica. But all share the same common denominator: spectacular panoramic views over this grand old city.
And here's my quartet of top favourites:
Fisherman's Bastion Terrace 
Starting on the old Buda Hill side of the Danube, we get to the neo-Gothic/Romanesque Fisherman's Bastion (top), one of the most spectacular of the city's monuments. Up here the terrace of the Halászbástya Restaurant offers perhaps the best views across the river of Pest, the other, larger part of the city, with the spectacular Parliament building in the foreground, Margaret Island in the background, and numerous skyscrapers dotting the skyline. Trust me, you'll fill up your camera roll up here. It's also a great option for winter, as there are outdoor gas heaters. A must!  Szentháromság tér.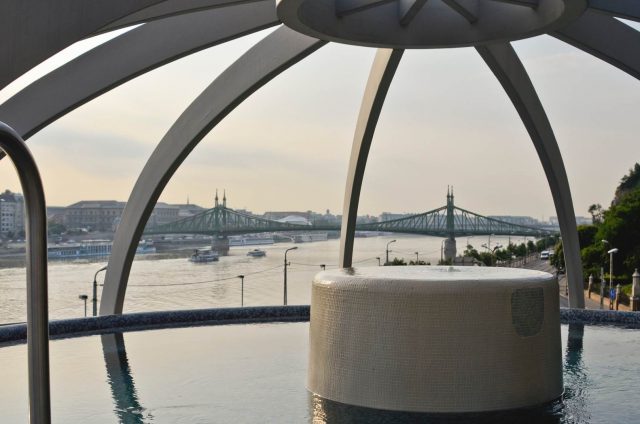 Panorama Rooftop Pool at Rudas 
Still in Buda, but now to a completely different setting as we head to the historic Rudas Baths, in business for almost 500 years with an exotic Ottoman Turkish vibe. Afterward, Panorama Pool is a real jewel in the crown: thermal waters in a circular rooftop pool from which you'll enjoy unbeatable views of the Elizabeth Bridge, built in 1903 in honour of the Habsburg Empress Elizabeth (aka Sissi), and other Budapest landmarks. My recommendation: come at dusk, basking in the glow of sunset as the city lights up for the night. Döbrentei tér 9.
360Bar
Crossing the Danube to Pest, we now find the highest rooftop terrace bar in these parts. The "360" in the name already gives you a hint of what to expect, and it's no small thing: its unbeatable location over the downtown's central Andrássy Avenue offers an imposing 360-degree panorama and a perfect chance to enjoy the great urban sights from a different perspective. There's an interesting line-up of live concerts (especially pop, rock, and electronica) and a long list of tasty signature cocktails. Mark this one in red ink on your calendar!  Andrássy út 39.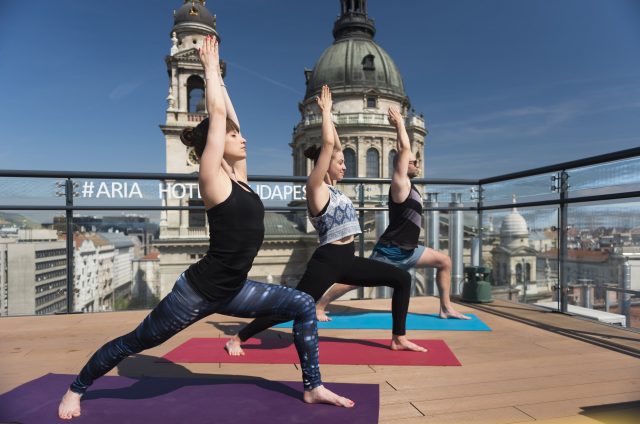 High Note Sky Bar
Much more elegant in style, this is the rooftop (above) of the luxurious, five-star Aria Hotel. Located right in the centre of Budapest, it affords unique views of iconic St. Stephen's Basilica whilst you savour an amazing cocktail or nouvel Magyar dishes with a touch of sophistication. The High Note is ideal for a romantic dinner – enjoying a sunset neither of you will ever forget – and ts yellow armchairs are already integral in Hungary's chic design language. And heads up, yoga buffs: you can also balance body and mind on this open-air terrace surrounded by the best views of the city. Admission includes a yoga session, a special house soft drink, and two hours at the hotel spa. Pretty mellow, no? Hercegprímás út 5.
Corvin Club 
This is one of the oldest nightspots of the new Budapest, an icon that exudes an alternative vibe. Located atop a department store, a terrace that can fit almost 300 has been home since 2012 to Budapest Rooftop Cinema, which aims to recover the glamour of outdoor moviegoing, with first-run films, cult movies, and entries from the local underground scene  – oh, and free popcorn for early arrivals! Beyond the movie-buff environment, Corvin gets extra points for high tables, a section spinning electronica, and a giant screen for sporting events – all into the wee hours of the morning. And the views? You have Rákóczi Street and Blaha Lujza Square practically at your feet. Blaha Lujza tér 1-2.