When it comes to LGBT travel, few experiences are as rewarding as travel to Europe. There's such an amazing variety of cultures, environments, climates, and experiences – all on the most liberal continent on the planet, thanks to the encouraging social (r)evolutions of the 21st century, making most of Europe an ever more gay-friendly destination. There are hundreds of welcoming cities large and small, as well as towns and rural areas, which I could steer you to, depending on your interests, but let me start off by highlighting a handful of the top most prominent, and you could say gay-friendliest: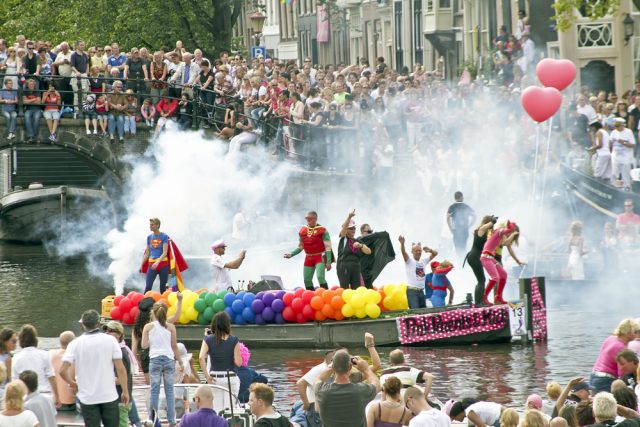 Amsterdam
Say "Amsterdam" and your mind conjures contradictory images, both sublime and profane: Rembrandt and peep shows, coffee shops and cannabis, cobbled streets and red-light districts, historic canals and sleazy bars. After all these years, the city remains the godfather of gay pride and the birthplace of LGBT rights, rebellious and uninhibited, and as effortlessly beautiful as ever. The world's first legal gay and lesbian nuptials were officiated here, and the Homomonument first gay monument was constructed here more than a quarter century ago. The scene in Amsterdam is one of the largest in Europe and boasts more than a hundred gay and lesbian bars, clubs, shops, and hotels. Though summer is the most crowded and fun, Amsterdam attracts visitors all year with gay-oriented events like Pink Christmas in December and King's Day in April. Flights from Spain, from the USA.
Barcelona/Sitges
As an urban destination, the capital of Catalonia is as close to the total package as it gets – a stylish culinary, cultural, nightlife, and design capital with its own spectacular architectural flavour (hello, Gaudí!) and great beaches even right in town, not to mention nearby: The fetching Mediterranean seaside town of Sitges (above), a half hour south, is one of Europe's top gay resorts. Barcelona has arrived on the gay circuit with a party called, well, Circuit, which attracts thousands of men every August, and following that there's Girlie Circuit Lesbians for las chicas. Then of course there's Barcelona's "Gaixample" – ground zero for a large, diverse (twinks to bears and beyond), and active LGBT scene and community. There are scores of fabulous places to stay, eat, and play gay – but virtually the whole city is welcoming, so spread your rainbow-hued wings. Flights from the UK, from the US.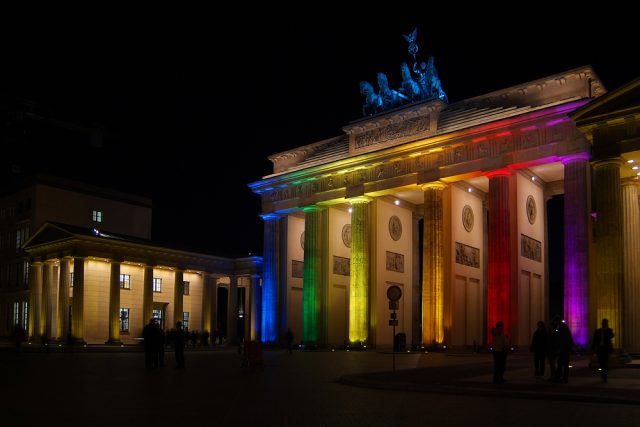 Berlin
Bold, brash and brilliant – das ist Berlin: the most freewheeling gay capital of Europe. Best known for its leather scene and hardcore clubbing, the city's appeal has never been disputed. But Berlin is far from just being a wild party town. With one of the most wrenching recent histories of any city on Earth (in which homosexuals were among the premier victims), today it's also home to a riveting high and pop cultural scene. Be sure to venture beyond the historic central Mitte district if you want to truly get under the city's skin, especially in the funky, very LGBT-friendly Kreuzberg district. You'll also find more Michelin-starred restaurants than in any other city in Germany. And Berlin is also home to many boutique, gay-friendly, and even "hetero-friendly" lodgings where you will feel perfectly at home. Flights from Spain, from the USA.
Ibiza
The second largest of Spain's Balearic Islands may well be the world's most famous party isle, and if that's what you're seeking, boy have you come to the right place. Be prepared to stay up till all hours (clubs don't get fully going till 3 am), but you'll be glad you did. The largest venues – mostly straight but very gay welcome – attract up to 12,000 revelers in a single night. The shows are absolutely mind-blowing with some of the hottest and most athletic performers in the world spinning, twirling, and dancing on every surface imaginable including the ceiling. But save time and energy for Ibiza's many other attractions, including charming historic towns and beautiful, remote white-sand beaches. Our favorite is Es Cavallet on the south end of the island (above). Here you'll find nature lovers, naturists and lots of gay women and men cavorting in the surf, soaking up rays and grabbing some delicious Spanish food and potent cocktails at the local gay restaurant. There are over two dozen bars in town, pretty much something for everyone. Many are tiny and seem to blend in to one another along the two main gay drags: Calle de La Virgen, down by the harbor and the terraces of Calle Alfonso XII, next to the main entrance of Dalt Villa. Flights from the UK, from the USA.
London
Broad and enduring indeed is the appeal of this ancient city on the Thames. Tourists favour the West End, but its grittier east side has been gaining momentum for more than a decade now. The West End is everything you picture when you close your eyes and think of London: Buckingham Palace and Big Ben; Covent Garden; the Tower of London and London Bridge; world-renowned shopping on Oxford Street; posh St. James; Piccadilly Circus; and on the queer side of things Old Compton Road, still essentially the UK's gay ground zero. But really, the East End is especially where you want to be now: Roam along cobbled Shoreditch streets past unmarked clubs where Whitechapel artists turn once-forgotten warehouses into sprawling galleries. Gay artists, restaurateurs, club promoters, and designers have brought their swag, swagger and fabulousness to the rundown warehouses and old churches and neglected parks, and the rest of the city has been following. Flights from Spain, from the USA.
Madrid
Just a decade ago, many gay travellers didn't give Spain's capital that much thought, heading straight to Paris or Mykonos or perhaps popping over to Barcelona. Today the consensus seems to be that Madrid has become the place to be, thanks to a blossoming especially noticeable since same-sex marriage was legalised in 2005. Madrid Pride is considered the world's hottest, a must-go event on the calendar of many around the globe (WorldPride was here last year). Year round, the gay village is Chueca (above), in a once-seedy downtown enclave where you'll find restaurants, cafés, shops, bars and clubs for gay women and men. The bars open late and happy hours start at midnight, and beyond that, Madrid is a historic, culinary, and cultural feast, with world-class museums such as the Prado, Reina Sofia, and Thyssen Bornemisza. Flights from the UK, from the USA.
Mykonos
This island in Greece's Cyclades has been warmly welcoming LGBT visitors for decades. A scant 10,000 inhabitants call it home, but that number explodes during the peak summer season when sunseekers from around the world descend by many more thousands upon its gold-tinged beaches, feeding a sweaty, pulsating nightlife. In the late 1980s and through the '90s it was popular mostly with well-heeled Athenians (after Jackie Onassis put it firmly on the social map in the '60s) with their vacation homes and gay Europeans who escaped their cool, humid summers for a week or two of partying, beach-going and all-around fun. In recent years, Mykonos has gone more upscale and a little straighter, yielding a bit more of the gay-resort glory to Sitges and Ibiza. There's still a following, though, and plenty of gay bars remain; the best time to go is during the XLsior Festival in August. Summer flights to Athens from Spain, from the USA.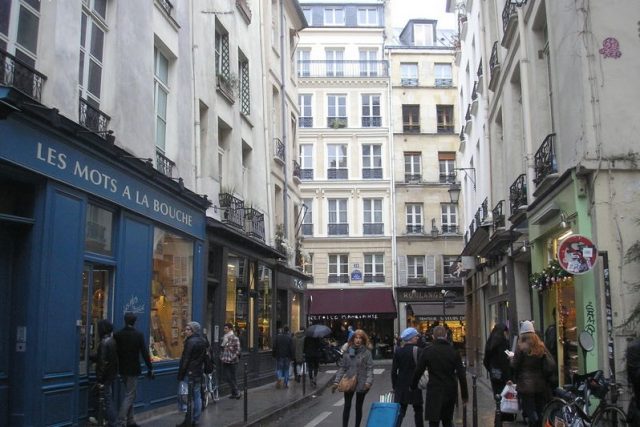 Paris 
The City of Light has a magical attraction for travellers of all persuasions. Its grand architecture impressing with ornate magnificence at every turn, it may have world competitors in fashion, style, food and art, but when it comes to romance, nowhere else comes close. From strolls along the Seine to picnics in its gardens, to stolen kisses atop the Eiffel Tower, Paris is filled with moments made for two. For single travelers, Paris demands an attitude check: If you're the type to stroll its streets with a nagging feeling of "if I only I had a boyfriend/girlfriend," give it a rest. Paris offers gay singles all of the attractions of a major world capital: endless activities to fill your days, and a vibrant nightlife scene of bars, clubs and parties. Anyhow, there's definitely something to be said for not having to share your last Ladurée Macaron. Head to the historic, charming and sexy Marais, the mediaeval district that's become Paris' gay village, where everyone starts the evening. Flights from Spain, from the USA. 

Prague
The Czech Republic's capital has come into its own in a very short amount of time. Upon emerging from behind the Iron Curtain in 1989, it was grim and unsure how to welcome tourists, but today it's one of Europe's more popular cities. It's also one of the most beautiful, with famous landmarks like the elegant Charles Bridge, Old Town Square and Prague Castle, the Old Jewish Cemetery, and a mix of Gothic, Baroque, Art Nouveau, Cubist, and cutting-edge contemporary. There was a gay scene here even under Communism, and now it's undeniably the queer capital of Eastern Europe, with bars and clubs sprinkled throughout the city but especially in the Vinohrady district. Social attitudes are mixed but generally tolerant, and the comfort level for gay visitors is pretty high (though less so in the country outside Prague).  Flights from Spain, from the USA.  

Ed Salvato is editor in chief of ManAboutWorld, the world's first gay travel magazine created for iPad (and soon Android tablets) only.