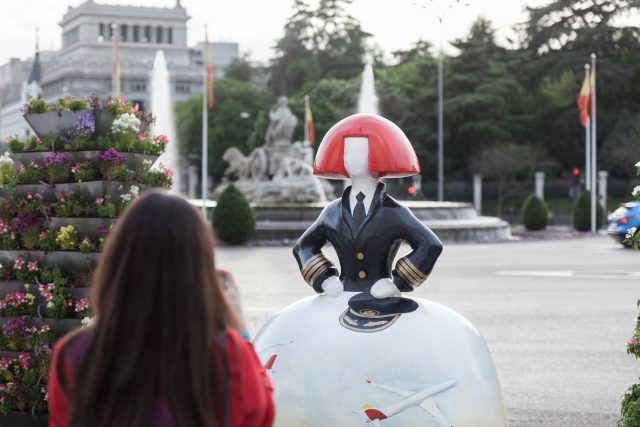 We're very proud to present one of our newest initiatives, Talento a Bordo, aimed at supporting and promoting various aspects of Spanish culture in all the destinations we currently serve – currently in nearby fifty countries. We'll be talking more about the programme, but for starters, here's a quick introduction, focussing on some of our recent projects, especially in our home base Madrid.
Fashion
The German automaker Mercedes Benz sponsors annual fashion weeks in various major cities throughout the world, including Mercedes Benz Fashion Week Madrid. And in addition, we're now in the process of choosing one of Spain's most prominent fashion designers to update our own crew uniforms for the first time since 2005, as we've done every so often over the past decades.
Theatre/Cinema
We are proud sponsors of the Platinum Awards of Iberoamerican Cinema, whose fifth edition took place just this past weekend on Mexico's Riviera Maya, just south of Cancún, as well as the annual Recent Cinema from Spain in the Los Angeles and Miami; January's José María Forqué Awards for film; and the Almagro Classical Theatre Festival in La Mancha throughout July.
Art
In addition to being active longtime supporters of our country's art museums and institutions, including famous names such as Madrid's Prado, Thyssen-Bornemisza, and Reina Sofía, along with the Guggenheim Bilbao, we've also been active in programmes to encourage business support of the arts, such as February's annual Premios Iberoamericanos de Mecenazgo (Iberomerican Patronage of the Arts Awards). And at the moment, of course, there's also the Meninas Madrid Gallery (see below)!
Design
We're active participants in February's Madrid Design Festival as well as supporters of important institutions such as the Norman Foster Foundation, at the forefront of architectural/urban planning research.
Music
In addition to being patrons of major Spanish institutions such as Madrid's Teatro Real (Royal Theatre), Barcelona's famed Liceu, and the European Youth Orchestra of Madrid, we continue to promote our own little in-house project The Flying Guitar, an homage to the late, great flamenco guitarist Paco de Lucía.
Photography
This year we're working with the PhotoEspaña project in various ways, including bringing art photography to Madrid's streets by displaying it on "street furniture", and working with the news agency EFE on an upcoming photo exhibition in New York City about the Spanish embassy.
Literature
We're supporters of the Spanish Federation of Book Industry Chambres of Commerce, along with a number of literature-promoting initiatives such as Madrid's literary Eñe Festival in late October/early November and the Madrid Salon of Children's/Young Adult Books, held the latter half of December at the Conde Duque Cultural Centre (and this year with particular emphasis on "books of the Rising Sun" – authors and publishers who've served as bridges between Spanish and Japanese culture.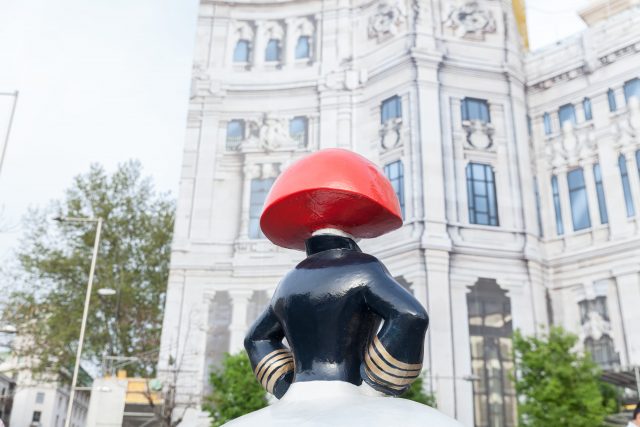 Beyond all that, one especially high profile project we're currently especially excited about is the Spanish capital's plethora of outdoor reimaginings of Las Meninas, the iconic princess and ladies in waiting featured in 17th-century painter Diego Velazquez' famous work of the same name in the Prado Museum. We've sponsored three of the hundred-odd meninas, one of which (pictured here) in downtown's Cibeles Plaza depicts a female captain with Iberia-red hair. A second menina dedicated to Madrid's status as Spain's main connection with the larger world will be stationed at the Calle Alfonso XII entrance to Retiro Park, while the third will be set up near Cibeles on Paseo de Recoletos, honouring Barajas Airport's new Terminal 4.
If you happen to be in town, come take a picture with one or more of our meninas, then tweet, Facebook, or Instagram them with the hashtags #MeninasMadridGallery and #Talentoabordo, and become part of our social-media stream!
Culturally yours,
Your friends at Iberia