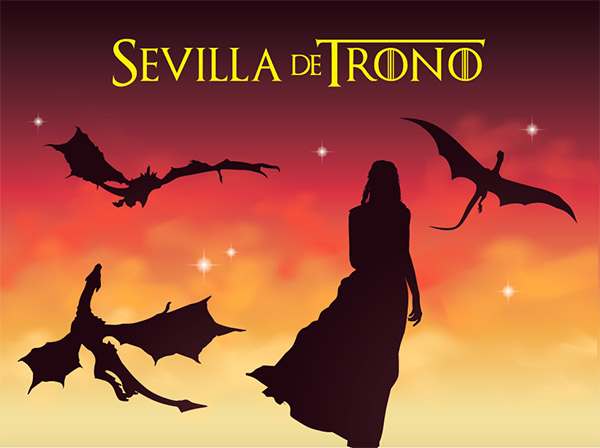 We're transported to the arid southern Westeros land of Dorne, and before our very eyes appear Jaime Lannister, Jon Snow, Arya Stark, and Daenerys Targaryen, declaiming dramatically. But wait, this isn't Sunspear, nor the Old Palace. Instead, it's Seville's Torre de Oro (Golden Tower) along the Guadalquivir River that looms behind them.
Scenes of seasons four through six of the blockbuster HBO series Game of Thrones were famously shot in Andalusia's capital, at locations including the sumptuous 10th-century Real Alcázar (the Moorish palace used to this day by Spain's royal family), as well as the bullring of the nearby town of Osuna.
Several years later, some in Seville are still basking in – and dining out upon – the afterglow of the city's latest turn in the international media spotlight. And in the process they're delighting GoT fans desperate for a fix before the next and final season begins in spring 2019. Every Saturday at 7:30 pm, the tourism office-affiliated tour operator Sevilla Inside is running a special dramatised Sevilla de Trono itinerary at the Torre de Oro as well as four other key locations – the aforementioned Alcázar palace, the Real Casa de la Moneda (Royal Mint), and a pair of lovely squares, the Patio de Banderas and the Plaza de Santa Marta.
It's certainly great street theatre, with a cast of dozens, including horses and elaborate costumes and props that are replicas of those used in the show. Lookalike actors speak of not just Dorne but King's Landing, Winterfell, Casterly Rock, and other well known places and events that have become household names among TV viewers the world over.
The cost for adults is 18 euros (under age 12 is free), and there's the option to add a themed dinner for an additional 21 euros. But take note that the events are so popular, you'll need to reserve at least a month in advance! Such is the mystique this landmark series. and the Song of Fire and Ice series upon which it's base, still has on the popular imagination. For many, to paraphrase the Night's Watch oath, Sevilla de Trono is the fire that burns against the cold drought before Jon, Cersei Lannister, and the Mother of Dragons take their places once more on our screens.