photos | Dani Keral
Like many cities in Spain and beyond these days, the biggest city on Spain's Mediterranean Costa del Sol has been learning how to reinvent itself for the 21st century. Exhibit A is the Soho Art District along the Guadalmedina River, which sprang up in the century's first decade thanks to a citizens' initiative aimed at rehabilitating a grungy docks area. Now across town, another down-at-the-heels neighbourhood of Málaga called Lagunillas is taking a leaf from Soho to stage its own comeback.
Between El Ejido and Gibralfaro hills, north of the city's historic centre and just a short stroll from the Plaza de la Merced and the Pablo Picasso Birthplace Museum, Lagunillas had once been a fairly regular working-class area, but in the late 1990s it ended up devastated by the unintended consequences of a municipal urban-renewal project, and left with a severely depleted population. But again, those who remained have been taking the initiative to halt and reverse its deterioration.
Much of this initiative – since so far the city government has not seen fit to commit public resources – takes the form of neighbourhood associations such as Fantasy in Lagunillas, founded to provide art workshops and other educational support to local children, and The Future Is Very Grease, which launched the proliferation of street murals which now lend the area its signature look.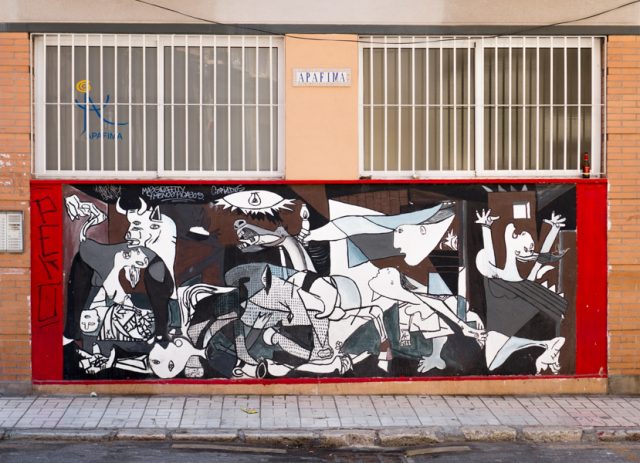 The hub of it all is the aptly named Plaza de la Esperanza (Hope Square), a parking lot converted into a park and basketball court. Leading out of the plaza is Calle Lagunillas, the area's main thoroughfare, where you'll start to see some of the aforementioned street art – not just wall murals but sculptures on balconies, repurposed urban furniture, and more.
And except for a copy of Pablo Picasso's famous Guernica (above), in Calle Huerto del Conde, as well as other more abstract works, most of the street art depicts locals as well as well-known Málaga personalities such as flamenco dancer Pepito Vargas and flamenco singers Eduardo El Chamorra and La Cañeta. Another of the most outstanding murals depicts a respected local Catholic icon, the Descampao Madonna, on Calle Vital Aza.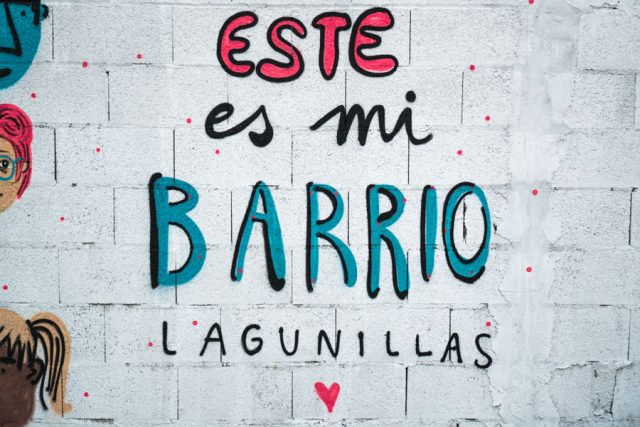 The neighbourhood has also seen considerable other sprucing up, with new trees, flowers, benches, and street medians creating unexpected green spaces right near the middle of downtown Málaga.
Hip new cafés, watering holes, and eateries have also sprung up, adding to the growing appeal of a once neglected pocket of downtown that while highly unlikely to become a mass tourism destination still provides visitors a chance to experience local life in an increasingly appealing setting.
Best fares to Málaga from the UK, from the USA.
More info in English: MalagaTurismo.com.