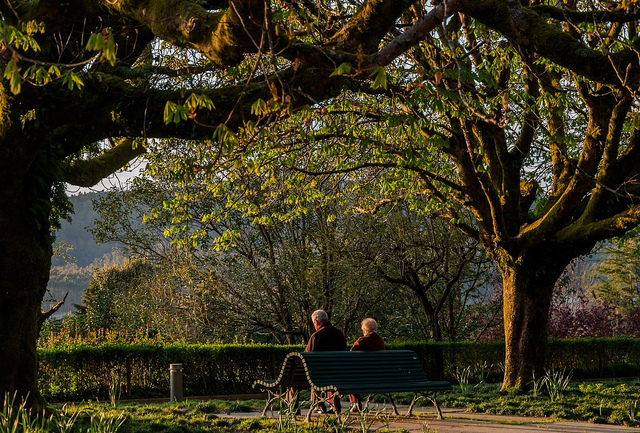 The grand capital of Galicia, the green region of northernwestern Spain, is best known as a symphony in stone, the work of centuries, especially since it became famed as the destination for one of the world's great pilgrimages, the Way of St. James. But less well known is that it's also home to many fine parks and green spaces that make lovely refuges from the city's bustle (in fact, it's rated well above average by international groups that keep track of these things, such as the World Health Organisation). Allow me to introduce you to the five most interesting and appealing.
The city's best known green space (top) sits right alongside Santiago's old quarter, a gracious enclave dating back to the 16th century, wooded with oaks (Galicia's most typical tree), horse chestnuts, and eucalyptus. Walkways (originally segregated according to social class!) lead past a variety of statuary (including The Two Marias, commemorating a pair of unconventional sisters and local characters), fountains, duck ponds, ceramic-backed granite benches, and a bandstand. There's also a 17th-century chapel, Santa Susana, and an 18th-century church, O Pilar. Truly magical.
A 15-minute stroll from the historic quarters main square, Praza do Obradoiro, this gentle green space of 28,000 m2 (acres) is so named because it's attached to a modern concert hall, the Auditorio de Galicia (it also hosts art exhibitions). The bridge-crossed brook here leads into a small lake, and a large, colourful sculpture by Galician artist Eugenio Granell lends a surrealist touch to the natural environment. Before or afterward, stop at the Auditorio's café for a drink or a bite and splendid views out over the park and the city centre beyond.
Santo Domingo de Bonaval Park
This relatively small (37047 m²/acres) bit of business (above) sits on hill a overlooking the city and  was built 18 years ago around an early-14th-century Dominican monastery of the same name. Today that monastery is home to the Museum of the Galician People, showcasing the history, culture, and traditions of this ancient land. The park includes an oak grove, a vegetable garden, and an atmospheric old cemetery – and you'll also spot a modern sculpture by Eduardo Chillida, one of Spain's greatest artists. After taking in the museum, this is absolutely a lovely, peaceful place to sit a spell on the benches and gaze at the inspiring view out over the cathedral and the old city.
San Lourenzo Oak Grove
Another petite park (8.287 m2/ac.) centred around a monastery – in this case, San Lorenzo de Trasouto, dating back to the 12th century and now run as a restaurant for special events. Among the ancient oaks and large variety of flowers and shrubs there's also afountain and two cruceiros, large stone crosses that marked the roads and are iconic in Galician culture. It's also a 15-minute walk from Praza do Obradoiro.
University of Santiago South Campus 
Santiago is a students' as well as a pilgrims' city, and its south campus plays an important part in municipal life. It was layed out in a parklike setting in 1929, connected to Alameda Park by an impressive stone staircase, and features woods, sweeping lawns, fountains, ponds, and a variety of blooms including camelias, junipers, and magnolias. Scattered throughout are sport facilities, as well as a children's play area.